Adding fences to property can not only offer provide privacy and protection, it can help improve the look of the home.
Jon Bisson, owner of ACE Fence & Supply, said many customers use various fence styles to dress up the area around their property.
"They'll use wood privacy fences or ornamental iron, which can help with the aesthetics or add to the value of the home," he said.
Cedar wood privacy fences are the most popular, he said, but some homeowners opt for ornamental iron, which is a more "dressy" option.
Fences can provide privacy, Bisson said, and of course, pet owners want the security of keeping their dogs safely inside the yard with a fence.
Chain-link fencing is another favorite choice, and some customers have been choosing a black chain-link that offers a more upscale look, he said.
It also depends on how much the owner is willing to spend, he said, as iron is obviously a more expensive option than wood, Bisson said.
When it comes to wood fences, dog-eared boards that are tapered at the corners on the top of the slats are a standard style seen around yards, he noted. But another option is the cap-and-trim fence that provides a level top and presents an appealing design, he said.
Bisson said ACE Fence & Supply builds its wood fences with galvanized metal posts, cedar rails and western red cedar pickets.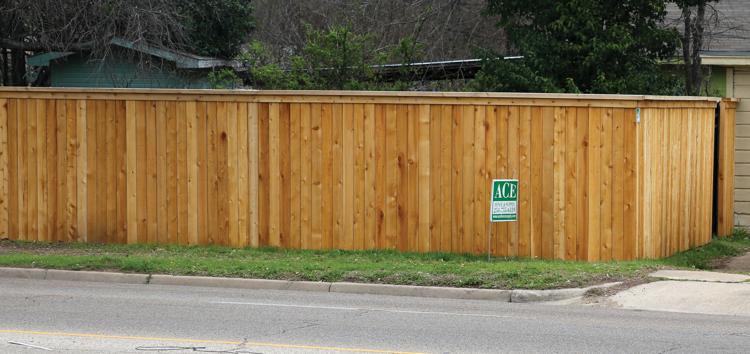 Pressure-treated boards are usually not a good option in Central Texas, Bisson said.
"Pressure-treated woods tend to split, crack or warp, unlike cedar," he said. "We don't sell any pressure-treated wood unless it's used as a rot board."
Staining Option
Numerous homeowners like to stain their wood fences, which can provide additional longevity and provide a desired look to the fence. ACE Fence & Supply offers stains in natural cedar, pecan, redwood, mahogany and dark walnut.
The standard style of fence construction is side-by-side, he said. But for total privacy homeowners may want to go with the board-on-board option where the boards overlap.
Some homeowners with a wood fence choose to have an ornamental iron gate. Those are easier to adjust to fit properly, Bisson said.
"You can also get metal frames on wood gates, which also are easier to adjust if sagging occurs," he said.
Ornamental iron fences provide greater visibility to the area, so those are often used more around pools and playgrounds, he said.
ACE Fence and Supply also can install Postmaster fence posts, which are steel posts that provide a higher wind rating and can be hidden from view for a more appealing look.
Fence options are plentiful, he said, and ACE Fence & Supply is willing to work with whatever the customer wants.
---
ACE Fence & Supply
2825 N. Robinson Drive
254-755-6339