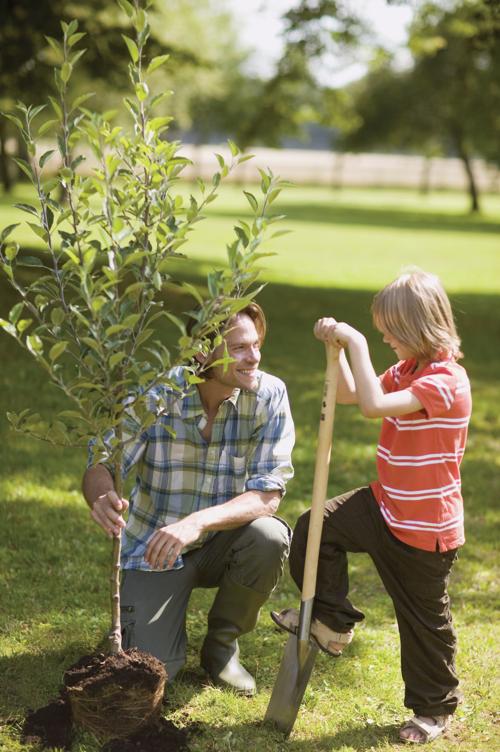 You would think that all a gardener needed to do in January was to sit back and wait for spring. Nothing to do in the garden, right? Wrong! January brings us a great opportunity to get a jump on spring and be prepared for those warmer days ahead. So let's run over a few chores to do in your garden in January.
First, winter is a great time to prepare new beds, renew old ones, and build structures in the garden. It is much easier to work hard in cooler weather, rather than waiting for our more seasonable weather that starts in the spring.
The problem with this notion is two-fold. First, it often rains and rains in the spring, causing us to be forced to stay indoors when we are really needing to get our beds ready for spring planting. Secondly, once hot weather arrives, the heat drains our energy and makes it twice as hard to do hard physical labor. If we are going to create new landscape areas, walkways and beds, we need to get them done in cooler weather.
Trees and Soil
January is also the ideal time to plant trees. While the trees are sleeping during the winter, we can plant them without the trauma that would result if we planted later in the season. It also means that as they begin to grow actively once warmer weather arrives, they are much more likely to get several nice rains to help them grow longer roots capable of sustaining them during a hot summer.
January is a great time to improve the soil in existing beds or to put in new beds for this coming year. If you have had less than favorable results in your flower or vegetable gardens in the past, you should get a soil test done this January to see what might be missing from your soil. Then you can add this before growing season begins.
Call your county extension service and ask them for a kit to test the soil. They will send you one or you can pick it up at their local office. This kit includes instructions that you will need to follow closely in order for the test to be accurate. It will also include an envelope in which to enclose your soil samples with a mailing address to send it for the test.
The results will soon arrive with what is good about your soil and what you need to add to correct nutritional deficiencies.
No matter what your soil test results are, you will need to add organic matter to your soil. Compost is the best additive for improving your soil structure and adding important nutrition. You can also dig in some fall leaves to add even more improvement. Put down 6 inches of compost and till it into the first 8-10 inches of existing soil.
If your garden bed is sitting right on top of a solid layer of rock, order some good-quality garden soil mix and increase the depth of your soil to 12 inches. This will really improve your yield of flowers or vegetables this coming year.
Building Things
Now is a good time to create pathways and other garden structures while it is still cool. You can actually make your own rocks to add to a pathway. To do this, buy a coil of aluminum flashing and some bags of ready mix-type cement.
Then go to the craft store and buy pink and brown shades of acrylic paint. Put on a filter over your nose to keep the cement powder from getting into your lungs. Mix the cement according to package instructions but subtract enough of the water so that you are also adding the acrylic paint instead of the same subtracted water.
Mix until you like the color. Look at real rocks for ideas about how colors appear in nature so your rocks will look real. Go to the area where you want the new rock pathway. This area should be cleared of weeds and large rocks and be leveled out.
Lay the flashing down in the shape of a rock. You can cut the flashing with a pair of metal cutting shears. Use gloves to avoid cutting your hands. Pour in the cement into the area contained by the flashing. You can secure the flashing by holding the ends together with a clip or a clothes pin.
Once your new rock can hold its shape without collapsing, you can remove the flashing and make the next rock. Change the shape so that no two rocks are exactly the same shape or size. Don't worry if one of your rocks breaks.
That means you now have one medium-sized rock and one little rock. I have made pathways out of these fake rocks for a long time. They hold up well through years of use. The nice thing about them is that you don't have to cut a rock to fit a design.
One of my pathways is round, encircling a center decorative piece. Because of the rounded design, many real rocks would have had to have been cut to fit the round pathway. None of these fake rocks needed to be cut, as I just formed the flashing to the shape of the walkway.
One side was lower than I needed to have a level pathway, but I was able to pour thicker rocks for that side to achieve a level walkway with minimum effort. I lined the outer edges of the pathway with bricks made of more cement poured into a brick mold.
You can find brick molds online and at some craft stores. They work wonderfully and some even have letters you can stamp into the bricks for words. Mine spell out a Bible verse in a circle around the rock pathway. All this work was done during the cool of winter months and the surrounding garden beds were ready for planting in the spring.
You can create some really great landscaping and ready your beds for spring planting if you remember to get an early start this winter. Don't put it off. You will be glad you will be ready for this next gardening season ahead of time.