Johnson Roofing CEO Sherri Johnson McDonald may be in the business of securing the tops of structures, but she's building on a strong foundation begun by her father and grandparents.
She is the third generation of Johnson Roofing, one of the largest roofing contractors in the United States.
She finds it important to build on Christian values at Johnson Roofing, calling it their "mission field" with the "people we come in contact with every day to show them the love of the Lord and give them an opportunity to know Jesus."
"Johnson Roofing is a family, and we pray every Monday morning at the flag pole," she added. "Our team consists of nearly 100 employees and sub-contractor partners. Each and every team member is part of our JR family."
McDonald has been CEO since 2019 and was named president in 2015, but being the daughter of Bill Johnson didn't mean she was destined to run the business one day, she said.
"When I was young and even a young adult, I never thought I'd be running Johnson Roofing," she said. "I owned and operated a technology company and then a general contracting business. But God led me to Johnson Roofing in 2008 when Hurricane Ike hit.
"I went to Houston to help my Dad set up an office, and I was selling for Johnson Roofing down there. Then when I came back to Waco I never left. I became Johnson Roofing's business development manager and was able to earn my Dad's trust to advance my way up through the ranks to eventually becoming CEO of the company."
Pursuing Excellence
The examples set by her father and grandparents also prepared her for the role, she said.
"Our company tagline, 'Pursuing Excellence,' sums it up," McDonald said. "Whether roofing, rodeoing or whatever we're doing, I was taught to do it to the very best of my ability. Same with my Dad, who won hundreds of horse competitions across the nation, and then after graduating from Baylor in 1966 continued to grow Johnson Roofing into the great success it is today."
In addition to founding Johnson Roofing in 1941, her grandparents were one of the first to bring registered Appaloosa horses to Central Texas, including their foundation stallions, Simcoe's Chinook and Chief Smokey, who with her dad, won numerous national championship awards.
"Ranching, horses and horse competitions have been a huge part of my entire life, as I grew up teaching horseback riding with my family and competing on my Appaloosa horses," she said. "Still today, horses are a great passion of mine. I actively compete in team roping, ranch sorting and team penning."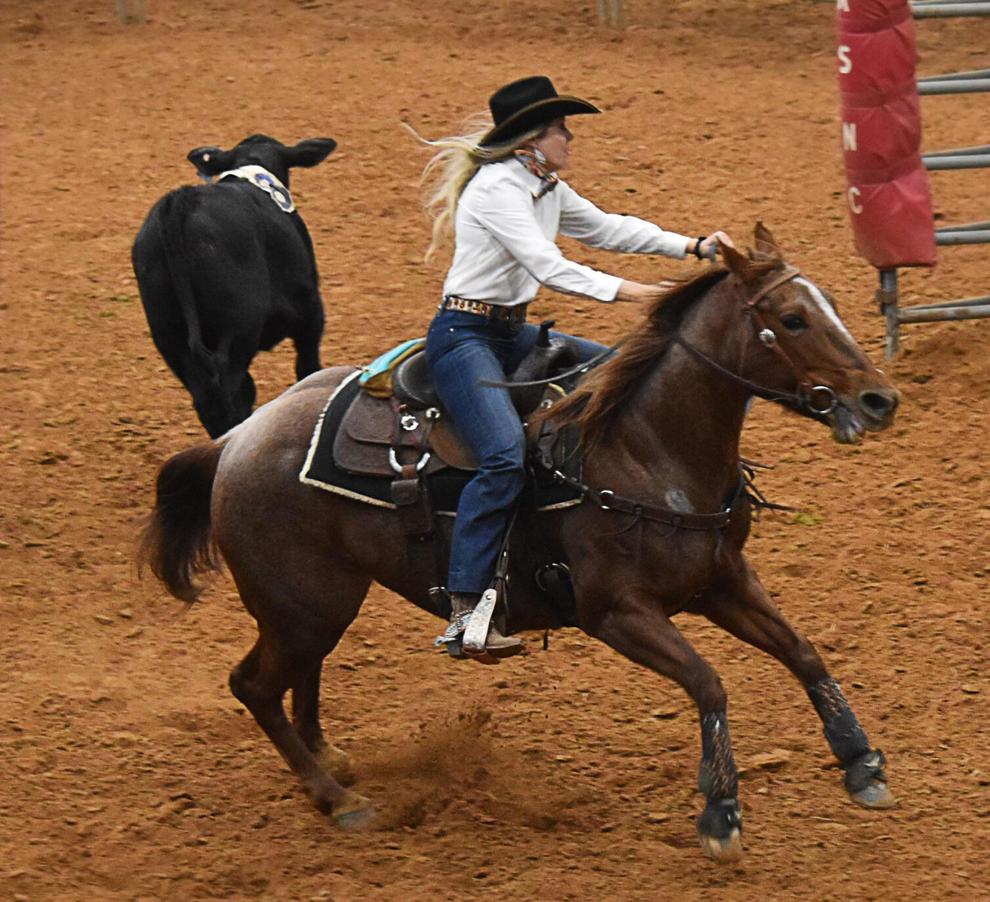 She is married to Bob McDonald and has one daughter, Brittani, who has 6-year-old quadruplet daughters with her husband, Jason. Sherri also has a "bonus son," Kevin, who has two children with his wife, Erica.
McDonald has done a lot of community service work over the years, but one event especially stands out.
"The one day I will treasure forever is hosting the North Fort Hood event after the 2009 tragedy (in which an Army major killed 13 people and wounded 32)," she said. "My family, together with a group of Waco volunteers, provided lunch and spent an afternoon with the soldiers who had lost or had wounded comrades in their units. I had the honor of leading the soldiers into the North Fort Hood area carrying the American flag on my horse."
Influence
McDonald said her father is a huge influence on how she manages the company.
"He taught me to treat people the way you want to be treated, remove the obstacles so the team can get the job done with excellence, and make sure the team is safe every day," she said.
"My Dad has always put the 'field team' members first, no matter what. Our company is successful because of our 'field team.' Everyone else on the Johnson Roofing team supports the men in the field.
"About 40 years ago, my Dad started providing breakfast to the men in the field every morning. We still do this today, and as long as I am running the company, we will continue to feed the guys in the field every morning. We also provide extensive safety training through Johnson Roofing University because our number one goal is that the men in the field go home safely to their families every day."
Johnson Roofing University was started in 2017 to provide employees the tools to gain knowledge and advance their careers. JRU provides training for all areas of the business, including an apprentice level program for helpers, laborers, apprentice journeymen, lead men, foremen and field superintendent.
Leadership
Like her father, she's viewed as a leader in the roofing industry and was chosen to serve as president of Roofing Contractors Association of Texas in 2018.
"It meant the world to me that my peers deemed me capable of serving as the president of RCAT and serving as president was truly an honor," she said.
Bill Johnson was president in 1980 and from 1996 to 1998. They are the only parent-child past presidents of the association.
"I grew up in RCAT," she added. "The RCAT conference was held in San Antonio every year, and that was our family's summer vacation. I was exposed to everything about roofing my entire life.
"My Dad served on the board of directors, and when he transitioned off the board, I replaced him and still serve on the RCAT board today."
McDonald said being a part of RCAT provides her with a strong network of mentors, who are brilliant minds in business and in the roofing industry in Texas.
"Through RCAT, my Dad and I have become thought leaders and influencers in the roofing industry, and we are grateful for that as are our customers," she said.
"I am fortunate that the foundation my Dad laid for Johnson Roofing — Christian values and excellence — is so strong, like that of the house built on a rock in Jesus' Sermon on the Mount parable," she said. "My goal in leading the company is to ensure that when the rains come down and the floods come up, the Johnson Roofing family foundation is stronger than ever. This is my way of honoring my Dad's incredible legacy." 
---
Mon-Fri, 8 a.m. to 5 p.m.