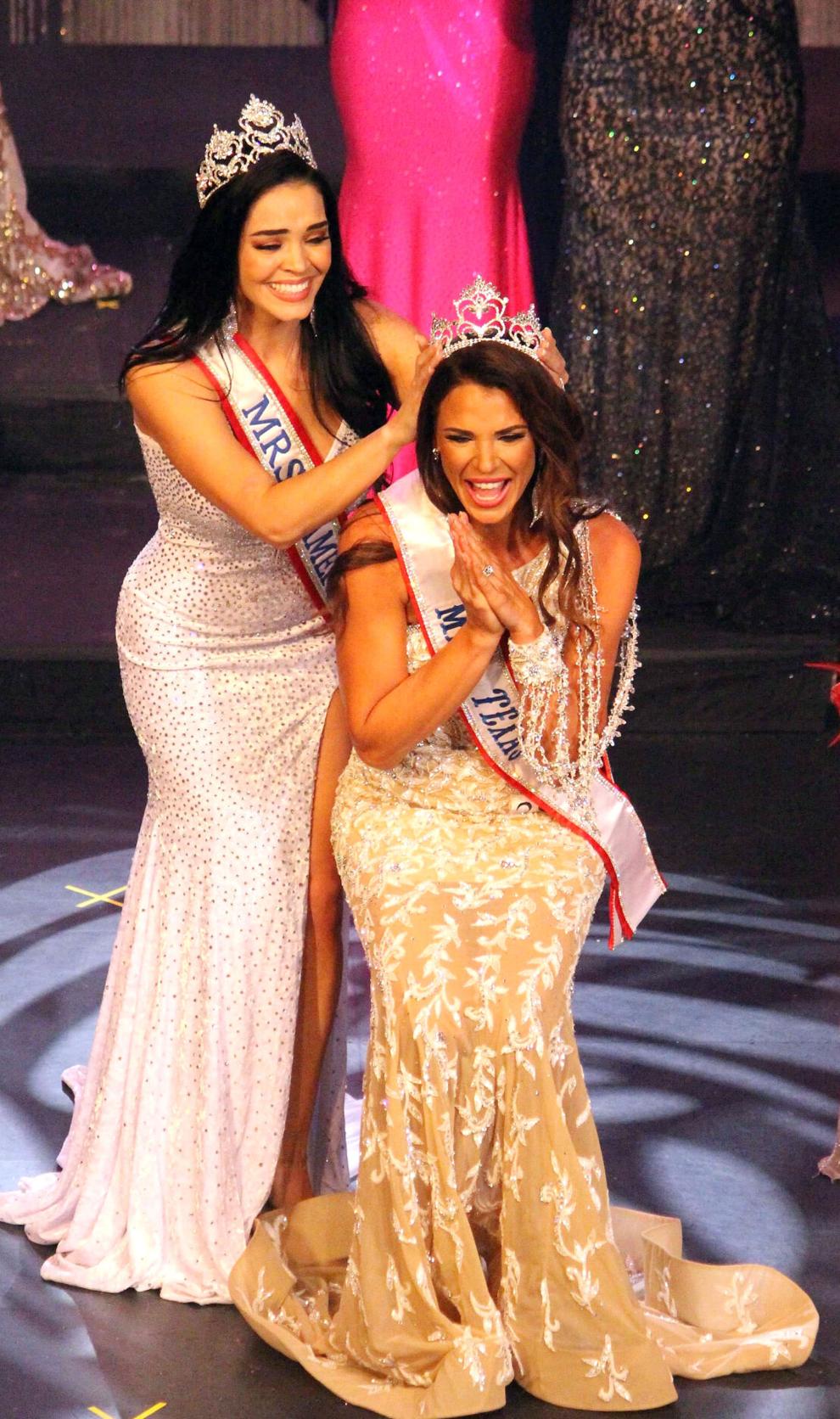 Former Baylor soccer goalkeeper Ashley Beard has traded her ball for a crown after winning the Mrs. Texas America Pageant Sept. 18 in Corsicana.
The self-proclaimed childhood tomboy-turned-college athlete owns the Halo Athletic Center in Waco with her husband, Jody, and their business partner, Kyle Williams.
While her previous role had her blocking goals from opponents, the 34-year-old mother of two will now represent Texas on a national stage at the Mrs. America Pageant Nov. 19-20 in Las Vegas.
Originally from Granite Bay, California, Beard was recruited by Baylor University on a soccer scholarship. She met her husband, who was playing football at Baylor, there and the couple has made their home here in Jody's hometown.
The California native never dreamed of being a beauty queen.
"Not once did that ever cross my mind," she said. "I always thought I would be the kid who would be wearing cleats my entire life, but I've exchanged cleats for heels.
"I was always in the jerseys watching football and basketball and soccer. I was highly active in sports. I never had time for pageants and never thought I was a pretty girl. At 6 foot tall with an athletic structure, I was an athlete."
As a lifelong athlete, Beard found herself missing the challenge of playing sports and winning after her Baylor career.
"I was pregnant with my son, and I decided I still needed competition in my life," she said. With that mindset, she drew on her spirit of perseverance and drive to develop into a contender for the Mrs. Texas title.
"I was second runner-up three years in a row out of 52 women," Beard said. "It is a lot of work, but I persevered. Being in sports teaches you to never give up and to chase a dream, which is what I did."
After landing at second runner-up at the pageant in 2016, 2017 and 2018, she skipped the pageant in 2019 and 2020 before rebounding as the winner in 2021.
Platform
She adopted the platform "Formed perfectly and perfect, all children created equal" as her mantra to carry out as the new Mrs. Texas.
"I was born with a birth defect. My elbow is twisted at 180 degrees, and my left arm is shorter than my right by 3 inches," Beard said. "My two middle fingers are completely bent so I'm constantly making the 'I love you sign' as my language. That's how I caught a soccer ball."
As she travels the state speaking at community and school events, Beard plans to tell her story of succeeding as an athlete, a business owner and a mother despite her challenges.
"I want to teach children that they were born as they were intended and they are exactly as God wants them to be," she said. "I thought if I can make it this far in my career I can teach children that they can, too."
Locally, she has already been spreading that message as a volunteer for Scottish Rite Children's Hospital, Fellowship for Christian Athletes and the Head Start program. In her expanded role representing Texas, she can reach even more people.
"I'll be going around the state and going into schools and telling them my testimony and doing motivational talks," she said.
Her husband and children Jett, 8, and Jael, 6, have been by her side throughout her pursuit of the Mrs. Texas title.
"My husband is my No. 1 supporter, especially as Mr. Texas now," she laughed. "I have taken my children to appearances, too."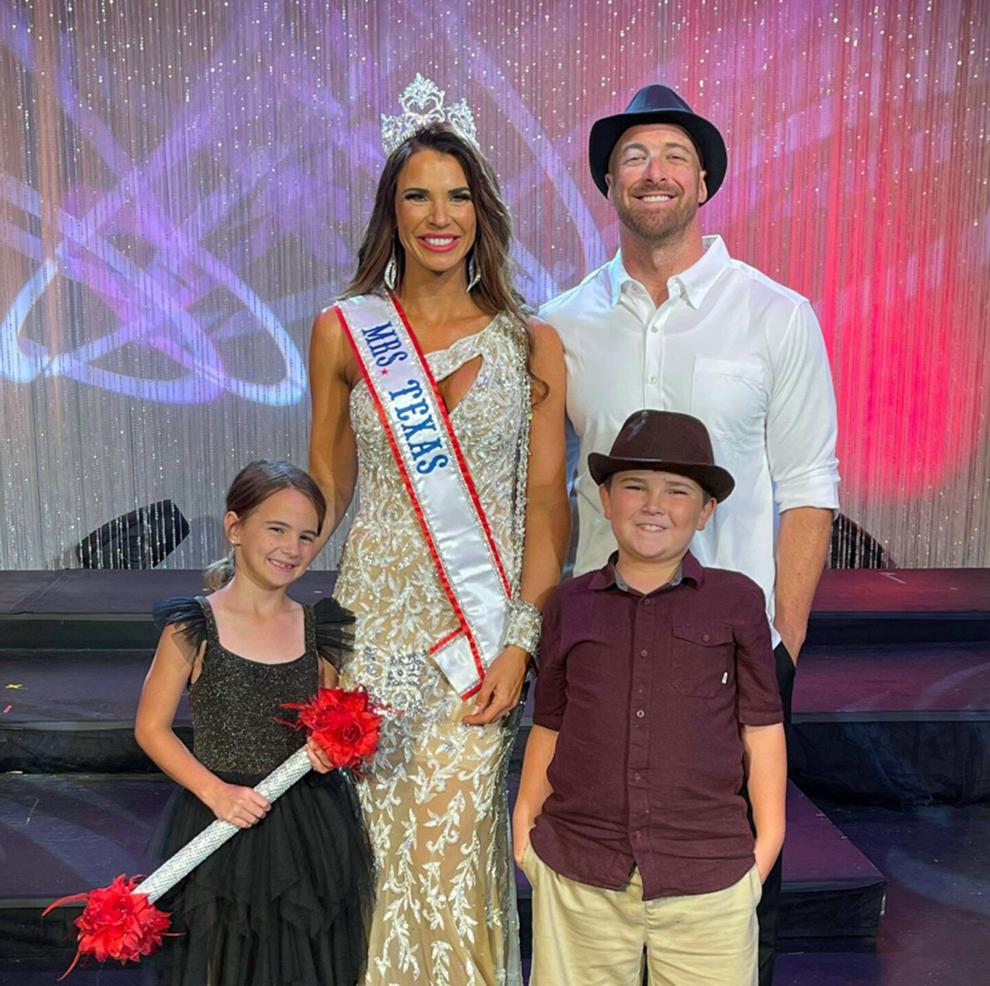 They get to join her on the national stage as she vies for Mrs. America.
"My husband will be walking out with me, chaperoning me, holding the Texas flag," she said.
Her children also love cheering on their mom.
"They are so excited," Beard said. "The first thing they said to me after I won was, 'Can you come to our school on Monday?'
"My daughter loves looking at the gowns. Since I'm usually at the gym with a messy bun and no makeup, they see me now with eyelashes and a gown and say, 'Who are you?' My daughter says I'm a real-life princess."
Role Model
She considers being as a role model for her own children paramount to her pageant title.
"Inside my own house, that's the most important role," she said. "It's so much more than the beauty under the crown. It's about how to serve your community and push yourself as an individual all while not losing yourself in all this."
The winner of that pageant will go on to compete in the Mrs. World Pageant with women from all over the globe.
"We are taking on the biggest stage for the Mrs. America Pageant. It's the one that's been around the longest and is the most admired and the one that everyone wants to be at," she said.
The competition will be split equally among interview, evening gown and swimwear/fitness categories, plus the costume category.
"I get to represent the great state of Texas in a costume," she said.
Whatever the outcome, Beard plans to fulfill her role as Mrs. Texas to the fullest during the next year.
"My No. 1 goal is to do as many appearances as I can and spread the word about the Mrs. America organization as well as empowering children and women along the way," she said. "Since there are so many women vying for this crown, I want to make the class of women I competed with proud and my state, too, of course."
Her experience in the pageant world has offered the opportunity to meet other women whom she calls "the sisterhood."
"It's been absolutely amazing. I've actually met my best friend during this time. She was competing as Mrs. Oklahoma. We've gone on girl trips and family trips," Beard said.
"I think it's amazing for women who are bold and confident, who are successful in their careers, whether they are stay-at-home moms or lawyers or authors, to connect. We only compete against ourselves and make ourselves better when we get to meet these like-minded individuals who are wanting the same goals for themselves."
The women support each other as they each bring their best to the competitive arena, she said.
"It's not 'Toddlers & Tiaras.' We really are coming together and rooting each other on under one roof and admiring each other's accomplishments," Beard said.
"Everyone has a story to share. As a 'Mrs.,' we have families and we have husbands. That's what sets us apart from other pageants."