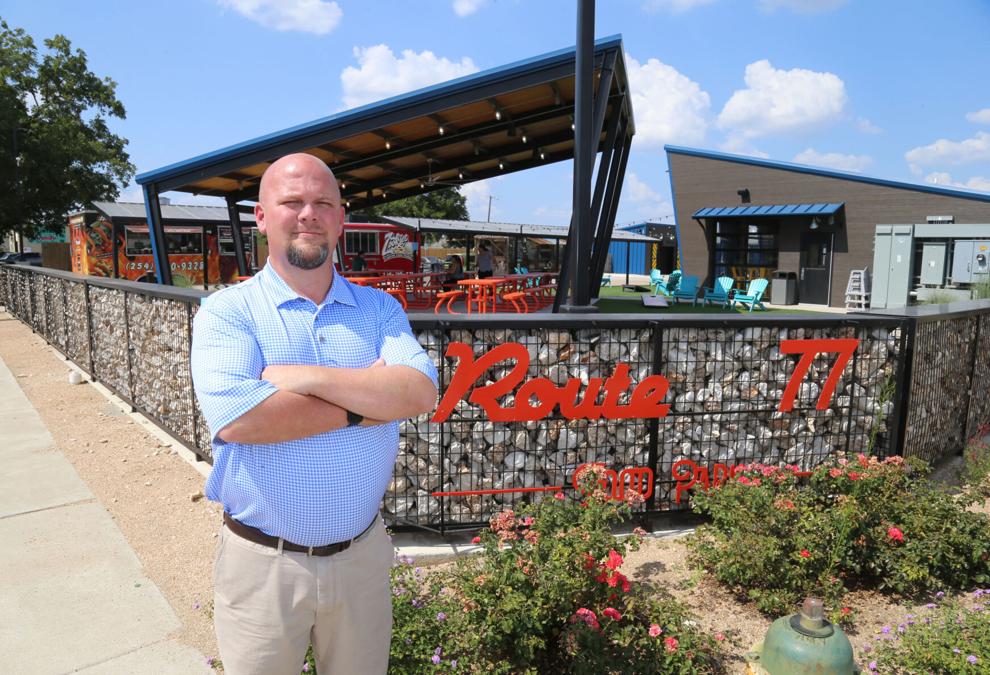 With its large swath of dark green artificial turf, wooden lounge chairs and orange picnic tables beneath a covered pavilion, Route 77 Food Park and Bar looks a bit like an oasis alongside La Salle Avenue.
Entrepreneur David Mercer wants customers to view it the same way, as a place to eat, drink and socialize.
"I'm a big believer in revitalizing La Salle, in investing in La Salle," Mercer said. "I wanted to put something on La Salle and make it a destination location."
The food park's motto is "Eat Local. Drink Local." It lives up to that theme by offering eats from local food trucks and having local craft beer among the drink options in its climate-controlled bar.
The idea for the food park came to Mercer while food trucks were hitting their height in popularity in Waco, he said. He visited the set of food trucks at University Parks and Franklin Avenue, the small food park at New Road and Bosque Boulevard, and the group of food trucks at Magnolia Market at the Silos.
"I thought I could take what I considered some of their negatives and turn them into positives at this food park," he said.
The Silos, for example, are limited by the hours the Magnolia Market is open. Also, alcoholic beverages aren't sold on the grounds. The University Parks location didn't have bathroom facilities.
The food park opened the third week of September last year, so it's moving into its second year of operation.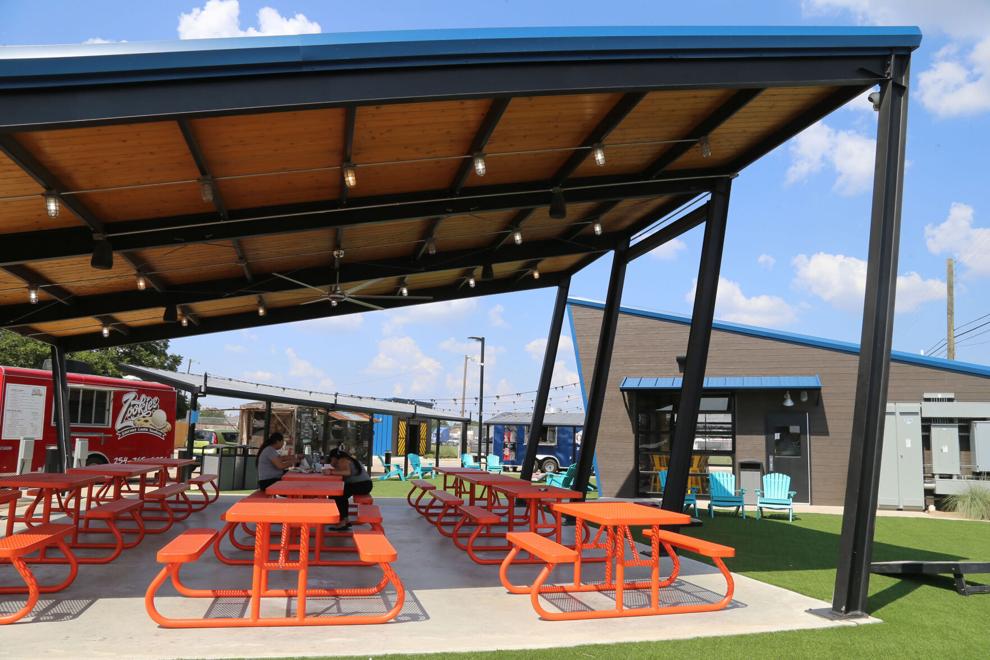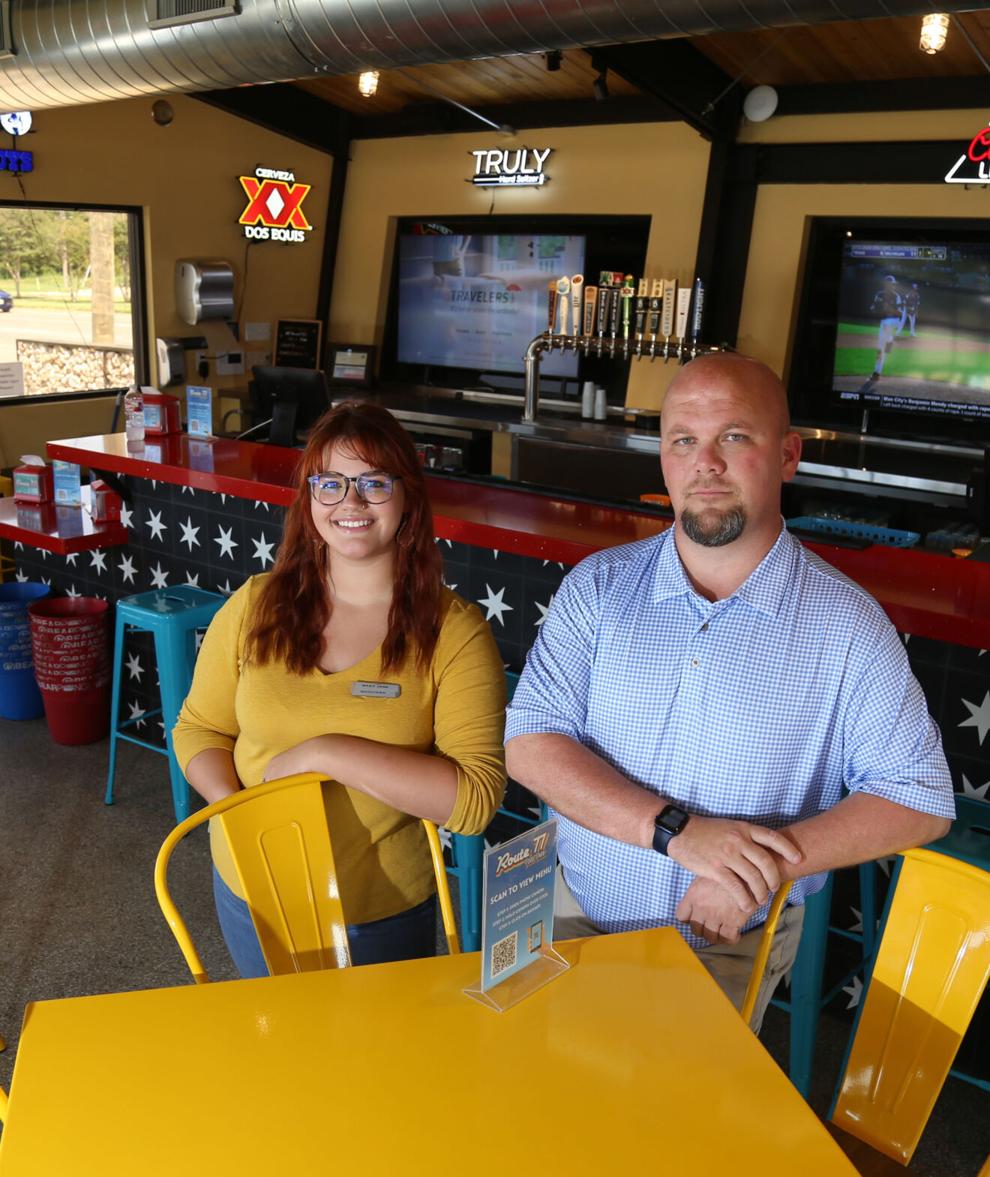 "The food trucks here have all renewed their yearlong leases, so that shows it's been successful for them," he said. Only occasionally will a truck be out on a catering job.
"We have a unique variety of food," Mercer added, noting the current choices of Oakley's Rustic Grill, the Shuckin' Shack and its seafood choices, and Taquisa Waco. Dessert is available beginning at 3 p.m. on Thursday, Friday and Saturday with the Zookies gourmet cookie sundaes that pairs Blue Bell ice cream with cookies.
Mary Benjamin started when the food park opened as a bartender, but was promoted to operations manager in February.
Benjamin said she loves all the food choices. "It can be hard to pick what to have for lunch," she said.
Mercer said the food park is constructed to have up to seven trucks at the location and he's always willing to consider new additions to the mix. Electrical hookups mean the customers don't have to deal with the noise of a generator providing power to the trucks.
"That certainly helps the ambience," Mercer said. "You can talk to and hear the people you're with while eating and drinking."
Drink Options
Route 77 does not have a liquor license and doesn't stay open past midnight on Thursday, Friday and Saturday, but it takes pride in offering local craft beers on tap along with hard seltzers, wines and frozen margaritas, which was a more recent addition that quenched thirsts during the hot summer.
There's no shortage when it comes to "happy hour" at the food park. It is happy hours from 11 a.m. when the park opens until 7 p.m.
Mercer said he's glad to be able to offer craft beers from Waco Ale Co., Brotherwell Brewing and Southern Roots.
"It's a great way to support local business," he said. "You're supporting us as well as locally owned businesses."
Beer from Bare Arms Brewing isn't at the food park, but Mercer said that's because the Bare Arms brewery is only a short drive down La Salle on the traffic circle.
He's anxious to add the brewers' Octoberfest beers to the choices.
The food park "has a tailgatey-type feel," he said, which appeals to a variety of people. Cornhole boards are set up on the artificial grass area for those who might want to play.
"We want this to be an open-air, family-friendly place," he said.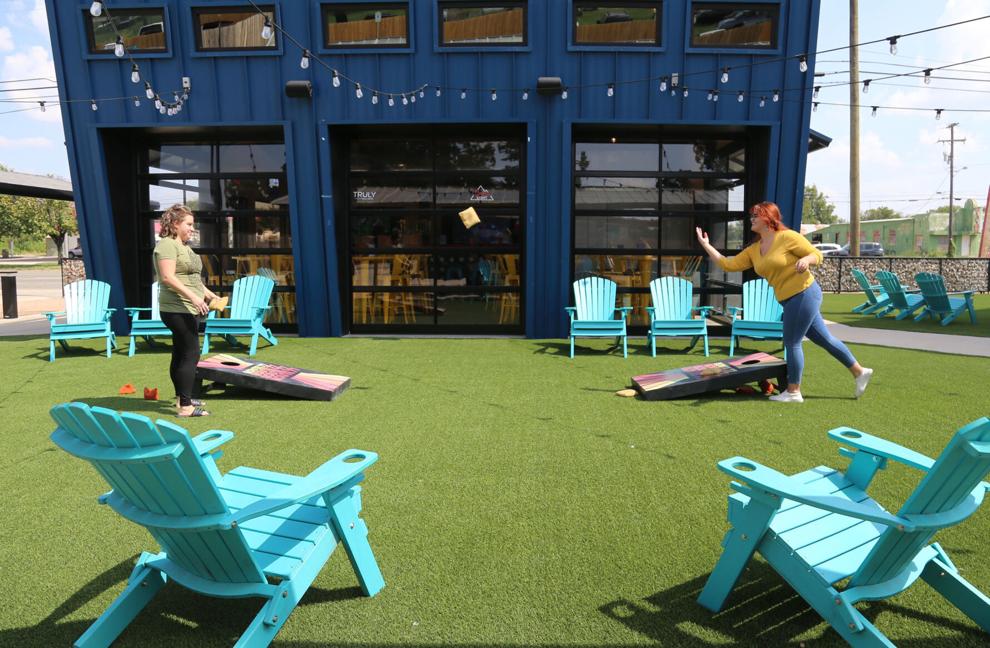 He also believes Baylor students will start discovering the food park. The pandemic last year limited visits by the college crowd, though Benjamin said she's seen a few familiar college faces who did venture out to the food park last year and returned after the summer.
Mercer also believes the open-air design of the food park makes it a safer eating option for families as COVID-19 transmissions remain a concern.
"You can eat with your family distanced from others in an open-air environment," he said.
Should it get too warm, though, there's always the climate-controlled section with tables.
The food trucks offer tantalizing choices for customers.
Taquisa Waco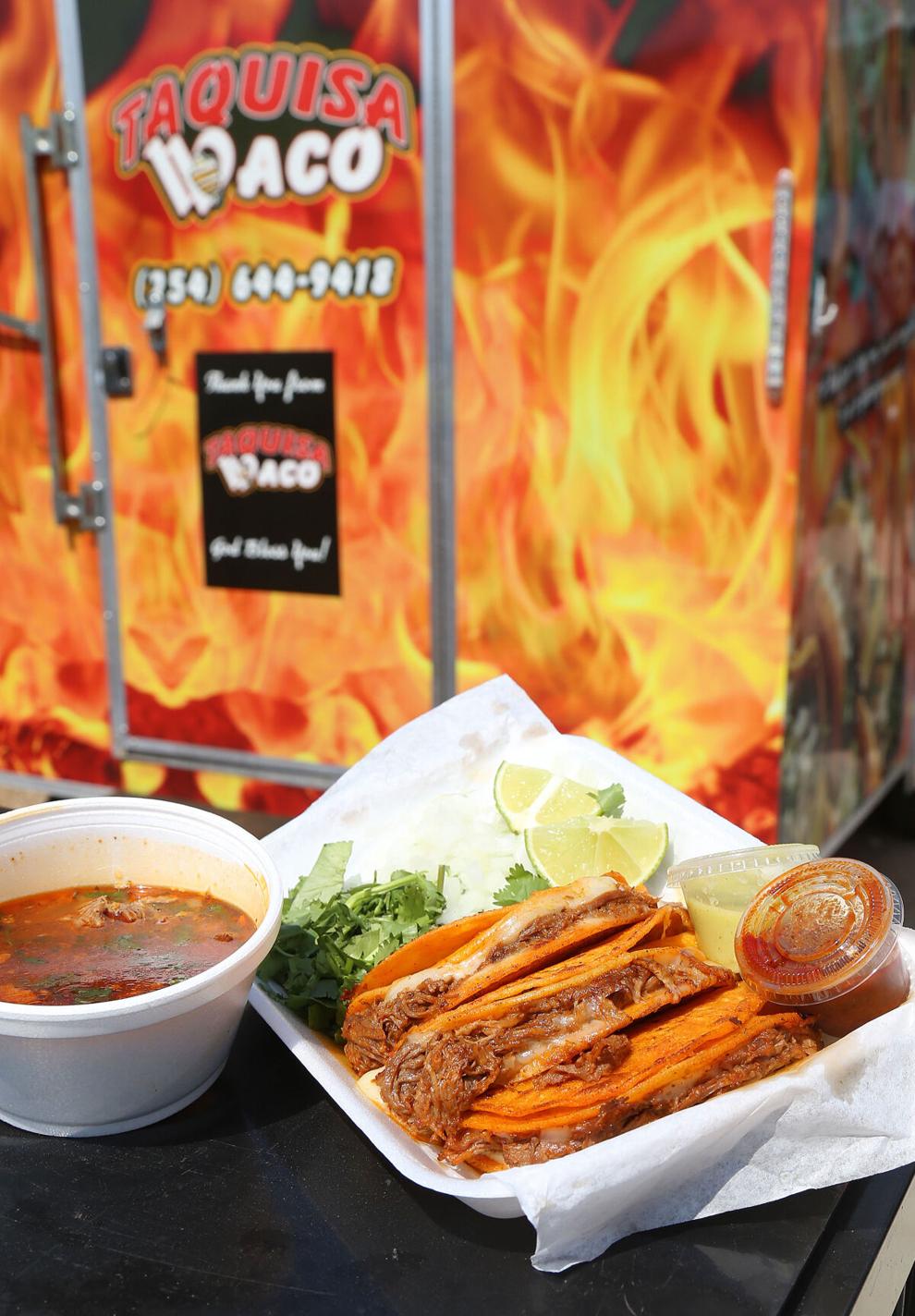 Mercer said he's been amazed at how many tortillas are served out of the Taquisa Waco truck at the food park.
Taquisa Waco has three trucks, but one is at the food park full time.
Ana Amador with Taquisa Waco said the other two trucks go to various locations in Waco as well as China Spring and McGregor.
Because of its location along La Salle Avenue, a lot of to-go orders are prepared for customers.
The birria tacos ($3) are by far the most popular item at the food truck and are made with corn tortillas and choice of meat, such as marinated pork, beef steak, chicken or brisket, for example. It is served with consommé, cilantro, limes and onions.
There also is a birria hotdog ($4), rolls ($4, made with flour and having cilantro on the inside), ramen ($7), even a pizza ($20).
Regular tacos with a wide selection of meat costs $2, unless you want tongue of beef tripe, which runs $3.
Oakley's Rustic Grill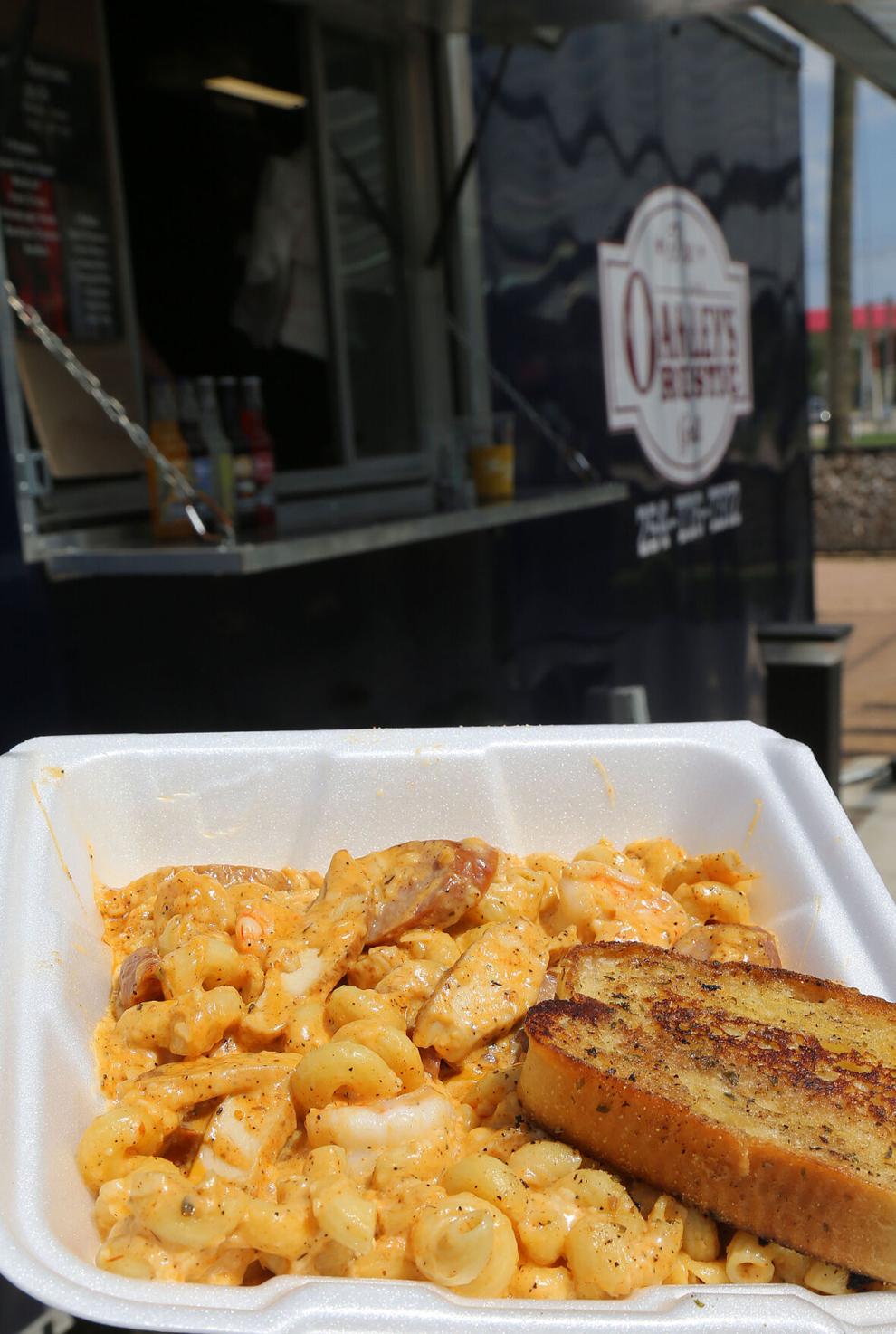 Choices abound at this food truck, with appetizers, baskets, po boys and burgers available.
The Bayou Mac Attack ($12.99) has been a popular pick. It's chicken, shrimp and Andouille sausage sitting atop Cajun mac and cheese.
Head cook Nate Allen said other big sellers are the Lobster Mac 'N Cheese, Maple Crown Mushroom Burger and the Big Tex Burger.
The Lobster Mac 'N Cheese ($13.99) is creamy mac and cheese topped with lobster sautéed in truffle oil. The Maple Crown Mushroom Burger (10.99) is a brisket and chuck patty topped with mushrooms sautéed in Maple Crown whiskey, bacon, lettuce, tomato and chipotle mayo. The Big Tex Burger ($11.99) has a brisket and chuck patty topped with more brisket, cheddar cheese, applewood smoked bacon, onions, pickles and barbecue sauce.
Lunch specials with a choice of one protein and two sides for $8.99 have proven popular, Allen added.
Benjamin said she's partial to a couple of the appetizers: Irish Nachos and Hog Balls.
The Irish Nachos ($11.99) are "fantastic," she said. They are waffle fries topped with brisket, chipotle mayo, cilantro, mixed cheese and jalapenos.
Hog Balls ($9.99) are pulled brisket, pepper jack cheese and jalapenos wrapped in bacon and fried to perfection. They are served with Ranch.
Shuckin' Shack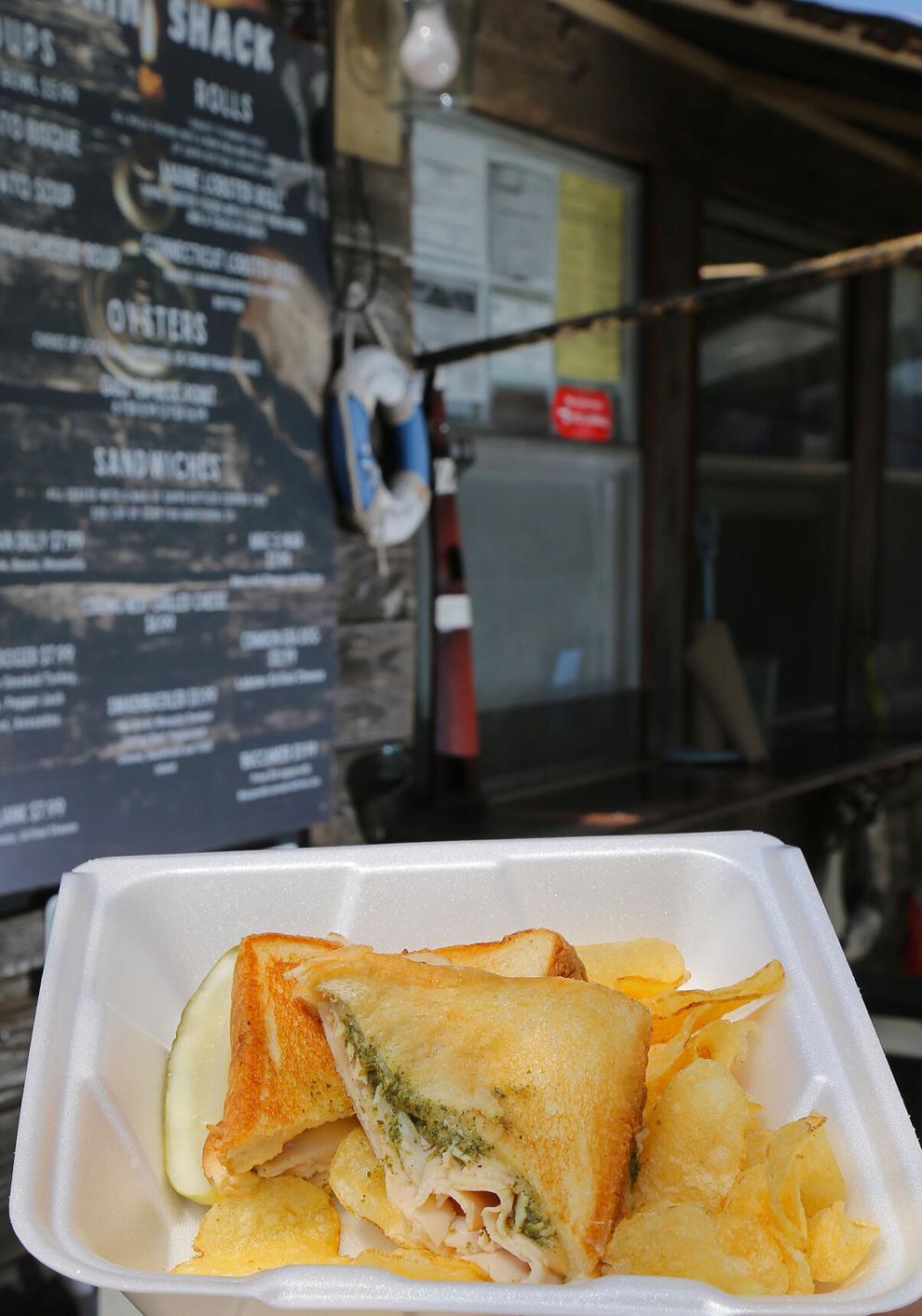 If you're a fan of lobster rolls, this may be the food truck for you.
The price depends on the market cost, but the Shuckin' Shack offer two styles of the New England roll along with a bag of Zapp's kettle-cooked chips. The Maine Lobster Roll is Maine lobster tossed with celery, fresh herbs and a touch of mayo. The Connecticut Lobster Roll is Maine lobster dipped in drawn butter.
Among the sandwich offerings, the Jolly Roger ($7.99) is the top seller. It's made with mesquite-smoked turkey, pesto, pepper jack cheese and avocados.
Other sandwiches include the Swashbuckler ($11.99), which is mesquite-smoked corned beef on rye bread with pepper jack cheese, sauerkraut and Thousand Island dressing. The Buccaneer ($11.99) is prime rib topped with mozzarella and served with au jus .
All sandwiches come with a bag of Zapp's kettle cooked chips or substituted with a cup of soup for an added $2.
Zookies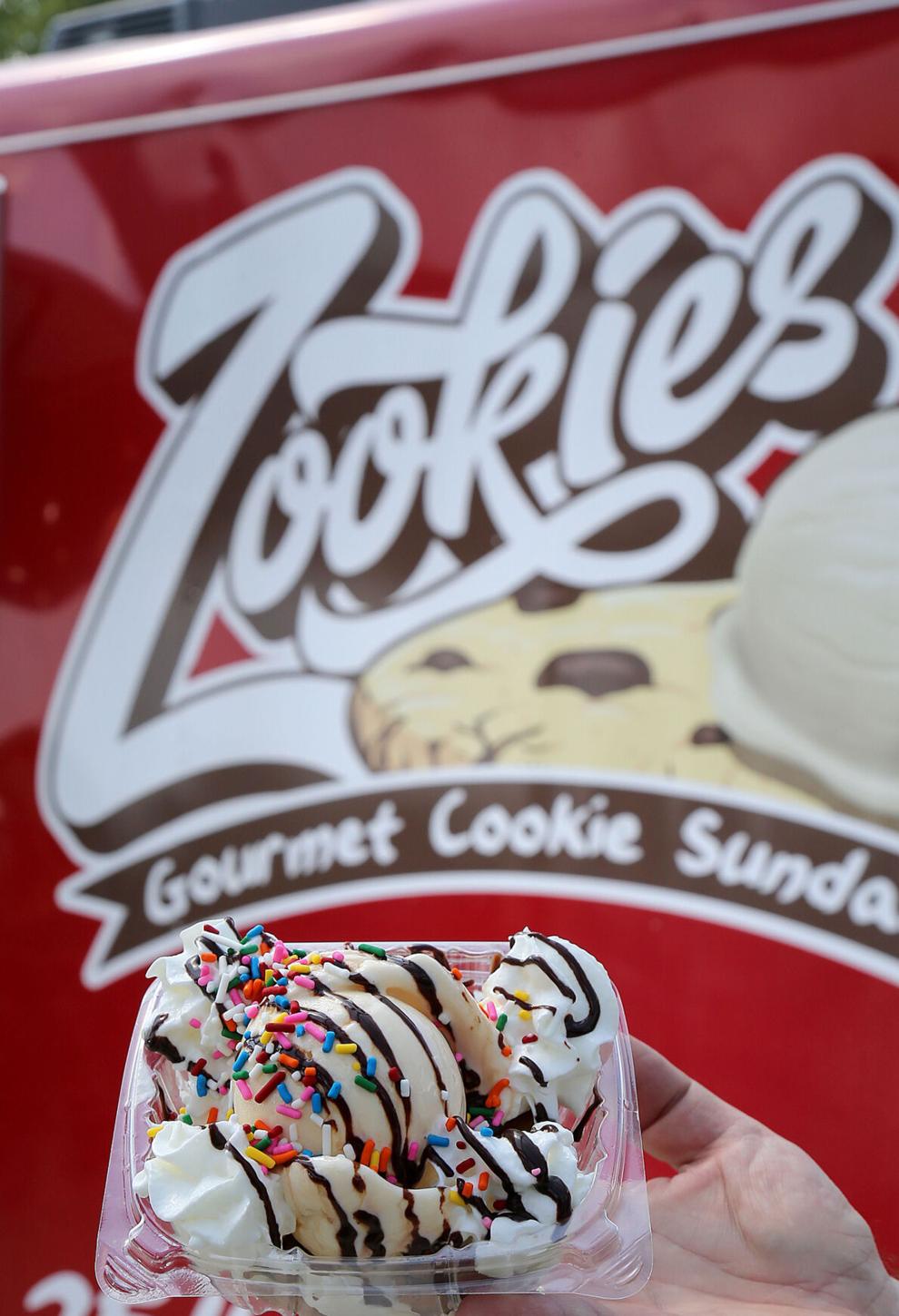 If there's still room for dessert, especially on a hot day, Zookies Gourmet Cookie Sundaes might top you off.
The Zookies truck is only at the food park from 3 to 10 p.m. on Thursdays, Fridays and Saturday, said manager Brent Schulz. But it's stayed busy during the summer.
The Original Zookie ($4.50) is a chocolate chip cookie topped with Blue Bell homemade vanilla ice cream. Other Zookies run from $5 to $6. The Sweet Dream ($5) is a sugar cookie topped with Cookies 'n Cream and caramel sauce.
Another option is the Create Your Own Zookie, Schulz said. Those cost $5 and start with choice of cookie (chocolate chip, sugar, peanut butter or M&M); ice cream (homemade vanilla, Dutch chocolate or Cookies 'n Cream) and an extra 50 cents per topping (from Ghiradelli chocolate or caramel sauce to fresh strawberries).
The truck also offers soda floats for $4.
As an entrepreneur, Mercer is always on the lookout to try something new. He believes the Route 77 Food Park & Bar is an idea whose time has arrived. 
---
Mon-Wed, 11 a.m. to 10 p.m.
Thu-Sat, 11 a.m. to midnight