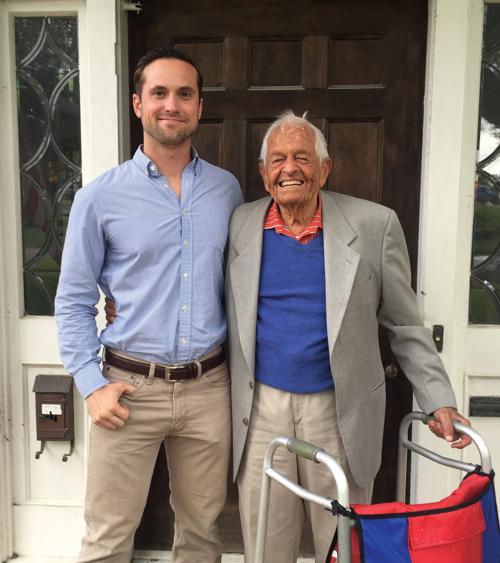 By any measure, 2016 has been some kind of year for Dillon Meek.
The energetic, young District IV Waco city councilman (he turned 32 on Nov. 21) has made the most of this year.
A quick recap:
• He married Lindsey Myers in a beautiful, yet chilly evening ceremony on the Waco Suspension Bridge on Jan. 16.
• On Feb. 2, the Waco City Council passed an ordinance setting restrictions on payday lending, an issue that Meek advocated heavily.
• On June 1, he and Lindsey moved into a wonderful historic house built in 1918 by Waco civic leader and banker Edward Rotan. It was the childhood home of famed pediatrician T. Berry Brazelton, who at age 98 stopped by to see the home this summer while visiting extended family. Brazelton autographed one of his books while there.
• They are expecting their first child, a daughter they'll name Mabry Jo, in December (her due date is Dec. 6). Lindsey planned to teach her first-grade students at Mountainview Elementary School until the Thanksgiving break, then fully prepare for their child's arrival.
Yes, that's quite the year.
"It's like we're trying to put in as many life changes in a year as we can," said Lindsey with a laugh inside their Austin Avenue home. "The past year has been really crazy; but it's a good crazy."
"So fast, so fun. But it's a blessing," Dillon added.
Life changes aside, it's Dillon Meek's passion for improving Waco and how he's worked as a city councilman and businessman, all while engaging people across all backgrounds, that have made him Waco Today's choice for Person of the Year.
"I do think everything I've gotten to be a part of ... I feel like a kid at Christmas," Meek said. "I'm having so much fun, but I am one cog in a very big machine working to make Waco better. One of the fun things about the payday lending ordinance is that we were able to unite together with a really great, diverse group of people who wanted to see this through."
It's Meek's emphasis on consensus-building and being prepared that impressed former mayor Malcolm Duncan Jr., particularly with that payday lending ordinance. Meek was still relatively new to city council since his election in May 2015.
"He took the time to study what the issues were and to know who the people in the community were," Duncan said. "He went out to ask them questions. It was a good way to get started."
Meek said it was definitely worth getting involved.
"The payday lending was one of my primary goals when I got on city council, to really look at reform for that," he said. "I think that access to capital is a critical component to people in poverty having financial security. For me, one of the things jeopardizing that financial security is people utilizing payday lending and the predatory practices that came with that. It was a real problem in this district."
Meek was familiar with the issue even while a student at Baylor. He had interned with the Baptist General Convention Public Policy Office in 2006 as a junior.
"This was a big issue to those guys on the state level," he said. "There were churches behind this. There were presidents of banks testifying on behalf of this. You have this broad cross-section of the community that represents many different spheres standing up and taking about the egregious fees they have to pay. It was fun to rally a really diverse group of people around a really good cause to address this issue."
He said he was glad to play his role in that process, but is quick to credit the hard work done by members of the Citizens for Responsible Lending and community leaders like Alexis Christensen and Phil York (who has since moved to become director of development for Habitat for Humanity in Carroll County, Maryland).
Background
Meek said he's glad to call Waco home, adding that he became enamored with the city while a Baylor student.
"My experience at Baylor was so great it would have been impossible not to fall in love with Waco," he said.
He grew up in Edna, Texas, which is a few miles northeast of Victoria. His father, David, raises cattle on a ranch. Mom Libby is a public school teacher. An older brother, Phillip, graduated from Texas A&M and then earned a master's in creative writing from the University of Montana.
Dillon arrived at Baylor in 2003, mostly because he was sold on it by a cousin, Bret Phillips, who was a sophomore when Dillon started classes.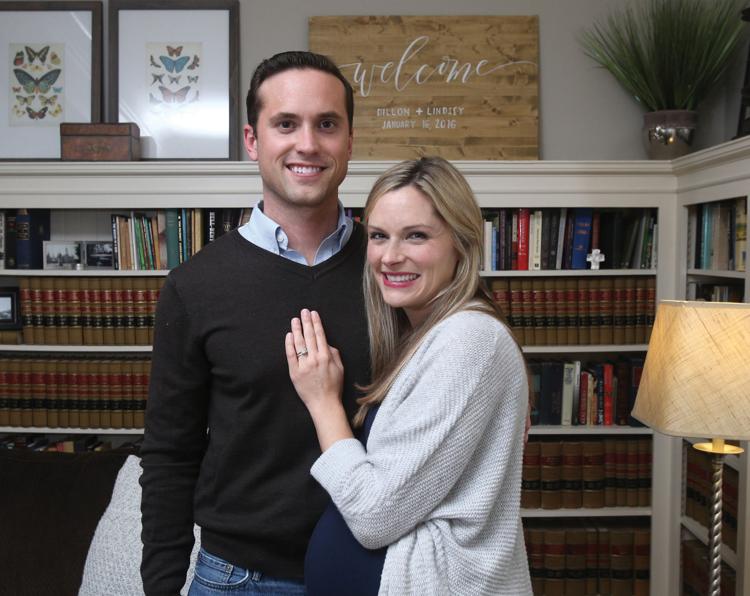 Dillon and Lindsey met at Baylor, but they didn't start dating until after both graduated in 2007. She returned to her hometown in Austin to begin her teaching career. Dillon went on to Baylor Law School and chose to remain.
He found work at the Waco law firm of Haley & Olson and was there for three years, representing cities in litigation as well as clients that are financial institutions and energy companies.
"I learned a ton there about what it takes to be a lawyer and representing clients well," Meek said. "I was sad to leave, but I had a chance to join this growing investment company (Rydell Capital, which is moving into a new office on the fourth floor of the National Lloyds Building downtown)."
Meek is Rydell's general counsel and also manages its investments, which include ownership of or partnerships with Fuego Grill, Urban Produce, Premier ER and Campus Realtors.
Meek said he especially enjoys the real estate investment aspect of Rydell Capital, which was founded by Ryan Gibson and Chris DeLeenheer.
"What role can we play in growing our city?" Meek asked rhetorically. "I want to be profitable, but at the same time make real estate investments that are going to benefit our city."
To that end, he hopes his company can help develop places where local graduates of Baylor, McLennan Community College and Texas State Technical College can live and remain in Waco.
"I want us to build a beautiful neighborhood for young professionals to live in after they graduate. That's one of my passions." he said. "To invest in downtown, to build up downtown properties.
"I'm really thankful for those I work with, because they also allow me the flexibility to do my job at city council. They've given such grace for me to run to a budget meeting or run to a community meeting in the middle of the day.
"I couldn't be doing what I'm doing but for their care for the city."
City Council
And it's obvious that Meek cares about Waco, too, said former mayor Duncan.
"He's meshed well with the other council members," Duncan said. "He has a high degree of energy and enthusiasm. He's a breath of fresh air."
For Meek, he said he feels fortunate to work alongside other people committed to improving Waco.
"I have such respect for the mayor I am serving under," he said of current Mayor Kyle Deaver. "I think he's an incredible leader who continues to do an incredible job as mayor. Alice (Rodriguez) and Wilbert (Austin Sr.) have such longtime service. There's a camaraderie there. Even when we vote differently, it doesn't build up walls. We can recognize that we're still friends working toward the same goal. I have so enjoyed learning from them about what it takes to be an effective councilperson."
Meek is pleased with the work he and District III Councilman John Kinnaird are doing on creating the Community Loan Center, which is designed to allow employees to take out small-dollar loans at a favorable interest rate.
"That's what I love about local government," Meek said. "To identify problems in the community, and say, 'how are we going to solve that problem?' Some people might have different ideas about the ways to go about that, but it's been enjoyable for me to get a lot of different people in the room and say, 'how are we going to address this?' and come up with a solution, then go forward and tackle it."
Meek recalled a situation with a fellow council member that he thinks illustrates well the camaraderie on the council.
"Wilbert Austin and I were talking about a hot-button issue one time, and we were kind of going back and forth on it, and then he stopped me and said, 'Dillon, have you prayed about this yet?'
"And I said, 'Well, I actually haven't.' And he goes, 'Well, you're only getting ahead of yourself if you haven't prayed about this yet.'
"That may be the best life advice I've ever gotten. To really seek the Lord as we move forward in our business. That's something I really have a conviction about and believe that. And that's the spirit in which that council operates … in a real healthy way.
"We're taking it seriously, we're walking in humility and we're really trying to do our best for the city."
Building bridges
One of the best traits about Meek is his willingness and ability to work well with others.
He ran against Ashley Thornton, who serves as director of continuous improvement at Baylor and has been involved in numerous community initiatives, for the District IV council seat last year. Despite their differences politically, the two since the election have become great friends and sounding boards for each other.
"Thank goodness I didn't win," Thornton said a laugh. "I told his mother one day that he's an angel sent from God to save me from myself. "It's a lot of work to be a council member as a volunteer position and still do your job for work. But he's plunged in with a lot of energy.
"I like how he approaches things strategically, to take on the everyday concerns but look at the big picture. You have to have your eye on the sidewalk and on the horizon.
"What do we want Waco to be 30 years from now, for when that kid of his grows up and is hopefully living here?"
"I have so much respect for Ashley," Meek said. "She is an incredible community partner that I plan to continue to work with and rely on in addressing the issues of the community."
Thornton's former campaign treasurer, Fernando Arroyo, is the new president of the Sanger Heights Neighborhood Association. Meek is working with him on ways to spur development along 25th Street.
"I think the neighborhood associations are the best way for me to have a low ear to the ground on what going on in the community," Meek said. "One of my priorities is to do what I can to help build those up.
"Fernando and I were in a conversation about what it would look like to really build up the commercial district along 25th Street. It's in the early stages, but I want to start engaging with those business owners along that corridor. Really hear from them on what their needs are."
Faith
Meek is quick to point out that his faith helps him in his work, as a council member, and as a person.
He started attending Antioch Community Church as a Baylor junior.
"It was a church that called me to really live out my faith there," Meek said. "Churches play a really important role in this city. When people from my church were helping with my campaign (for city council), to me it was like, 'Well, of course. They're my family. I've been going there all these years now and I have deep relationships with them, so I would expect that because of my friendship with them that they would want to help.
"I'm just grateful for the family and the community that I found there, and the leadership that is there. It's a great church."
Dillon and Lindsey even spent part of their delayed honeymoon during the summer doing church work. They left as soon as Meek could get out of a council meeting.
"Lindsey was waiting in the car and off we went," he said.
They spent seven days in Amsterdam working with Syrian and Iraqi refugees there.
"The refugee work was rewarding, but it was heartbreaking," he said. "One man was widowed with an 8-year-old boy. His wife had just given birth and was at the hospital when ISIS blew it up. It was truly a gut-wrenching story."
He said the male refugees were educated and willing and capable to work but were in limbo because of their visa status. "So they would hang out at these refugee camps all day," he said. "We would talk to them; there were English classes taught there. They just don't have their paperwork to work yet."
Lindsey
Dillon's bride is still a bit in an adjustment phase living in Waco after growing up in Austin and living there for years after Baylor graduation. Her father is a retired Baptist pastor who now oversees a church counseling center in Austin.
"I was established in Austin. Dillon was established here," she said. "We're trying to merge the families and friends we've had for years along with making new friends together."
"She misses her Central Market," Dillon interjected. She nodded slowly in agreement.
Lindsey has a speech communications degree from Baylor, and took a marketing job after graduation, but quickly discovered that wasn't for her. She then got her teacher certification and taught preschool at a private school.
"I love that he has a desire for Waco to be the best that it can be," she added.
Dillon, meanwhile, said he can't imagine doing what he does without her.
"She is definitely the rock," he said. "I couldn't do any of this without her love. I can't remember what life was like before her."
Future plans
Yes, there's a baby on the way. Soon. A recently purchased stroller sits near the sofa. A childbirth class was on the schedule the night of this interview with them.
But Meek is also looking forward to continuing his work with the City Council.
He's excited about the city's planned riverfront development and the ongoing work of Prosper Waco. Campus Town is an initiative to retain college students in Waco that he is passionate about.
"I think Waco is the land of opportunity," he said. "It is small enough where you can be 30 years old and be on city council (a quick laugh). It's small enough to where you can really jump in and make an impact in the community, but it's big enough that the work is significant."
And he enjoys doing that work, using the word "fun" several times to describe his council duties as well as his work with Rydell Capital.
"It is a lot of work and requires some tenacity," Meek said. "I think my skin has gotten a little thicker in the process. But it is purposeful, and impactful, and rewarding. Because it is those things that I value. Purposeful work is being able to use what skills I do have to make a real impact on this community. That's a dream come true to me."
---
Also considered
Dillon Meek ultimately was chosen as Waco Today's Person of the Year for 2016, but he wasn't a foregone conclusion. Others considered for the honor were:
Jimmy Dorrell
The executive director of Mission Waco is one of those individuals who nearly always will be on the short list for Waco's Person of the Year with all that he does with his nonprofit organization.
But he outdid himself this year with the opening of Mission Waco's Jubilee Food Market, a full-service grocery store at Colcord Avenue and North 15th Street. Celebrating its grand opening on Dec. 1, the market is indeed an oasis in the "food desert" of that neighborhood, where residents travel more than two miles to the nearest H-E-B.
Dorrell pursued grants, received gifts of free or discounted labor and launched a plan allowing the public to pay $25 for a share of symbolic Oasis stock as an option for people stuck with the high prices and limited options at nearby convenience stores.
He raised $520,000, which he used to renovate the 6,500-square-foot building that sits across across 15th Street from the Mission Waco complex, where the World Cup Cafe serves meals, the homeless learn job skills and life lessons, youngsters perform in the Jubilee Theater, and customers frequent the Fair Trade market.
Mission Waco will mark its 25th year in 2017, and Dorrell continues to care for the less fortunate in remarkable ways.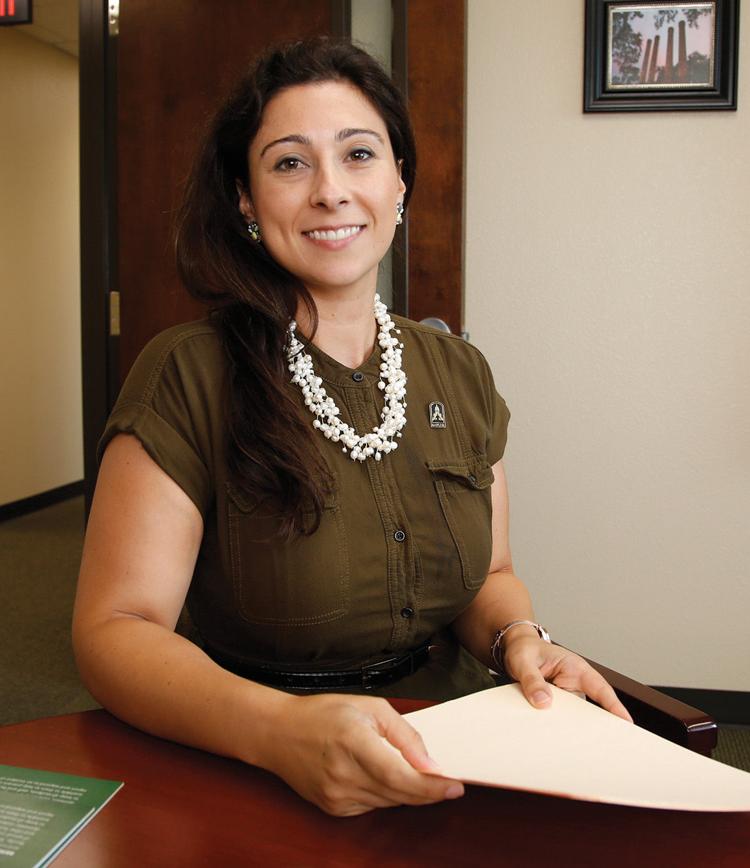 Patty Crawford
Baylor University's former Title IX coordinator appeared to be making significant strides in addressing the problem of sexual assault on the campus until her sudden resignation on Oct. 3.
Crawford has said she never had the "authority, resources or independence" to do her job and added that Baylor leadership interfered with her duties to do her job adequately, an assertion Baylor officials have disputed. She also filed a complaint with the U.S. Department of Education's Office for Civil Rights, which opened an investigation.
Crawford served less than two years as Baylor's first full-time Title IX coordinator. She told "60 Minutes Sports" on Showtime that hundreds of students approached her with complaints of sexual assault and that it was a campuswide problem, not limited to the football program. She also expressed concerns against a rush to judgment, citing incidents where players were dismissed from the university with little chance to defend themselves from the allegations.