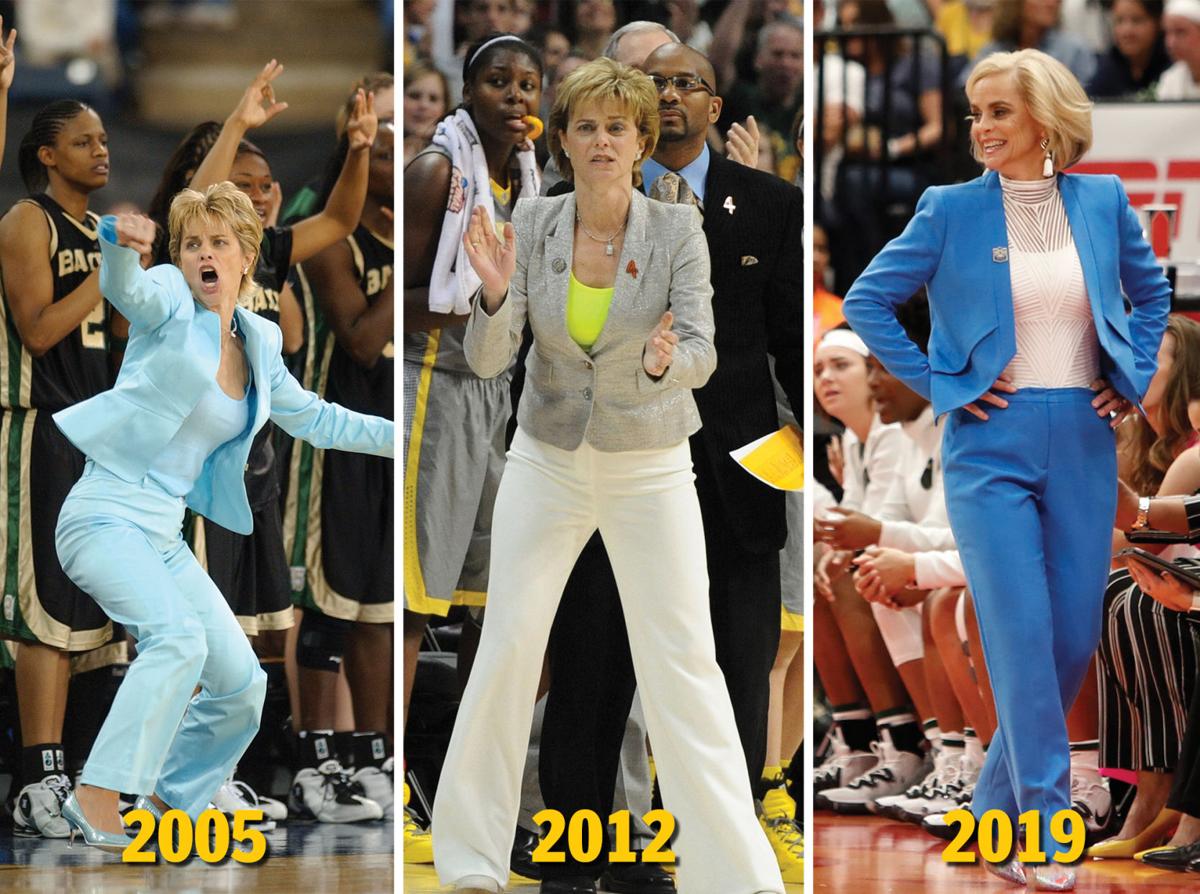 Perspective. As Kim Mulkey enters her 20th season as head coach of the Baylor Lady Bears, she has a good grasp on perspective.
The woman who once thought Louisiana would always be home and didn't intend to become a coach has lifted the Baylor program to an elite level. It is one of only three schools with three or more national championships (Connecticut has 10 and Tennessee has five)
She did it, too, in rather quick fashion, winning that first title in her fifth season in 2005, then picking up the next two in a seven-year pattern, both times over Notre Dame, in 2012 and 2019.
"It's amazing the way life works out," Mulkey said. "Never did I think I would leave the state of Louisiana. Certainly never knew I would end up in Waco, Texas, and at Baylor University. But here we are and it's been a blessing."
It's probably hard for Baylor fans to imagine that Mulkey, who won a national championship at Louisiana Tech and played on the U.S. Olympic team, would have ever done something other than coach basketball.
But that wasn't the career she envisioned after the 1984 Summer Olympics.
She graduated summa cum laude with a degree in business administration and was in the school's MBA program when Louisiana Tech President F. Jay Taylor approached her about a different career path.
Sonja Hogg was retiring and co-head coach Leon Barmore was going to be taking over. Hogg suggested Mulkey would be a great addition to Barmore's staff and Taylor reached out to her.
"Honestly, I reluctantly agreed," she said. "And thank God I did, because obviously that man knew more about what I was to do in life than I did. It's what I was meant to do and I don't think I knew that at 20-something years of age."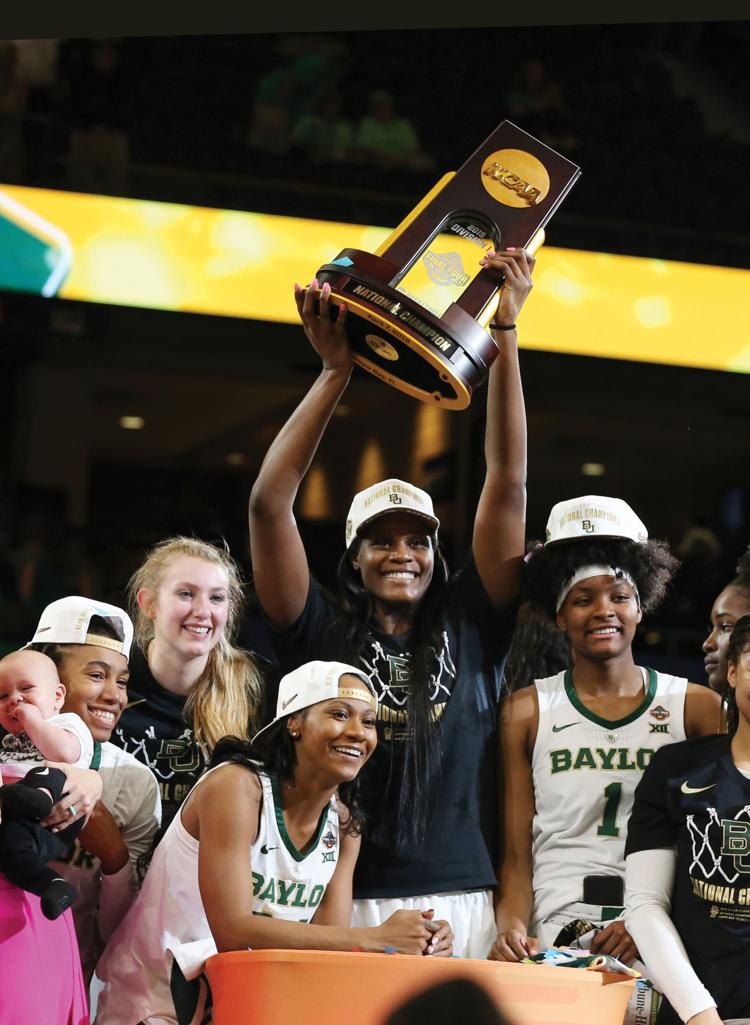 She spent 15 years on Barmore's staff on one of nation's top programs. The Lady Techsters routinely went deep in the NCAA Tournament and won the 1988 championship.
Interestingly, as she enters her 20th season with Baylor, her wins record is identical with Barmore's. He went 576-87 in 20 years at Louisiana Tech (1982-2002). Mulkey is 576-99 in 19 seasons with Baylor.
"He was a legend and he's still my mentor," Mulkey said. "I talk to him quite frequently. He's just a fantastic coach and I was blessed to play for him, and really learn from him. To have him come to Baylor for three years (2008-11 as an assistant to Mulkey) was a lot of fun.
"I was probably a part of a lot of his wins as an assistant coach and as a player. I'll take credit for it because it was an honor to play for him and coach with him. We had a lot, a lot of victories. It was a period at Louisiana Tech that was phenomenal."
New Beginnings
Mulkey, who would take over for former coach Sonja Hogg at Baylor in 2000, hit the ground running.
She inherited a team that finished 7-20 in Hogg's final season but after assembling a strong staff, the Lady Bears went 21-9 and made the NCAA Tournament in her first year.
She credits that success to putting the right people around her, and she found that in Bill Brock, Johnny Derrick and Jennifer Roberts.
Consistency has been a recipe for Baylor's success and keeping a staff intact for that stretch has been critical, Mulkey said.
"They're just good people and they each have a different type of job to do," Mulkey said. "When I hired those guys 20 years ago, I was thinking outside the box somewhat.
"I took a manager from Louisiana Tech in Jennifer Roberts. Managers understand and learn the game as much as players because they're at practice every day and I knew that because she was around us at Louisiana Tech."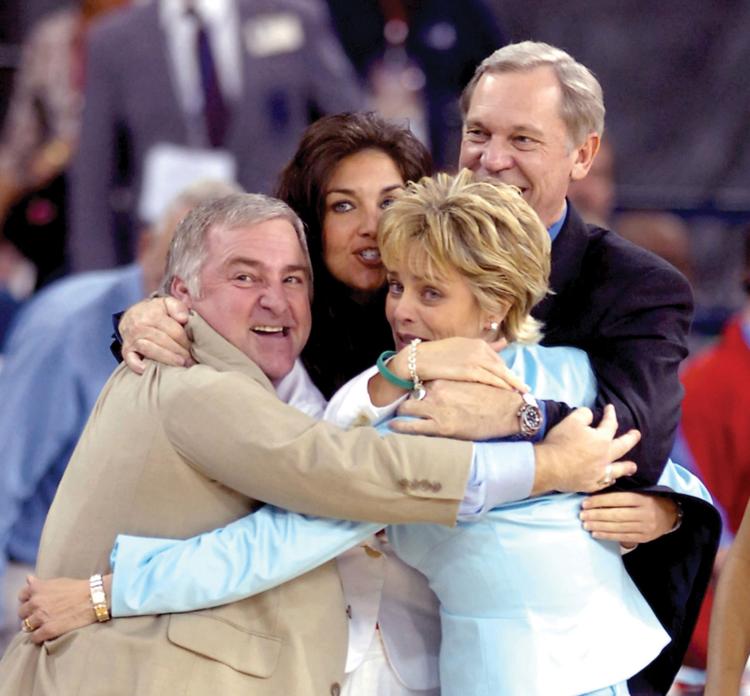 Roberts, who serves as associate director of operations, said her boss is the reason for the three national titles.
"This program has been successful because it has been led by the best leader in the country, in Kim Mulkey," Roberts said. "She has directed and led this program to the level of success by her leadership skills that are God-given."
Derrick was her first hire, plucking him from more than two decades in the insurance industry to oversee the business side of the program.
"I took a guy out of the business world because I knew I didn't want to deal with paperwork, I didn't want to work with budgets and scheduling and that's when I went after Johnny," she said. "He left his career in the business world to do that."
Derrick agreed that having little turnover on the staff provides the consistency needed to success.
"We work hard every day recruiting the best student athletes and taking care of them when they are part of our program," he said. "Coach Mulkey demands the best from everyone associated with the program – coaches, staff, administration, student athletes and managers."
The next part of the puzzle was getting a fellow coach to help her coach on the floor and with recruiting, she found that in Brock.
Brock spent 13 seasons as the head women's basketball coach at Grayson College, where he compiled a 371-50 record. He will be inducted into the Grayson Athletics Hall of Fame on Nov. 8.
"We demand excellence on the court, in the classroom and out in the community," Brock said. "These high expectations have been the same from year one through year 20."
Brock said he enjoys watching the development of the players during their time at Baylor.
"Our coaching staff does an outstanding job of preparing players for the court and for life after basketball," he said.
Mulkey can't complain with the results.
"I thought I put a little thought process into it, and it looks like it worked out pretty good," she said.
"I didn't want to get assistants and coaches who were going to leave me after a year or two because I realized what we inherited was going to take a while to build. Or at least I thought it would.
"I didn't realize that in five years we'd win a national championship, but those guys are the best. They're loyal. They love Baylor. They love the Lady Bears. They do their jobs extremely well and they're not always answering the phone or looking to leave.
"When you can find people like that, you'd better surround yourself with them because they'll make you a winner."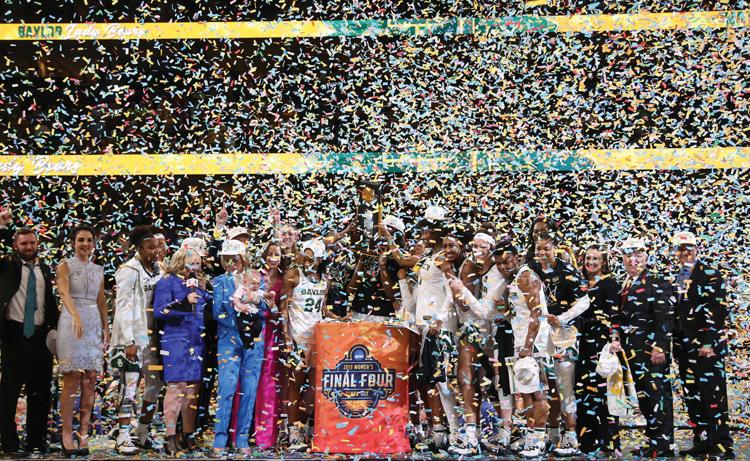 Talent, too
Having talented players to coach certainly helps, though it's never a given that talent translates into championships, Mulkey said.
"I've had teams that shoulda, coulda, woulda … but then I've had teams that probably shouldn't have won the national championship, but we did," Mulkey said.
Last year Baylor edged out a Notre Dame team for the championship that had all five starting players drafted into the WNBA. The Lady Bears did it without leader Lauren Cox, who went down with a knee injury late in the third quarter.
That victory kind of defied the way it usually works.
"So many things have to go right at the end of the year," Mulkey said. "You have to play your best basketball. You have to stay away from injury. You have to have a team that's unbelievably cohesive and pulls for each other.
"The most talented teams don't always win championships. I've been on both ends of that.
That's what makes playing in the NCAA Tournament so much fun because anything is possible."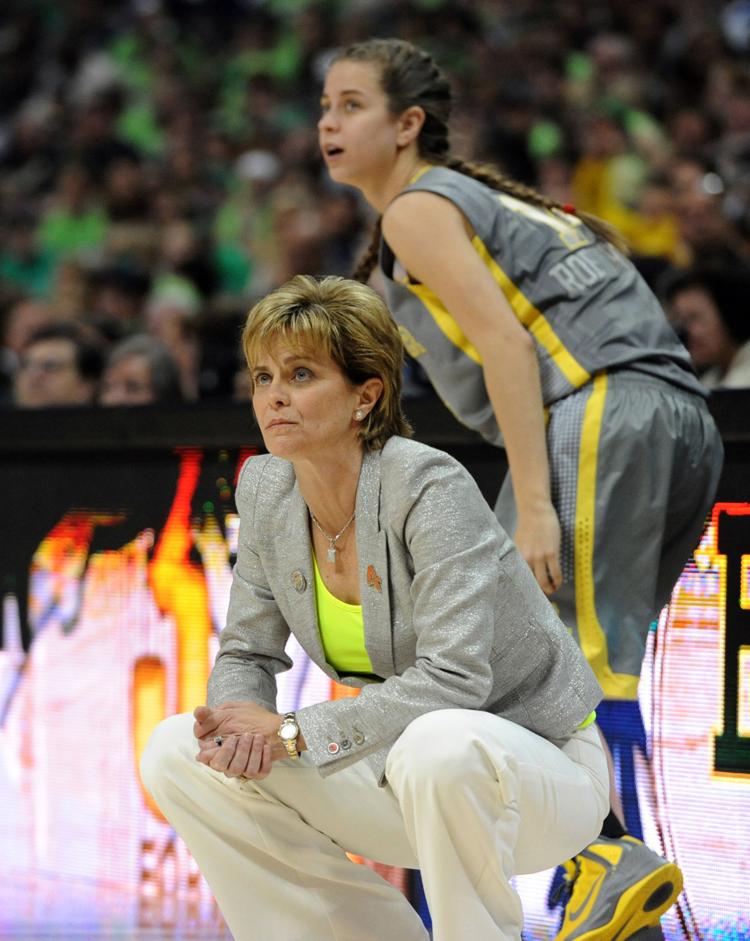 Daughter's view
Mulkey's daughter Makenzie Fuller has a special perspective of Baylor's success as she seen it through different lenses. First, as a kid at her mother's side in 2005, then as a sophomore player on the 2012 champion, and this past April as a member of the staff in her role as associate director of operations.
She was 14 and at Midway Middle School when Baylor defeated Michigan State handily to win that first title.
"Being just the daughter, it was kind of these are the girls you look up to, but you're around them every day," she said. "And it was my dream to be in their shoes one day.
"In 2012, I'm living the dream, getting to be a part of something, putting in the hours with my teammates every day, and making each other better … getting to contribute.
"It was special sharing that moment with my mom and my teammates as a national champion.
"That '05 team had such great chemistry to make that happen when Baylor really wasn't known, and then in 2012 there was just so much talent (with Brittney Griner and Odyssey Sims). We were undefeated, 40-0, and they almost couldn't be stopped that year strictly on the talent we had.
"And then the 2019 team this last year kind of had the best of both worlds – they had the chemistry they needed to make it and then the talent that took them there.
"It's great to see, from the perspective I have, the different ways you can go about winning a national championship."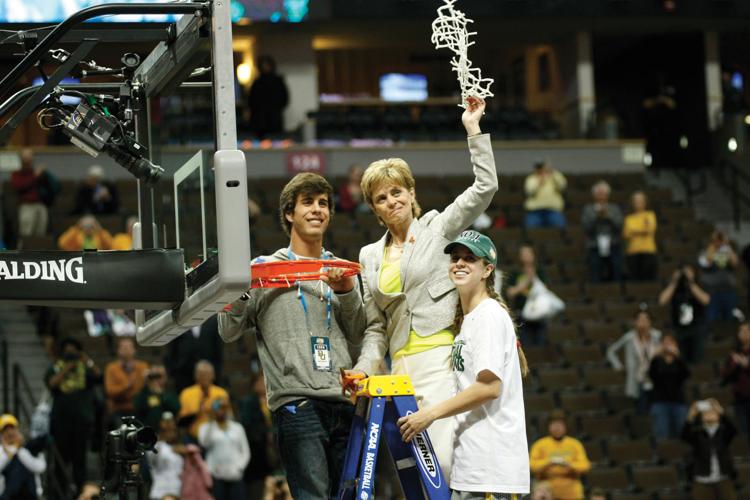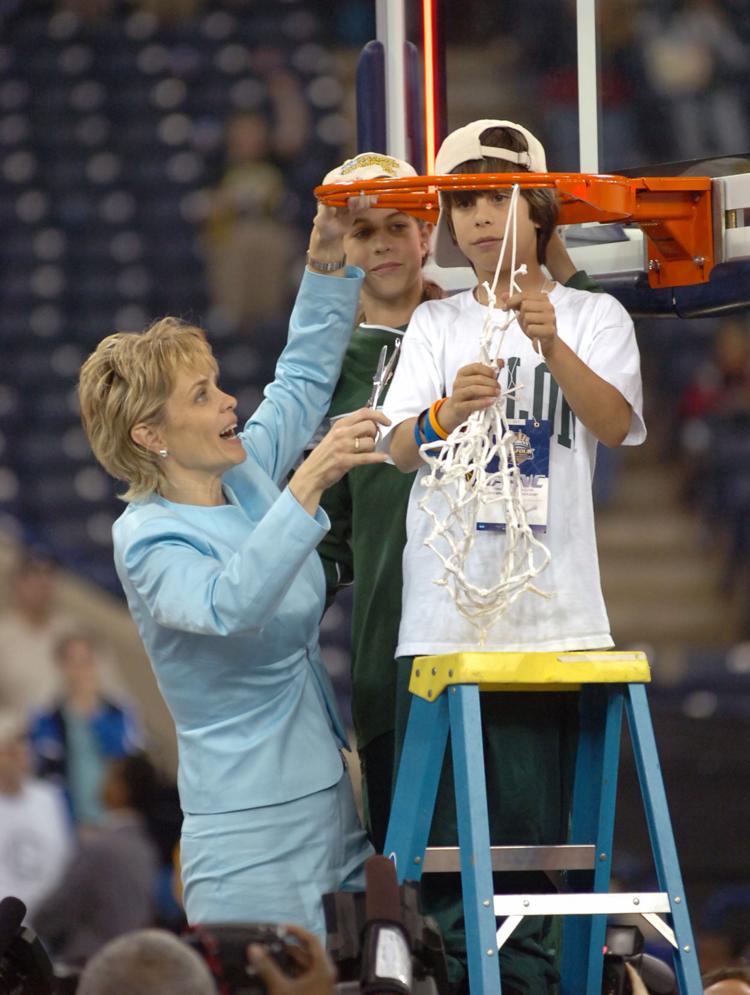 It was also different this time being in the role of a parent and cutting down the nets alongside her mother, a ritual she and brother Kramer had done in 2005 and 2012.
It was kind of a "circle of life" moment with her young son Kannon in her arms. And then "The Lion King" music began to play over the speakers.
"That's why I held him up in the air," she said. "I was like, 'Oh, I've got to do it!'"
Makenzie admits she has a hard time wrapping her head around the two decades of success at Baylor. Makenzie was 9 when the family moved to Waco. Now she's 28 with a husband, Clay Fuller, and their now 1-year-old son.
"You don't think about it until you're there and then you look back and you're kind of in awe of everything she's accomplished," Makenzie said.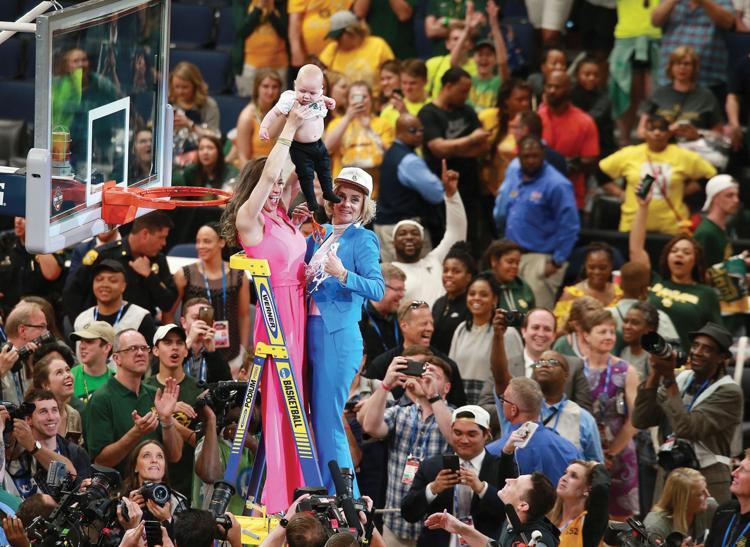 "From my perspective, she's my mom and I know everything that goes into each one of those seasons and how much she's puts into it of herself and her time and energy and emotion. How much she cares.
"I also see the impact she leaves on these players that most people don't get to see. I see the people coming back, or the comments shared, or the phone calls and text messages that I'm in the other room listening to.
"It's really amazing, but I'd never take it for granted because I'm there and I see how much work goes into it, and I just hope that other people don't take that for granted because 20 years in one place is a long time. In this business most people are trying to keep a job and stay there.
"We've had great fans and she's had great support. It's been unreal."
Entering the 20th
As Mulkey starts that 20th season, she doesn't see her or her staff doing anything differently.
It's about maintaining that consistency.
"The game of basketball is the same," she said. "You might run a different offense. You might put four guards or five guards on the floor, but at the end of the day, if you've got a good post player, you've got a good point guard, a good shooter, you're going to win a lot of basketball games.
"We recruit players that can do that at a high level. We still work extremely hard. Our workouts are intense and passionate. Practice is the best place to get better. Our practices are probably harder than a lot of our games.
"We've got a lot of talent in that gym and they push each other."
She's says that word "consistency" use more.
"You have to consistency in discipline, never compromising who you are as a coach to win a basketball game," Mulkey said. "Graduate your players. On the floor, make them play defense, and that's kind of how I was taught. That's what I learned at Louisiana Tech and remained who I am at Baylor.
"Certainly, you have to make adjustments sometimes, Different players on the floor, but who you are remains the same.
"We're gonna guard you, we're gonna make you go to class, we're gonna be consistent with our discipline. You don't change those types of things."
The proof is in the championships: three national titles and nine consecutive Big 12 Conference championships.
"The main thing is we've been consistently up there vying for the (NCAA) championship," she said. "We may not have won it, but we're always in the mix. Coaches can coach a lifetime and never reach an Elite Eight.
"We're not afraid to talk about those things, but we keep perspective. We approach it the same as every year. Internally, we're realistic about what our goals should be."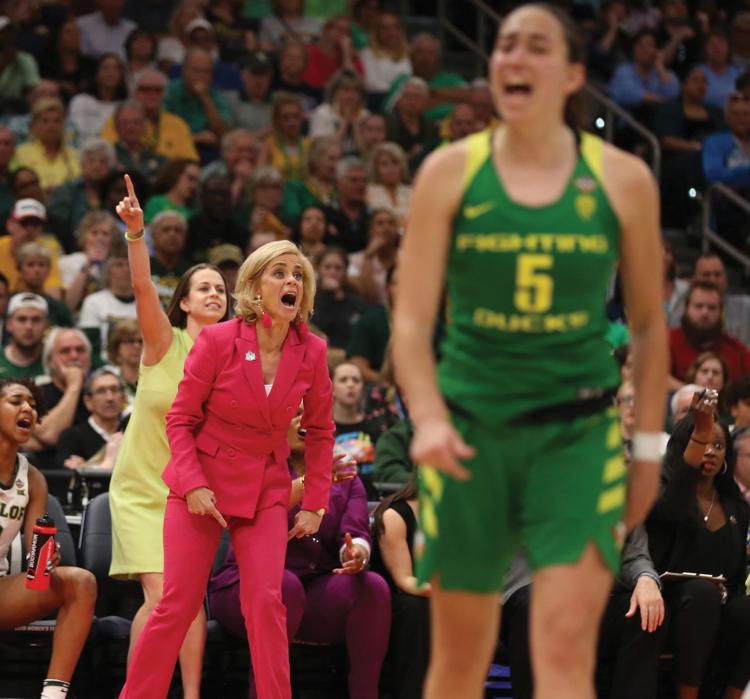 While consistency is crucial, Mulkey says some adjustments come with the times.
"You evolve somewhat as a coach with the personality of your players," she explained. "What motivated a kid 10 years ago may not motivate a kid now, but it's your job to figure it out. Is it laughing with them more? Is it doing more things in practice that you wouldn't have done 10 years ago? I don't know.
"A lot of things can change, but a lot of things don't change. I'm the same coach I was when I got here 20 years ago with the exception that each team has its own personality and you kind of figure it out."
No. 20 was Mulkey's jersey number, both as a star at Hammond High and at Louisiana Tech. She said it is a special number for her.
"I've been very blessed," she said. "I've been around good players, good assistant coaches. Been at two schools basically, and those schools valuable women's basketball. The fans are awesome. Not many coaches can say they've only been at two schools.
"I have fond memories for the last 20 years; hope to make some more good memories before I put those tennis shoes up and say,' 'I'm done.' "
---
Photo essay: Baylor Lady Bears, Coach Kim Mulkey capture 3rd national championship
Be the first to know
Get local news delivered to your inbox!