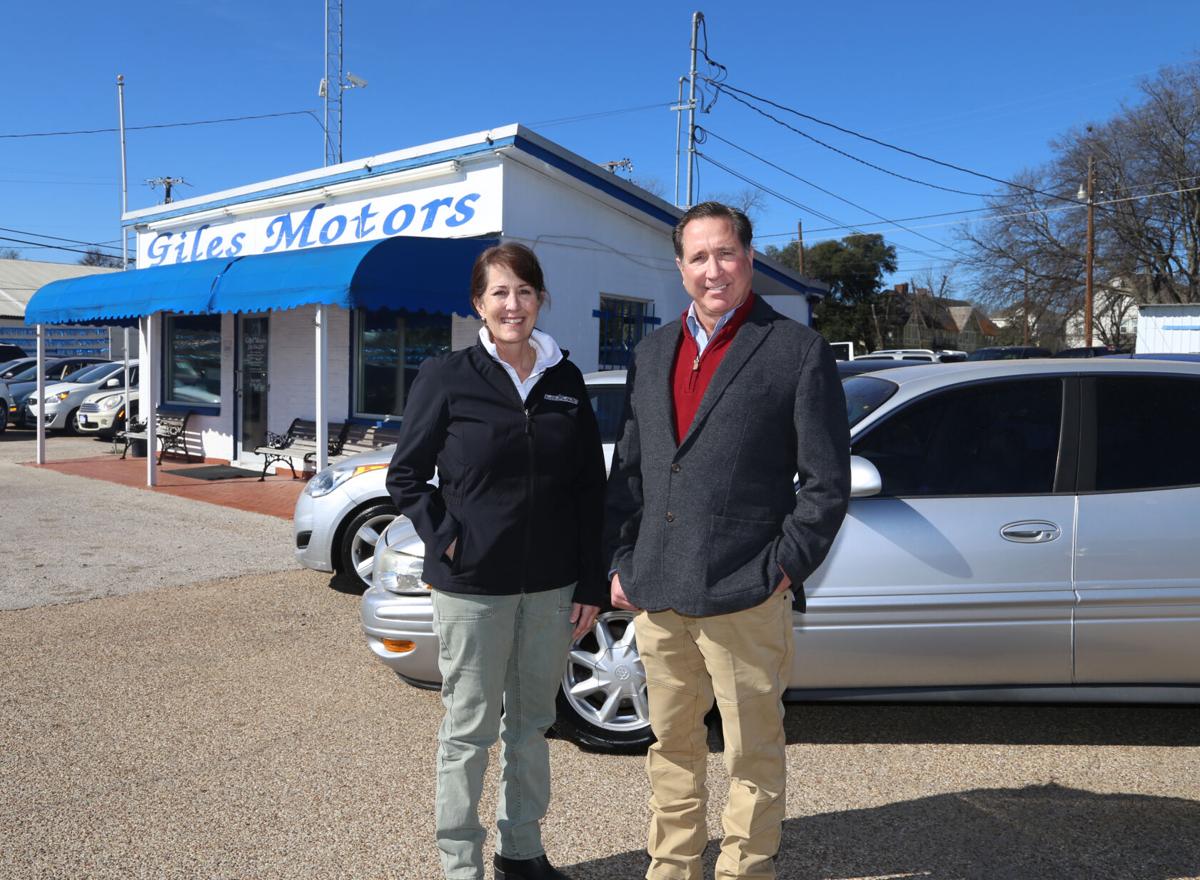 Among the choices of used car lots along Franklin Avenue you may have seen Giles Motors.
The business is owned by the brother and sister team of Scott and Russell Giles.
Yes, Russell is a woman. Her real name is Joanie, but one of her brothers is named Johnny so it was too confusing growing up, she said.
As for her given name, "absolutely no one ever called me that except my father," she said.
Growing up she was tagged with several nicknames until Russell, which is another family name, finally stuck.
She and Scott are from Littlefield, Texas. The sister-brother team are part of a larger family of seven siblings. Three went into the medical field and the other two siblings are also in the car business.
Russell ended up in Waco to attend Baylor University seeking an English degree.
At that point the car business had never really crossed her mind even though it was a business within their family.
Her dream was to be a professional basketball player, she says, but "I was too short."
But she also had a passion for horses as a child, and that's something that has continued to this day.
"I had a $35 Welsh pony I rode until my legs hit the ground," she says.
While she was at Baylor, Russell began buying and selling cars. She found herself making more money than her professors, so the horse obsession turned into dealing with cars.
The key element that holds them together at Giles Motors — and in other areas of their lives — are that the siblings are best friends, Russell says.
"Scott is the backbone and I am whimsical," she says.
Scott attended Texas Tech and the University of Houston, also seeking an English degree and then considered law.
In Business
Together, now at ages 56 and 50 (Scott is younger), they continue to operate Giles Motors, which was established in 1984. The business was located on 18th Street and Maple until 1989 when it was moved to their current location on Franklin.
Giles Motors is the first business the two have owned together.
"It was difficult at first," she says, "until each of us focused on what each of us did better."
Now she says working with her sibling is "better than you can imagine."
As for their areas of expertise, Russell says her brother is the one out front greeting customers and being the face of Giles Motors.
"I have 100 percent faith in Scott," she says. "He is taking care of business. Scott Morris Giles … everyone loves him." Russell says.
Many of her duties with Giles Motors results in her having to be the "mean person," she says.
Russell handles vehicles that have to be repossessed for nonpayment, and "anything related to the backside of buying cars," she explains.
But she adds that Giles Motors is always willing to work with customers if they get in touch to explain their hardship on making payments.
The business usually has about 100 cars available for purchase at prices that range up to $15,000.
"Our steps (for purchase) are simple," she says. "Be local to the area and work locally within a 30-mile radius," Russell says. "We also report to the credit bureaus so that sets customers up for further success."
Beyond the used car business, Scott and Russell also buy and sell houses and finance them. Scott also does renovations of old homes.
Russell has also owned a wrecking yard and a motorcycle dealership.
Big Hobby
One of the most lucrative hobbies the two have remains one of Russell's first loves: horses.
"I bought a colt for $7,700 and it ended up being the best — Lil' Joe Cash," she says.
The ranching and horse hobby keeps the siblings busy, and Lil' Joe Cash has won many championships, including the overall title at the American Quarter Horse Association's World Championship Show in 2012.
"I bought him for me and I was going to geld him and ride him," Russell said. The trainer convinced her otherwise and from there Lil' Joe Cash's rise was "meteoric," she says.
Lil' Joe Cash is now considered a National Reining Horse Association (NRHA) million-dollar sire.
Russell says the joys of working with her brother is they share the burden of the job "good or bad."
"Scott is very sharp-minded and makes good decisions," Russell said. "Between the two of us it opens up different opportunities — bouncing ideas off and we will always be there for one another." 
---
Mon-Fri, 8:30 a.m. to 5:30 p.m.