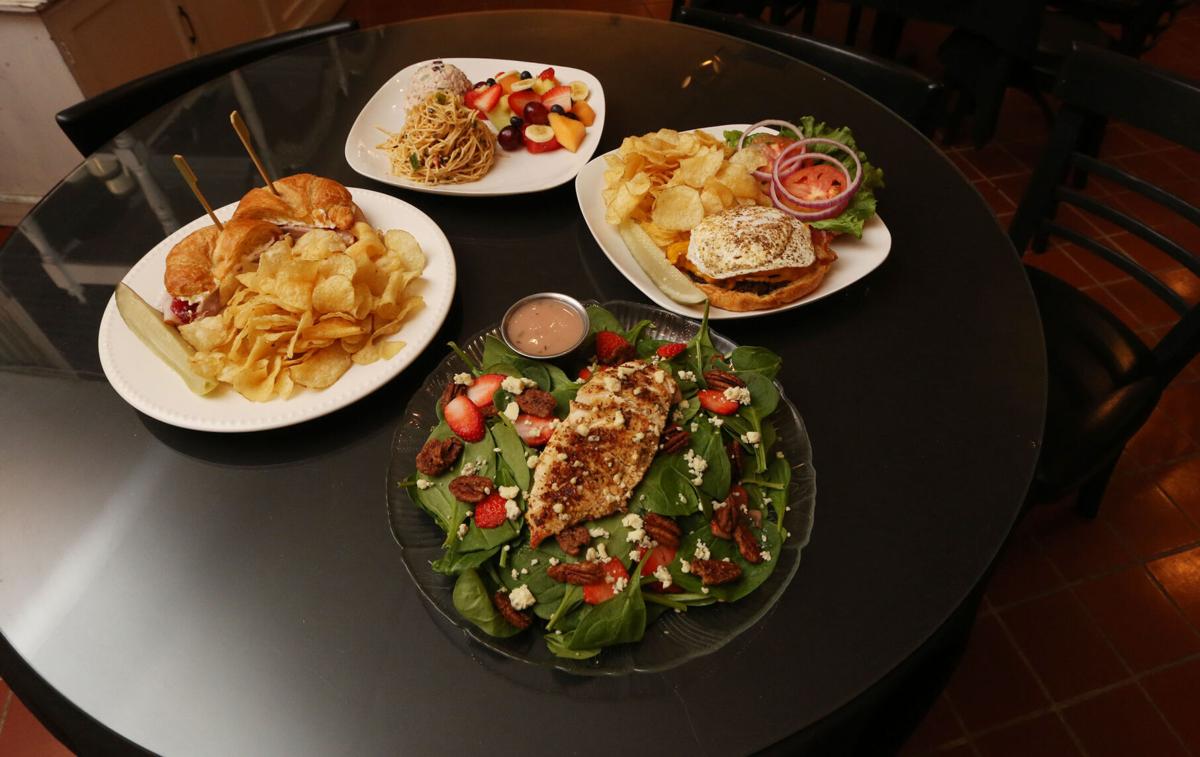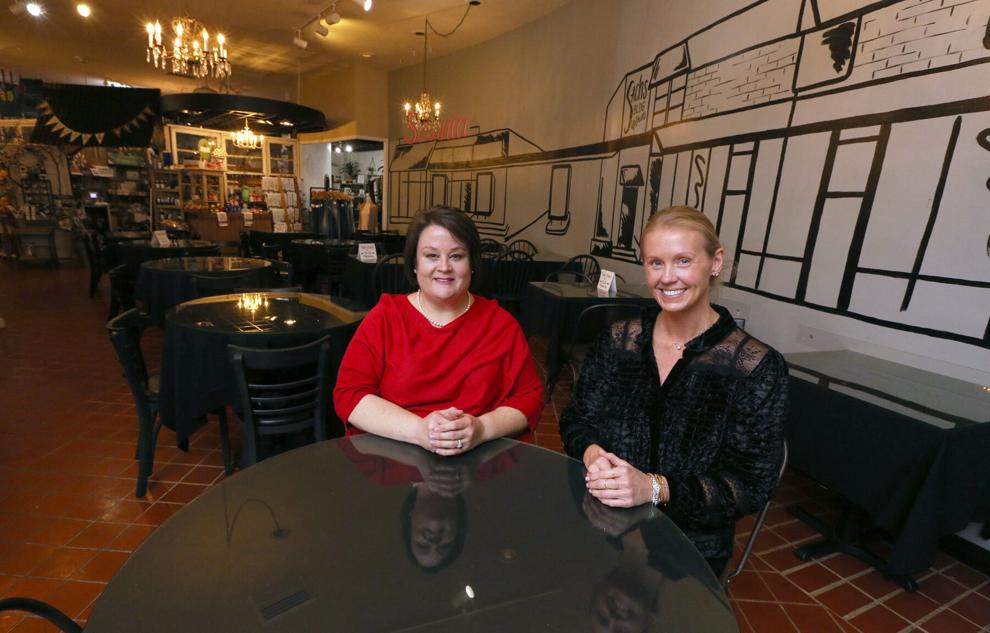 Sironia Uptown Café has the recipe for a great lunchtime venue: a variety of chef-prepared meals, a collection of specialty shops under one roof, and a location brimming with nostalgia for many native Wacoans. These ingredients have secured the café as one of Waco's most popular lunchtime destinations.
Sironia's menu features soup, sandwiches, salads and hamburgers, offered from 11 a.m. to 2 p.m. Tuesday through Saturday. Daily specials such as quiche, chicken, hamburger steak and combo plates appear on a chalkboard near the entrance.
One of the house specials is the Uptown Trio, featuring a scoop of homemade chicken or tuna salad, vermicelli salad, fresh fruit and two muffins for $11.25. Poppy seed dressing is served on the side.
"The Uptown Trio is one of the most popular dishes on the menu," co-owner Martha Sanders said. She and friend Holly Harris, have owned Sironia since 2004.
Another favorite combo dish, the Sironia Trio, includes a cup of soup, half a croissant sandwich with chicken or tuna salad, and a spinach salad.
Sironia's made-from-scratch quiche served with fresh fruit and two muffins, or a bowl of soup, or garden or Caesar salad for $11 is also a crowd-pleaser.
"Our half-pound hamburgers are always winners," Sanders said. Sirona Uptown Café offers a variety of burgers to suit anyone's taste. Options range from the tried-and-true classics like the old-fashioned and bacon cheeseburgers, to the more "gourmet" California Ranch Burger with Swiss cheese, sliced avocado and drizzled in homemade ranch dressing, or the new Sironia Brunch Burger with bacon and a fried egg on a croissant bun.
Hamburgers include all the fixins' starting at $9.75. Homemade chipotle mayonnaise is available on request.
For those who prefer lighter lunch options, tossed, Caesar and Greek salads are available dressed with ranch, bleu cheese, honey mustard, poppy seed (all homemade), or balsamic, raspberry or blood orange shallot vinaigrette.
The signature Sironia Uptown Salad features fresh baby spinach, topped with bleu cheese, strawberries, candied pecans and choice of dressing. Grilled chicken may be added to any of the other salads, and prices range from $6 (for a house salad) to $11.
While the café has always enjoyed a loyal female following, Sanders said men enjoy the menu, as well.
"Those smart men have found out about our delicious hamburgers and generous portion sizes," Sanders said. "Many have become loyal customers."
One of the new menu options for heartier appetites is a "pile-up," which means layering any combination of food in a mound or "pile."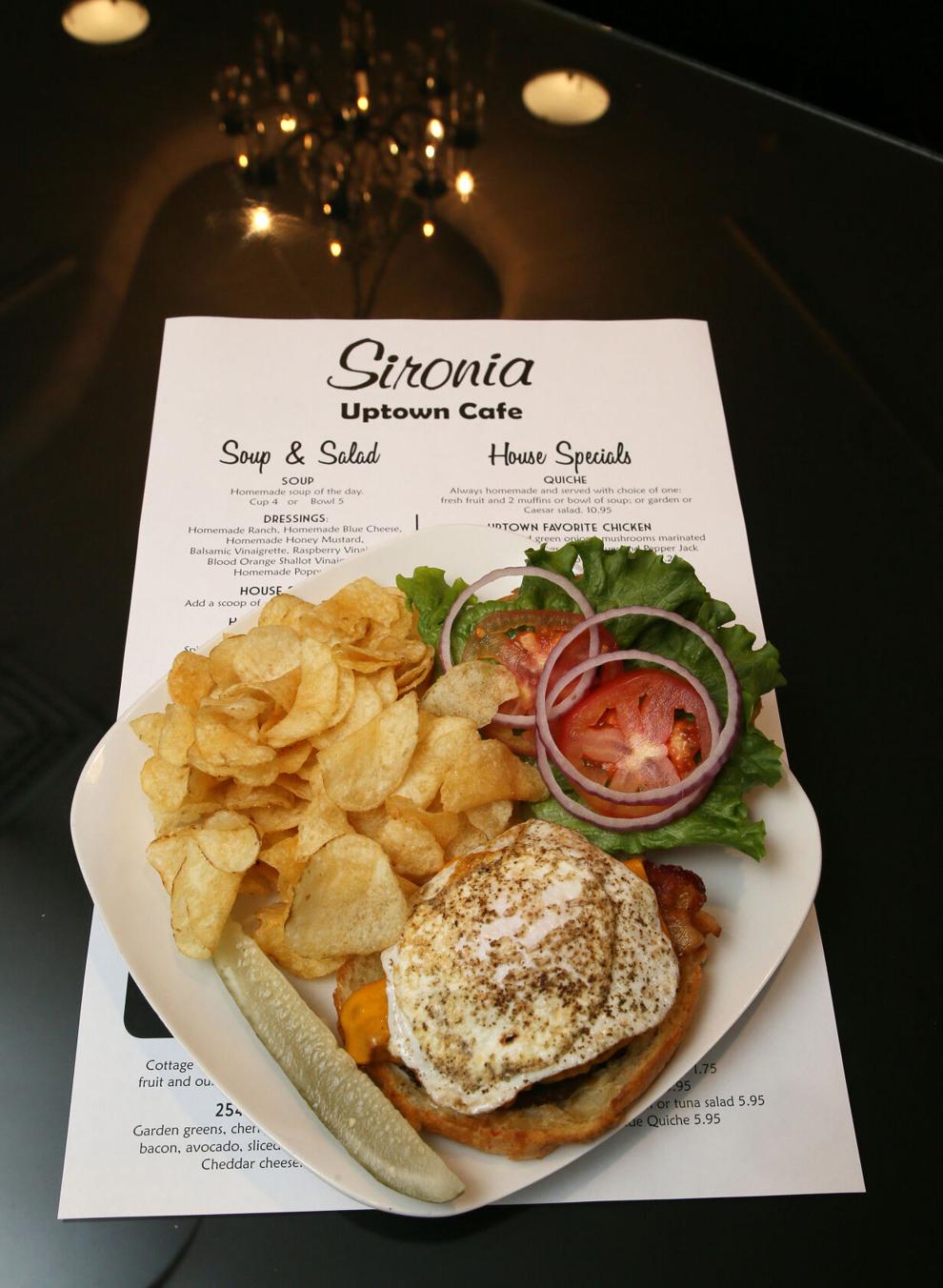 "The most popular combinations are ham, mashed potatoes, corn, grilled chicken, gravy and cheese," Sanders said. "But it can be any combination. We can also put an egg on any burger, or serve the burgers without the buns. We'll do whatever the customer likes!"
Sanders also emphasized the quality of the food.
"We make all the menu items fresh from scratch on sight every single day," she said.
Nowhere is that freshness more important than the luscious desserts the pastry chef bakes. The café offers a variety of sweet options each day from layered cakes to delicious cupcakes and pies.
"We have wonderful desserts," Sanders said. "The strawberry cake is one of the favorites, but we also have homemade banana pudding, peanut butter pie and French silk pie. The selection is different every day. The pastry chef is always trying new things, so it never gets old. And the pumpkin cake is to die for!"
Pandemic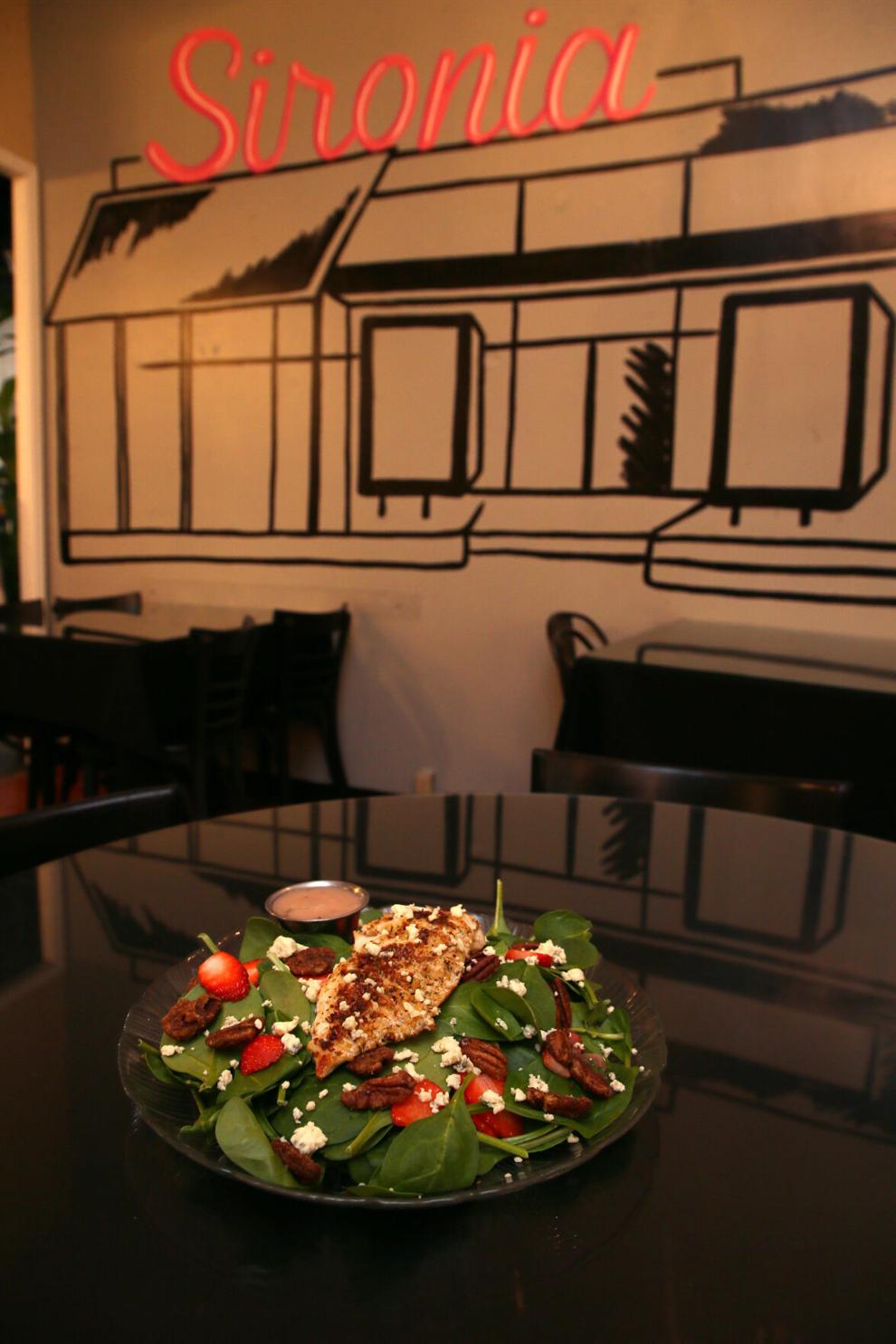 Like other restaurants, Sironia Uptown Café has been affected by the COVID-19 pandemic.
"Our dining tables are spaced for social distancing, we use lots of sanitizer and we take all the recommended precautions," Sanders said. "For those customers who prefer not to dine in, we added a 'grab-and-go' refrigerator with containers of our vermicelli, chicken salad, desserts and muffins for customers to take home and enjoy."
In addition to safe dine-in procedures and serving people on the patio, Sanders said they have implemented other ways to serve customers safely, such as curbside pickup. The owners plan to add delivery services soon.
Box lunches have also become popular, and Sanders said they make and deliver box lunches to several banks, title companies and other businesses. Other options are bulk orders such as trays of mini croissants or cupcakes for meetings, parties or events.
Shopping
After lunch with friends, shoppers can browse the many specialty boutiques owned by more than 30 independent vendors who rent space at Sironia. Visitors will find home décor, women's apparel, children's clothing, gourmet foods, custom fine jewelry and one-of-a-kind gifts.
One of Sironia's unique shops, Savage Finds, carries the full line of Iron Orchid Designs, transfers, molds and stamps which can be used on furniture and fabrics. The shop carries DIY Chalk Paints as an authorized dealer. Savage Finds also hosts small group handmade vintage tea towel workshops. Participants learn how to use decorative stamps to create their own hand towels.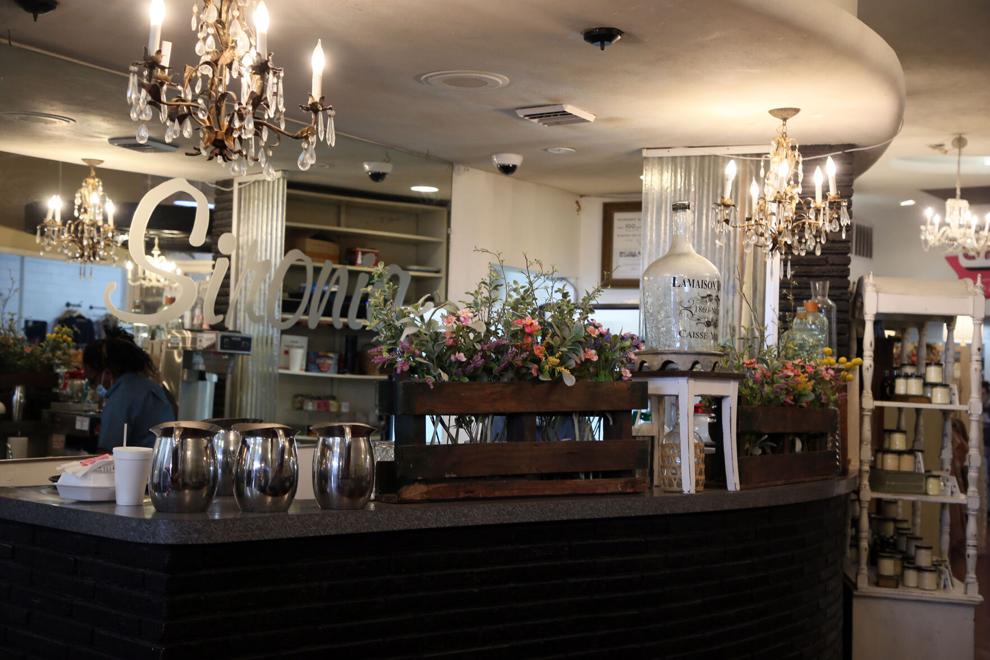 Nostalgia
Sironia's location was once the site of Sachs Austin Avenue, an exclusive women's dress shop initially located in downtown Waco. The original Sachs was destroyed on May 11, 1953, when an F-5 tornado hit downtown, killing 114 people and destroying several buildings. Sachs then moved uptown to the Austin Avenue location.
Local resident Diane Henderson bought the Sachs building in the early 1980s, naming it Sironia, after the epic novel, "Sironia, Texas," written by Waco native Madison Cooper. Sironia was one of the first of its kind in Central Texas, housing several small boutiques centered around a restaurant with a central check-out area.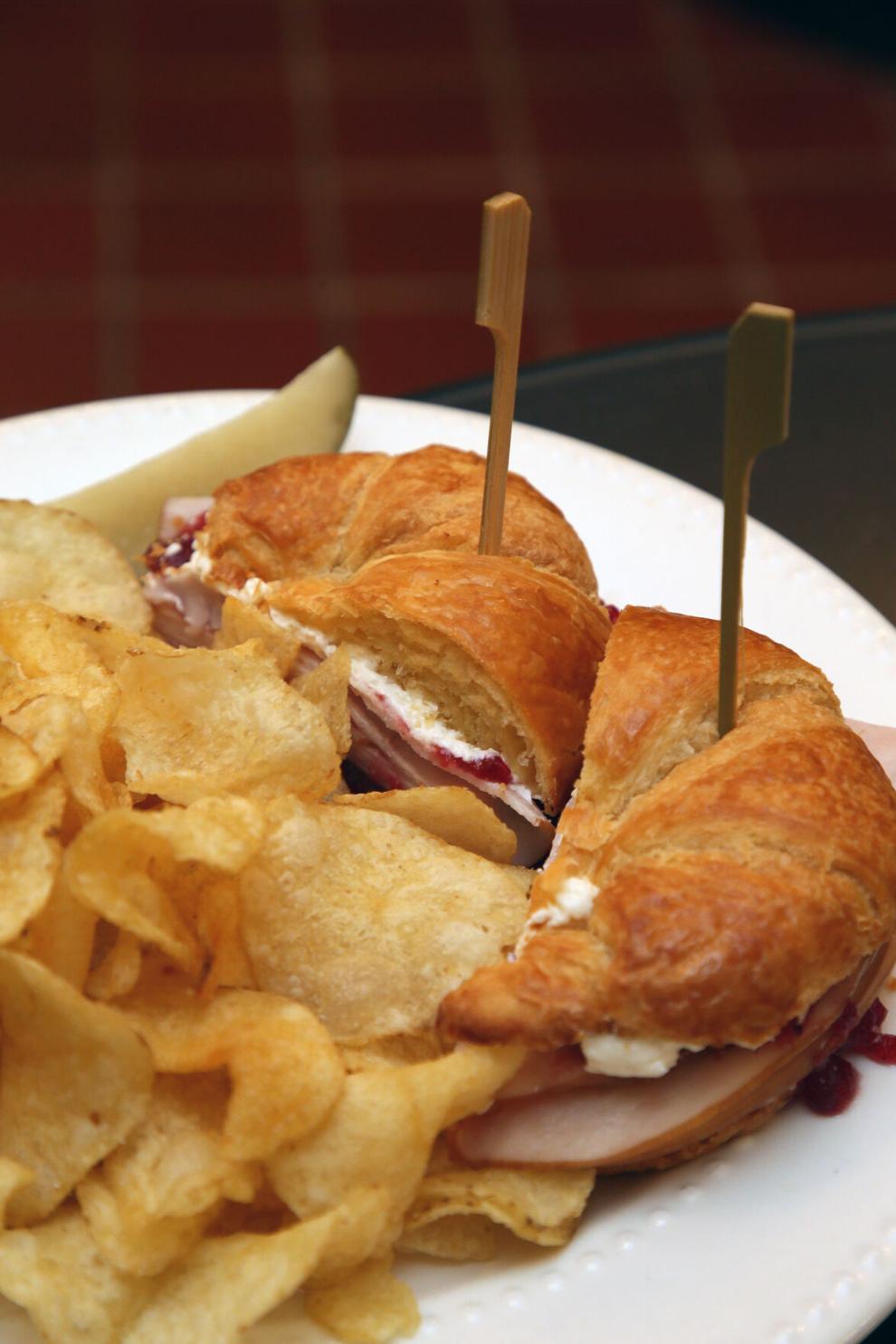 Henderson owned and managed Sironia for 20 years before selling it to Harris and Sanders in 2004. The new owners considered Henderson a friend and a mentor. They even named an original turkey sandwich with cream cheese and cranberry the Signature Diane on the Sironia's menu in her honor.
Although Henderson has passed away, Sanders said she left an indelible mark on Sironia, as well as Waco's business community.
"Diane set the bar high when she owned Sironia, and we have tried to live up to that," Sanders said. "We were a true local business even before 'Buy Local' was a thing."
Sanders said the business model that Henderson introduced into the community has allowed small businesses to thrive.
"She was a trailblazer who was the first to start a co-op concept: inviting businesses in and sharing space which eliminates overhead," Sanders said. "This allows everyone to pursue the American Dream of owning their own business." 
---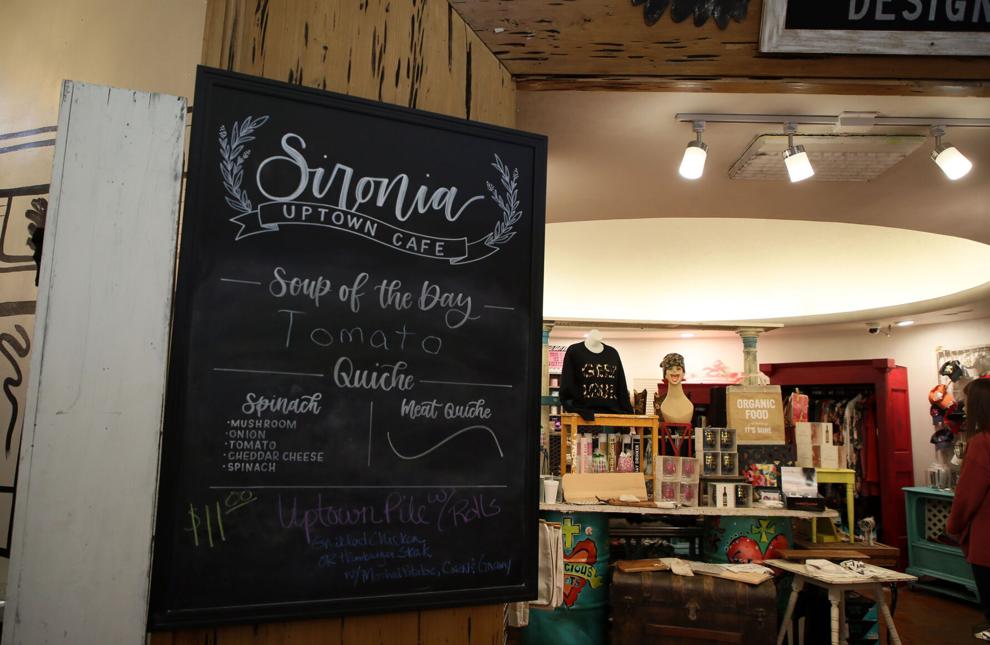 Lunch: Tues-Sat, 11 a.m. to 2 p.m.
Store: Tues-Sat, 10 a.m. to 6 p.m.
Also on Facebook and Instagram