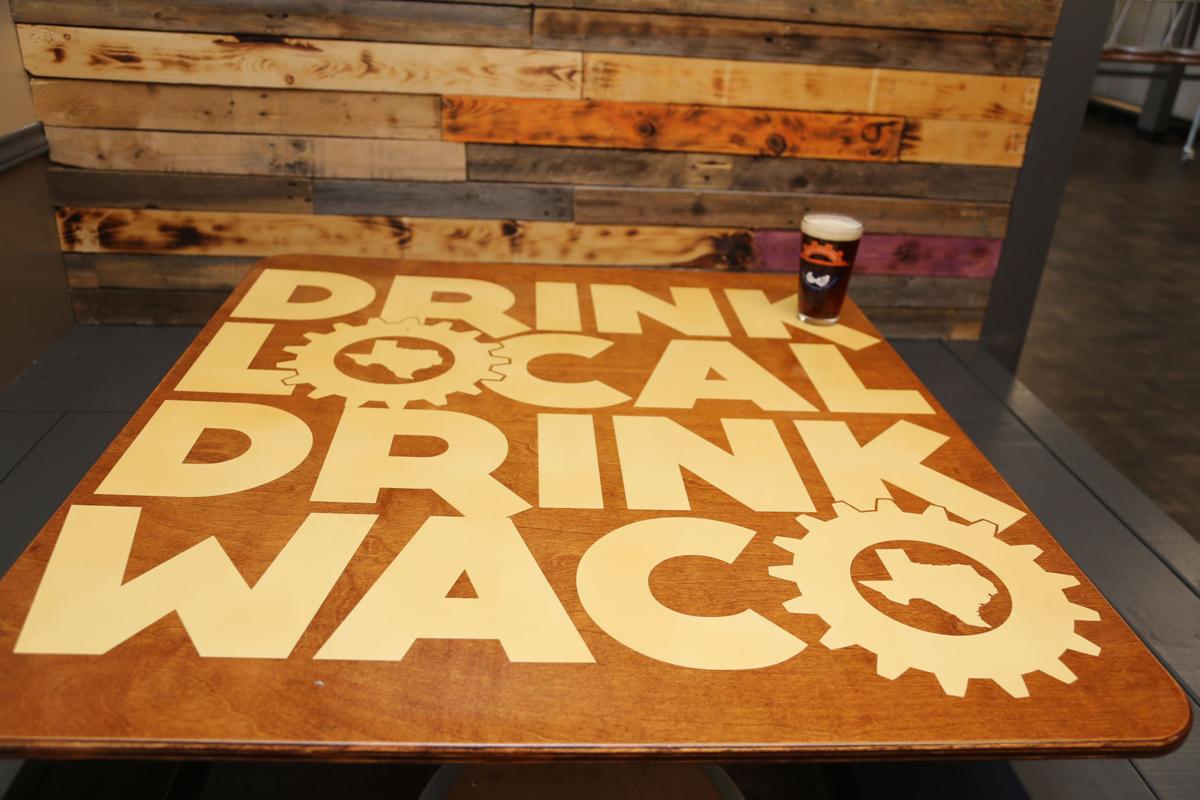 The craft beer scene in Waco was going strong at the start of 2020. Four local breweries were churning out a variety of options that locals enjoyed at their taprooms or restaurants that carried their products.
Brewers were excited about Waco becoming a craft beer destination for out-of-town visitors. Bare Arms Brewery and Brotherwell Brewing were already established with a solid following of fans. Southern Roots Brewing cooked pizzas to whet appetites for their beers at its Eighth Street location and Waco Ale Co. was in great spot on Austin Avenue.
In February Balcones Distilling got into the act as well and started making its own beer, selling it in its taproom along with its highly acclaimed whiskeys.
That all came to a hard stop when COVID-19 roared into Waco. Breweries and bars shut down alongside restaurants and other businesses with initial shelter-in-place orders in mid-March.
As Gov. Greg Abbott allowed many businesses to reopen with limitations on capacity to slow the spread of the coronavirus, bars and brewery taprooms remained closed. Those places were considered to be potential hot spots for transmission of the virus.
Brewers and bars felt they were being unfairly targeted. The dividing line was the magic 51% of total sales set by the Texas Alcoholic Beverage Commission. If alcohol accounted for 51% or more of the business' total sales it is considered a bar and must remain closed.
Through it all, these breweries have adapted as best they could, reaching their customers at least through to-go sales and promoting themselves in social media. The struggle also fostered further unity among them and local bars, leading to the creation of Craft Waco, an initiative to promote the support and sale of local craft beer.
Andrew Steakley, owner of Barnett's Public House, got the ball rolling with Craft Waco. His pub and two other longtime Waco bars, Dancing Bear Pub and Truelove Bar joined with
Bare Arms Brewing, Brotherwell Brewing, Southern Roots Brewing and Waco Ale Co. in mutual support.
"We were all in the same boat," Steakley said. "We were all closed and losing revenue. We didn't know when this was going to end and we kept hearing different stuff. I think it would be bad for the community if any of us went under."
The mission of Craft Waco, as stated on its website at craftwaco.com, is "to allow bars and breweries to continue to grow their craft during the pandemic. With our revenue limited by the governor's shutdown, it is imperative that we allow our local craftsmen to continue their efforts in the Waco community."
A GoFundMe account under the name Waco Craft Bar and Brewery Rescue was launched. Funds donated to the account will be split equally among the members.
"It's also a way to raise more awareness for the breweries," he said. "I don't know if people realize how important it is to have the craft breweries here, especially for visitors to Waco."
Local craft beer fans can help, he said, by asking restaurants to carry the craft beers they like, purchasing to-go beers from bars that are open, or buying merchandise from the participating businesses.
Proceeds from merchandise sales go straight to that business, providing much-needed revenue, he said.
TABC Help
Although the lack of direction for months or even a response from the Texas Alcoholic Beverage Commission to questions by bar owners and breweries was frustrating, the organization did ease some restrictions recently that will help.
In mid-August, Southern Roots Brewing reopened after filing with TABC to be recertified as a restaurant with a bar, owner Dustin Evans said. Meanwhile, Brett Stewart of Waco Ale Co. received his food and beverage certificate and held a soft opening now that he has an operating kitchen.
The food sales, they say, will put them on the other side of that 51% threshold. TABC also changed its rules recently, saying that sales of to-go beer or wholesale sales to bars and restaurants no longer count against total sales.
"TABC has allowed us to do this, but we're still not sure how people will embrace it," said Steakley of Barnett's Public House, concerned about some ongoing reluctance to dining in.
His closed pub moved its special Friday night dinners to Lighthouse Coffee & Wine, 624 Washington Ave. Barnett's has been selling to-go cocktails and coffee on a limited schedule.
Bare Arms Brewing, Brotherwell Brewing, Southern Roots Brewing and Waco Ale Co. have all dealt with the particular challenges from the pandemic and operating within government regulations.
Bare Arms Brewing
Waco's oldest craft brewery, Bare Arms Brewing, was in the midst of preparing to show off its revamped taproom and interior under new owner Kevin Yackley when the pandemic threw a wrench into things.
"We had renovated the taproom just in time for the shutdown," Yackley said. "We stayed open during the construction and our numbers were rising, and then COVID hit."
A big relaunch party at its location at 2515 La Salle Ave. to showcase the changes was lined up for April 4.
"We were three weeks from having it and then 'boom,'" Yackley said. "When you prepare a business plan, you try to plan for potential problems. But no one saw this one coming. The ones you plan for you are not the ones that happen."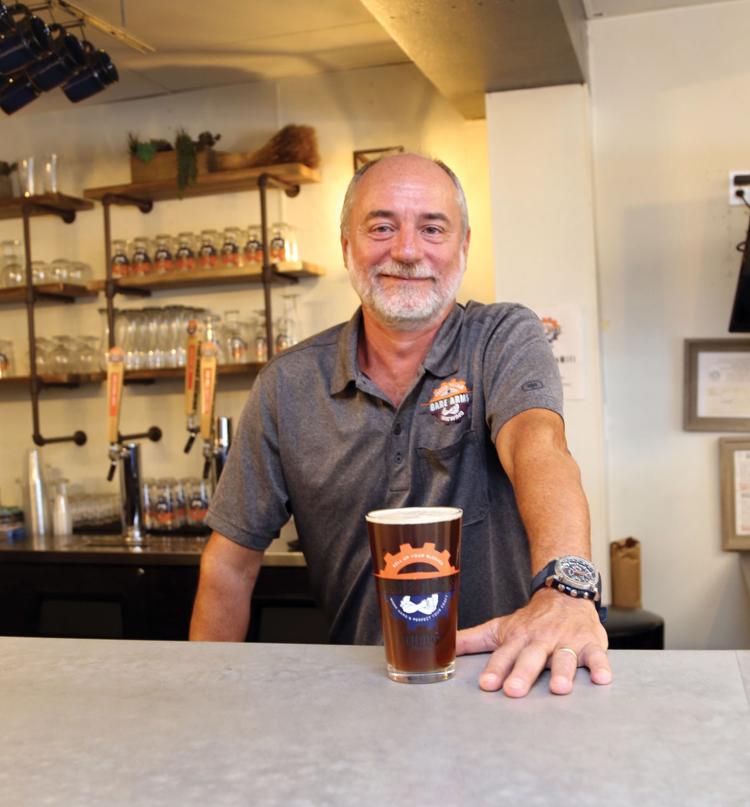 Yackley and his wife, Jill King, marketing lead for Bare Arms, moved to Texas from Utah and looked toward Waco and its growing craft beer scene. Kevin began homebrewing in the late 1980s in California and was looking for a new chapter in life after retiring from a tech career.
When Bare Arms' owners approached him about selling their brewery, Yackley said it made more sense to buy than to build and start from scratch.
Keith Collier, one of the original co-founders of the brewery, continues as its head brewmaster.
While fans of Bare Arms beers can still find flagship offerings like the 1849 lager at stores and some bars, there's nothing like the taproom experience, Yackley said, especially for those wanting to try Bare Arms' wide range of choices.
"As brewers we want people to come in and buy by the pint, try one of our new beers, and then see the reaction and get feedback from them," he said.
His wife also notes how they've had friends who claimed they wouldn't like certain beers, like an IPA (India Pale Ale) until they tried one of theirs.
"It's amazing to see that transformation as they realize, 'hey this is something I would drink,'" King said.
Yackley is said having a wide variety of choices, anything from a Vienna-style lager to a red IPA, means a craft beer fan should find something they'd like. Bare Arms has seven flagship beers and rotates eight others through its taps.
He said Collier does a great job as brewmaster.
"We complement each other," he said. "Keith is more into the flavored beers, so that balances our palate as brewers."
King said they appreciate the support of local craft beer fans, though they hope more people would be willing to expand their selections beyond the domestic options at stores.
"We offer a unique product. We tell people to try craft; try something that's unique," King said. A tabletop in the building has "DRINK LOCAL. DRINK WACO." in large letters as a reflection of their views.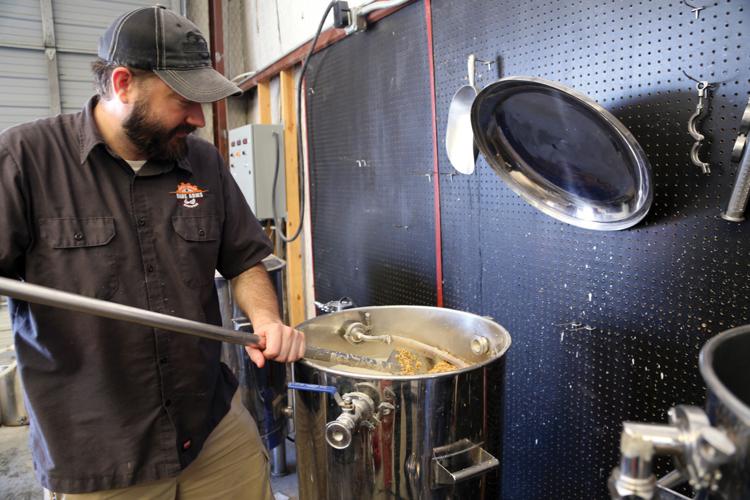 For now, it's about hanging on through the pandemic and TABC restrictions that have them limited to to-go and wholesale sales to stores.
A survey of members in the Texas Craft Brewers Guild has a pretty sobering outlook, Yackley said. If the pandemic and existing restrictions on brewpubs continue until the end of the year, as many of two out of every three brewers could close, he said.
King points to Brewers Association figures that the craft beer industry in Texas contributed $5.4 billion in revenue to the U.S. economy in 2019, the third most by state behind California ($9.7 billion) and Pennsylvania ($5.6 billion). Those numbers will be taking a hit in 2020.
Joining forces with the other local brewers and bars in the Craft Waco coalition is a great way to keep craft beer at the forefront of customers' thoughts, Yackley said. Fundraisers and the GoFundMe account are all helpful, he added.
"Hopefully that can help us from being a statistic," he said. "Anything that can give us more exposure will help."
He doesn't follow the TABC's belief that a brewpub, which doesn't have food sales, needs to remain closed while a restaurant stays open. Yackley is quick to add he doesn't begrudge restaurants from being open,
"If they (government leaders) are concerned about safety, why does having food make it more safe for people?" Yackley asked.
"We can provide the safe environment (with the 50% occupancy) and let the customers choose if they want to come," he said. "(The government) is blocking the free-market signs we need to manage our business."
At one point in early summer TABC was going to allow consumption on-site though not indoors. Bare Arms set up picnic tables on its parking lot. But TABC reversed course, so that never happened.
Government restrictions on large gatherings also hampered use of Bare Arms' event room, they said. A group wanted to hold a class reunion for the fall, but Bare Arms couldn't guarantee that they could host because of the occupancy restrictions.
It is a tough time for many, Yackley said, adding that the uncertainly of how long they'll be impacted weighs on them.
"The frustrating thing is we don't know where the finish line is," King said.
Brotherwell Brewing
Waco's second-oldest craft brewery, Brotherwell Brewing, also has had its taproom shut down since the initial shelter-in-place in mid-March. When businesses began re-opening, Brotherwell has been able to offer beer to go from its 400 E. Bridge St. location.
The business also has been able to deliver to restaurants that carry their products, and since early July can now be found in the H-E-B stores onValley Mills Drive and Hewitt Drive.
"That's been a lifeline for us," said David Stoneking, who owns the business with Jacob Martinka.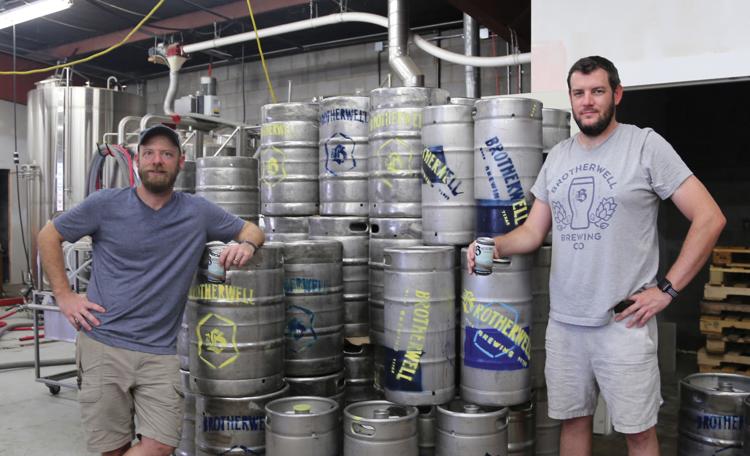 Being a brewpub and not a restaurant with an attached bar means they can't have customers drink on-site, the whole reason for having a taproom. The Texas Alcoholic Beverage Commission classifies Brotherwell as a bar, hence the closure.
"They technically have to sell more food than beer and that's not how we're built," he said.
There was a three-week stretch earlier this year when TABC was allowing consumption on-site as long as it was outside, Stoneking said, but that option got shut down as well.
"We've had a lot of whiplash on our end," he said. "That's been pretty difficult."
Martinka said they have been fortunate with their canning process this year.
"We were able to get our first canning run done before the pandemic hit," he said, "and then we were able to put in our order for cans before the aluminum shortage hit."
That second canning run occurred in early August.
These pandemic times did allow Martinka and Stoneking to try some new things.
The local breweries did a joint project in late April, called the Waco Hazy Chain, where they all used the same yeast to create a beer. The results were interesting, they said.
"All were pretty different from each other," Stoneking said.
Brotherwell's product, which they named Shelter in Haze, turned out to do quite well with their customers, Martinka said.
"It's got tropical and juicy notes," he added.
For the Fourth of July, Brotherwell tinkered with its Radler drink (its Act of Faith tripel ale mixed with lemonade). The downtown Luna Juice Bar provided its strawberry jalapeno lemonade with the jalapeno as the "firecracker" component, Martinka said.
"I'm not going to say it 'blew up,'" Martinka added, (perhaps with a sly smile, but he was wearing a mask for the interview), "but it did well."
Brotherwell's Oktoberfest beer is fermenting now and will be available soon, he said.
Stoneking and Martinka said finding different ways to draw customers has been critical these days.
"It's trying to remain nimble and find creative ways to improve business," Martinka said.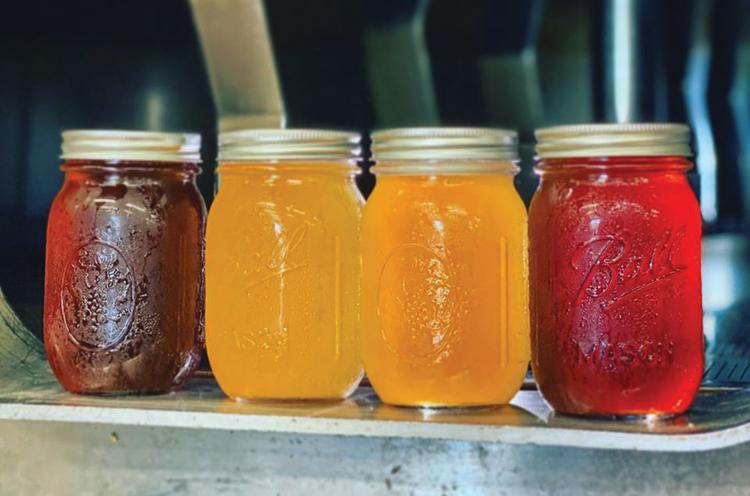 As another example, when Brotherwell's taproom was open it would sell pint flights with the beers in four Mason jars.
"We decided we've got all these Mason jars, why don't we put the lids on them and sell them to go?" Martinka said. "It was one of those innovative thoughts and it's done well."
Brotherwell also has an online ordering option. Customers can go online or call in their order. When they arrive at the brewery, they can call and have their order brought to them for curbside service.
Martinka and Stoneking are pleased with the efforts of Craft Waco to help push support for them and the other local brewers.
"We've been able to work together with the other brewers and bars in town," Stoneking said. "We're able to share information and keep each other on top of the latest news concerning our industry. It's also important to remind people that we're here."
Southern Roots Brewing
Southern Roots Brewery opened in October at 219 N. Eighth St., serving pizzas, wings and pretzels alongside its craft beers.
But it was a brewpub and not a restaurant, so even after the initial shelter-in-place shutdown and restaurants were allowed to re-open with limited capacity, that wasn't the case for Southern Roots.
The brewery was limited to to-go sales as the closure moved into August.
"We were closed more than we were open," said Dustin Evans, founder and operator of Southern Roots Brewing. "Nothing compares to putting people in chairs."
On Aug. 14, however, people were at tables once more as Southern Roots Brewing re-opened for business. It was recertified by the Texas Alcoholic Beverage Commission as a restaurant with a bar, Evans said.
As a restaurant, it will have to operate at the 50% capacity rule, but at least it's open again, Evans said.
Filing the paperwork with the TABC for the change was bittersweet, he said.
"We opened to be a craft brewery," Evans said. "The pizzas and food were an added benefit, but now it's the crux of us being open."
Additional documentation was required with that paperwork.
"You can't sell pickles and chips and say you're a restaurant," Evans said. "We had to send photos of the kitchen to the TABC, copies of our menu. We had to pay a thousand dollars for the license change."
Evans owns the brewery with his parents, Keith and Kristl Evans.
"My father began it as a hobby, brewing beer in the garage," Dustin Evans said. "I'm the oldest of five. We would brew batches of beer whenever we had a family wedding. Our joke is that when we ran out of siblings we opened a brewery."
Among their popular flagship beers are the H.O.T. Blonde and the West of Czech, a Pilsner. But it's their sours created with fermented fruit that don't last, he said.
"When we release those, they move so fast," he said. "Blink and they're gone."
During the months of closure, it was tough, Evans said. The brewery had to lay off workers with the downtown in business. Growlers of beer and select six-packs could be sold to go, but it was a big drop in revenue.
When to-go sales were the only option, growlers and selection six-packs were sold. There was a three-week stretch where the TABC allowed patios like the one at the back of Southern Roots, to be open for consumption of to-go beers, but then it reversed course.
It was difficult watching other businesses be open, Evans said, including restaurants, where customers could have an alcohol drink because it was a restaurant and not a bar.
Even though beer purchases will be a big part of its overall sales, Evans is confident it can stay above the 51% non-alcohol sales requirement.
"We were always close to that even before, so it won't be a problem," he said. Making it a little easier is that the TABC no longer counts to-go alcohol sales against the total sales, that includes keg sales to bars.
"They used to count it against us as a beer sale," he said. "The TABC is finding ways to help us stay open."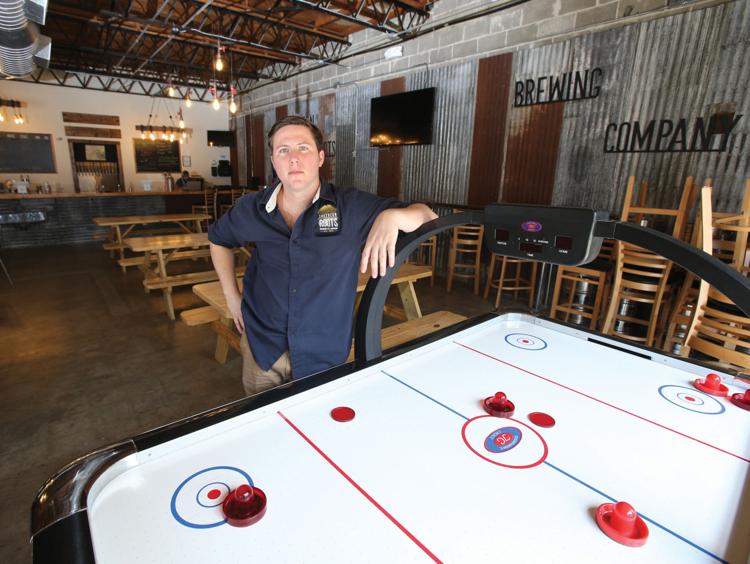 Southern Roots' menu also is expanding beyond the pizzas and wings previously available. Evans is glad to be open again, and said they will follow all the necessary protocols, such as capacity and mask-wearing, to keep customers and employees safe.
"We can do this safely," he added. "We're planning to have music events, but they'll have to be held outdoors."
He's also thankful for the efforts by Craft Waco to promote and support the local breweries and bars as he believes Waco can be a craft beer destination for visitors.
Waco Ale Co.
It was while living in Houston where Brett Stewart immersed himself in the craft beer scene. He returned to Waco with his family two years ago with opened Waco Ale Co., which recently marked its one-year anniversary.
But with most of this year marred by a shutdown from COVID-19, Stewart finally is able to expand on his dream for his brewery by opening his kitchen. The business recently received its food and beverage certificate, allowing chef Paola Chamberlain to start serving food during a soft opening Aug. 19 at its 806 Austin Ave. location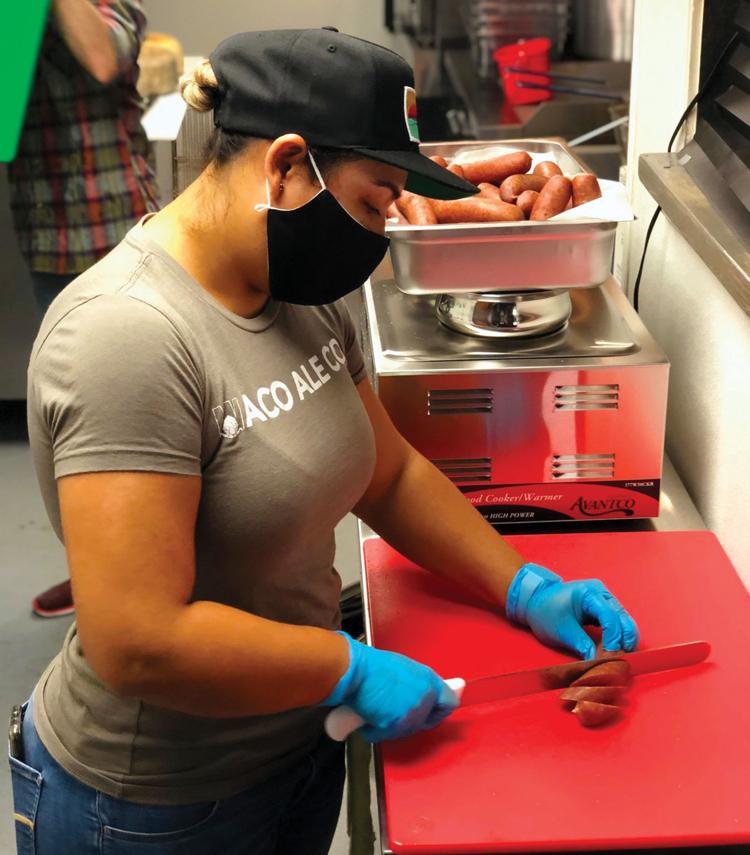 Stewart, who played quarterback at Midway High School and graduated from Baylor University, returned to Waco two years ago with his family with plans to open a craft brewery. He started brewing about 10 years ago but got serious around four years ago as Houston's craft beer industry was booming.
He was looking for a change from the oil and gas industry in which he worked in Houston and was looking to come home.
"I thought this might be the ticket to coming back to Waco," he said. "If I make it, great. At least I'm doing what I love. I didn't want to be on my deathbed one day looking back at something I wasn't courageous enough to do."
It's taken a bit of courage to deal with the struggles for breweries and bars since the pandemic hit. His business was forced to close, then re-open briefly, then close again and be restricted to to-go only sales.
He encouraged his fellow brewers to join him in a project during the shutdown that he saw while in Houston.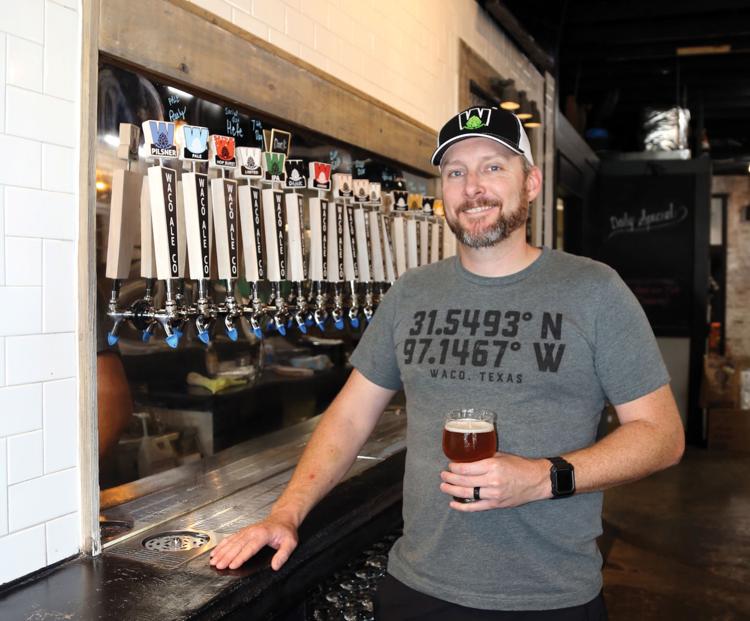 Calling it the Waco Hazy Chain, each of the breweries shared the same batch of yeast and took turns brewing beer with it, releasing their products to the public (to-go, of course) over a three-weekend stretch at the end of April and May 1.
Stewart did the first batch, followed by Brotherwell Brewing, Bare Arms, Southern Roots and Balcones.
"It was a nice revenue boost for us, and it was a lot of fun," Stewart said. "I would love to do a collaborative beer with the all the others. That would really cool."
While his own 7th Day IPA is Stewart's "go-to" beer, he's a beer lover through and through.
"There's roughly 300 beer styles," he said. "There's maybe 10 I don't like."
Having food at his establishment was always part of the plan, though he wanted to get the brewery off the ground first.
"I didn't just want to do beer," he said. "I want to do good food, too."
Ideally, ingredients used in the brewing process, would go into making some of the food, he said.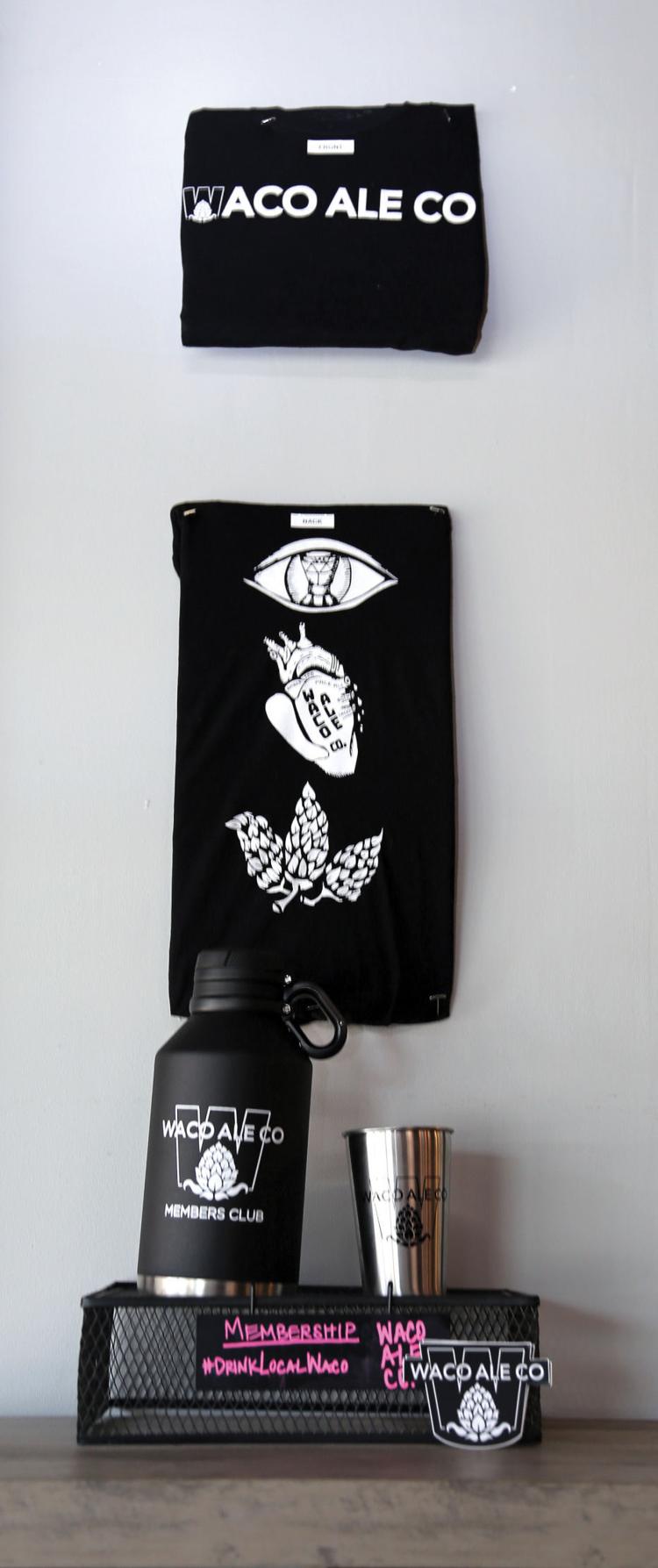 Waco Ale is now designated as a "blue-sign establishment" by the TABC, he explained, which means the sale of alcohol on-site must be below 51% of total sales by the business. With the changes in not counting to-go and wholesale beer sales against the total sales, that's achievable, he said.
"I think this shows you have to be adaptable to change your business to make things work," he said.
Stewart believes the creation of Craft Waco, which began in response to the shutdown of breweries and bars, will benefit the seven businesses that are involved, namely Waco Ale Co., Bare Arms, Brotherwell and Southern Roots, as well as Barnett's Public House, Truelove Bar and Dancing Bear Pub.
They all are looking forward to getting on the other side of the pandemic and welcoming full taprooms again.
"If we can make it through this, we're going to be here for a long time," Stewart said.
Be the first to know
Get local news delivered to your inbox!