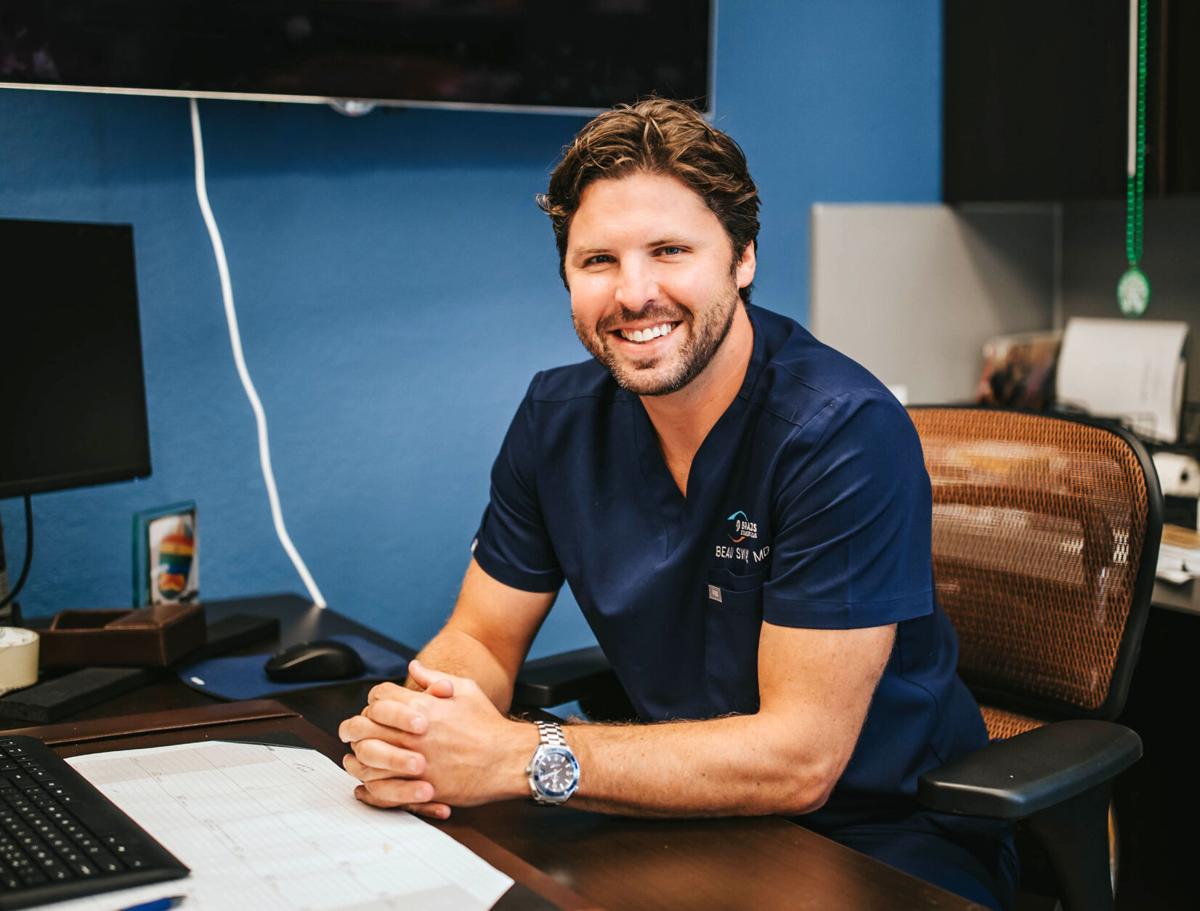 With a focus and investment in the best technologies and skills, Brazos Eye Surgery of Texas can make the case that Waco residents don't have to travel to bigger cities for the best eye care.
Dr. Beau Swann provides outstanding surgical skills for the practice, which was established by his father, Dr. Russell Swann, 40 years ago.
"We are the most technologically advanced practice in Central Texas," said Beau Swann, 38, who pursued additional specialty training and earned a prestigious fellowship in refractive eye surgery and cornea.
The father and son ophthalmologists had worked alongside each other at Brazos Eye Surgery since 2009. The elder Swann is currently on medical leave and Beau is seeing his dad's patients in addition to his load of eye surgeries.
Beau's younger brother, Brad, has come on board as executive director of the practice, a role their mother, Renee, had before she retired in 2019.
"The goal of this practice is to serve everyone in Waco with the best care," Brad said. "Cataracts, LASIK, glaucoma … we see everybody."
That top-notch begins with Beau's surgical skillset. Like his father, he earned his medical degree from the Tulane School of Medicine in New Orleans. He expanded his knowledge with a refractive and cornea fellowship at the Eye Institute of West Florida, studying under Dr. Robert Weinstock and Dr. Neel Desai. That makes him the only ophthalmologist in Waco fellowship-trained in those specialties.
Interestingly, when Beau graduated from Midway High School in 2001, becoming an eye doctor like his father was not in his plans.
"I wanted to do artificial knees and hips, so I took anatomy and physiology with applied calculus," he said in a previous interview. "Even when I decided to be an eye doc, I was determined not to be an ophthalmologist just because my dad was."
But in medical school, he discovered he enjoyed it.
"I'm appreciative of my dad's legacy and thankful to have Brad with us," he said.
Beau specializes in cataract and refractive surgery, including LASIK. He has performed thousands of cataract procedures.
Technology
Brazos Eye Surgery has a couple high-tech pieces of equipment that enable Beau to provide excellent outcomes for patients needing cataract surgery.
One is the ORA (Optiwave Refractive Analysis) System, which provides a precise measurement of the eye and enables Beau to align the new lens perfectly during the procedure.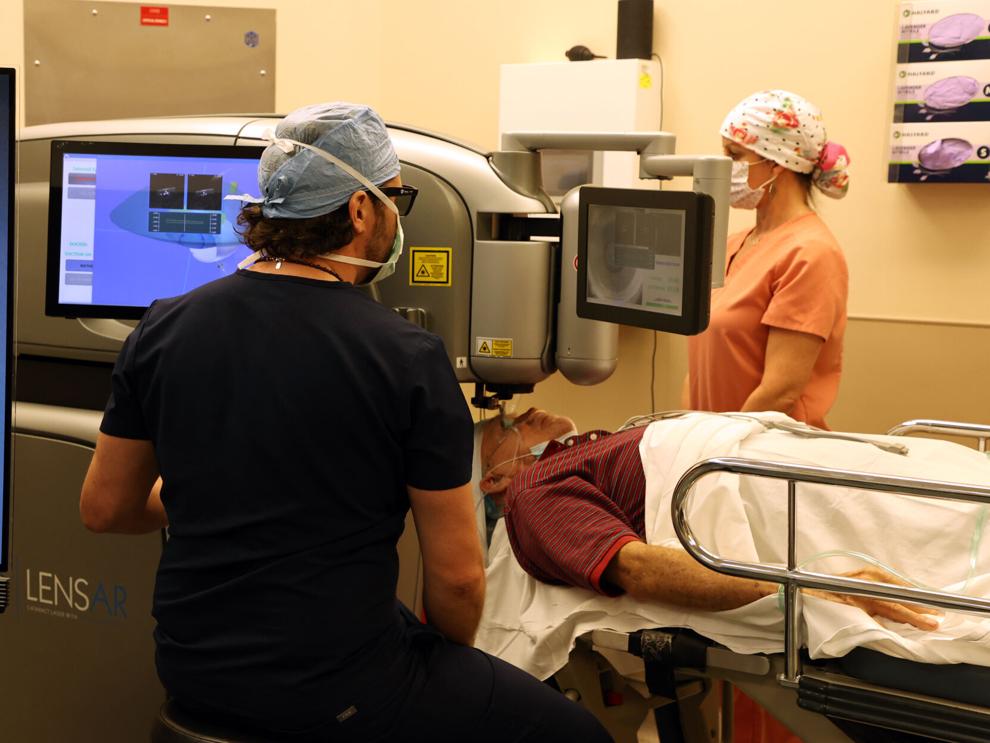 The other is a femtosecond laser, which replaces the use of a blade to make incisions.
Beau and Brad said a popular analogy ophthalmologists use to explain how cataract surgery works involves an M&M. The patient's lens in the eye is like the chocolate inside an M&M. It's surrounded by a capsule, which is akin to the candy shell of the M&M.
Cataracts form on the lens over time and cloud the normally clear lens, making it harder to see. The femtosecond laser cuts a circular hole in the capsule to make a flap so Beau can get to the lens. The laser also helps soften the cataract, which usually has a yellow color, so Beau can break up the lens and extract it from the eye.
"So that's like pulling the chocolate out of the shell to get to replace the lens," Brad said.
The broken-up lens is then suctioned out and replaced with an artificial lens, or IOL (intraocular lens).
"It's much easier to extract and there's less trauma to the eye with this procedure," he added.
At the Fish Pond Surgical Center, Beau uses a large 3-D TV screen to do the cataract surgery and wears 3-D glasses to provide a stereo-optic view of the eye as the procedure is done.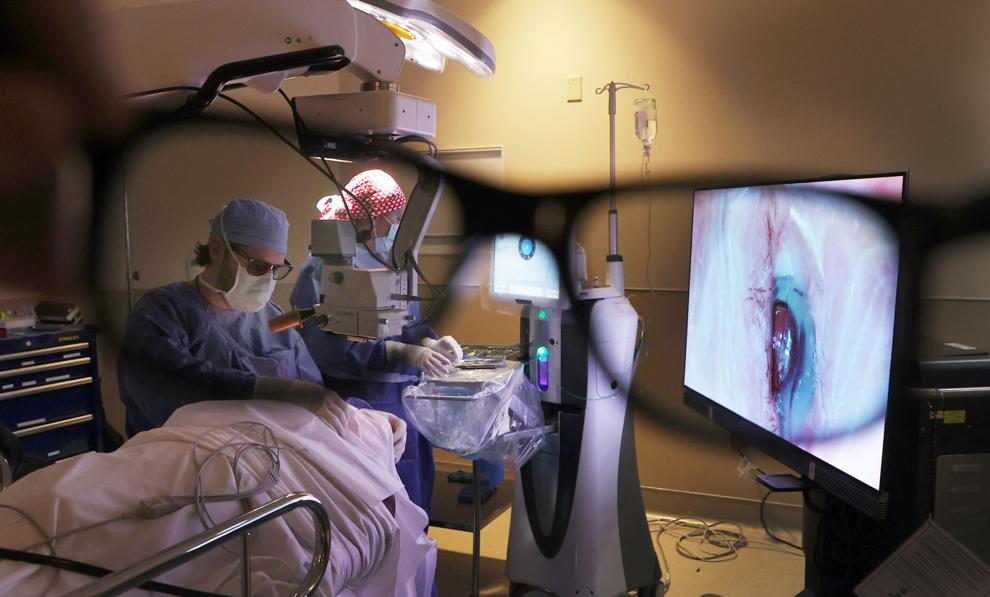 Beau's procedure can take anywhere from three to eight minutes. The industry standard is 30 minutes, Brad said. Beau's time is so much less because of his skills and the tools used, Brad added.
"That saves time that the patient doesn't have to keep their eyes open," he added.
Brad said that while 20/20 vision may not be possible in all cases, they usually result in patients being "20/happy."
The industry average for patients pleased with their procedure is 70%, Brad said. Beau's happiness percentage from patients runs 98-99%, he said.
"Beau's a perfectionist," Brad said. "The laser makes the probability for success so much better."
Beau said the lenses he implants are often better than the original lens of the patients.
"It's such a clear lens," Beau said. "The blues are bluer, the greens greener. The lens eliminates chromatic aberrations."
He's also doing something different from many surgeons that enables patients to use fewer drops post-surgery as the eye heals.
Near the end of the surgery, Beau inserts a small gel-like cylinder of Dextenza, a drug that helps treat post-surgical inflammation. The Dextenza eliminates the need for steroid drops post-surgery, though other daily drops are needed.
"Still, you're going to one drop a day for seven weeks instead of three drops a day," he said, adding that it's also easier for patients to remember the one daily treatment.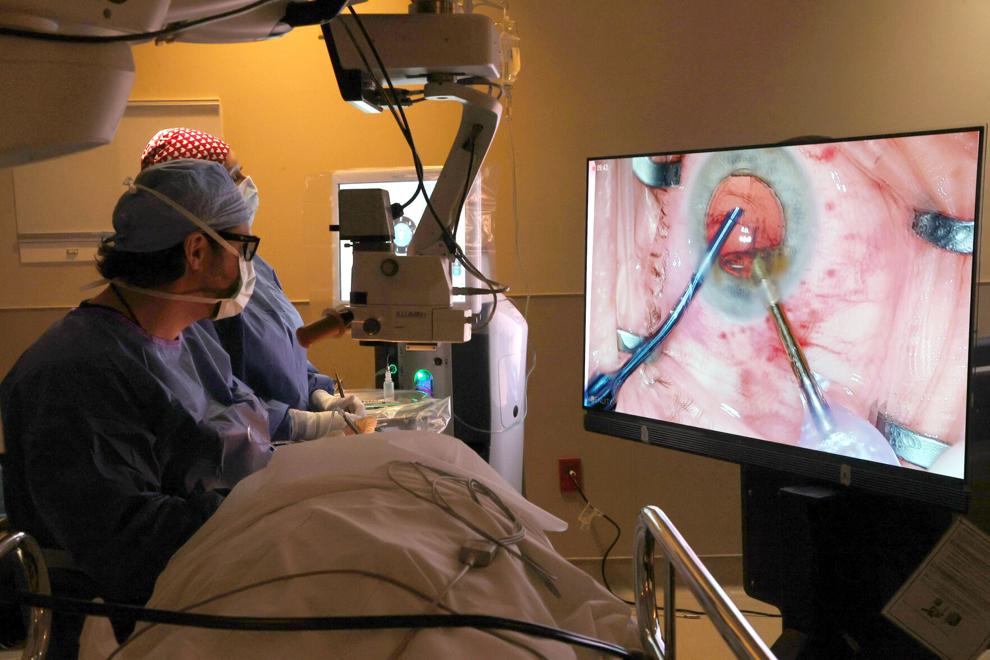 Beau said he believes the outcomes are better for the patients to do each eye in separate procedures about a week apart.
He shares his knowledge with others in his field. Beau authored a chapter in a recently published book on femtosecond laser-assisted cataract surgery.
Other Surgeries
Refractive corneal surgery like LASIK is a "different kind of animal," Beau said.
There are several other high-tech ophthalmologic devices at the clinic to give Beau the information he needs to properly care for patients.
"We're able to know all the data prior to touching the eye," he said.
"It used to be if you had astigmatism (because of the eye's curvature), you get glasses," he said. "We have the ability to get you out of glasses, not even (reading glasses)."
Beau says his success in corneal surgery comes from his training and the ability to make extremely small incisions that lessen the trauma to the eye during the procedure.
Where most ophthalmic surgeons make incisions 2.2 to 2.4 millimeters long, Beau's incisions are just 1.4 millimeters with the specially made blades he uses.
"The incision is so small, you can go home right away," he said.
Special Status
Beau continually has his eyes on innovation and the future of his field.
He is a member of the Oracle Vision Council, which according to its website is "a small and diverse group of driven, millennial ophthalmologists who are immersed in innovation and dedicated to furthering our field through discovery and early adoption of future vision technologies."
It currently has 12 members, he said. They are heavily involved in research and education and in leadership roles in their field.
Beau also said it's important that Brazos Eye Surgery continue to serve its patients with the highest caliber of care and invest in the technology that will improve their lives.
---
Brazos Eye Surgery of Texas
Mon-Fri, 8 a.m. to 5 p.m.