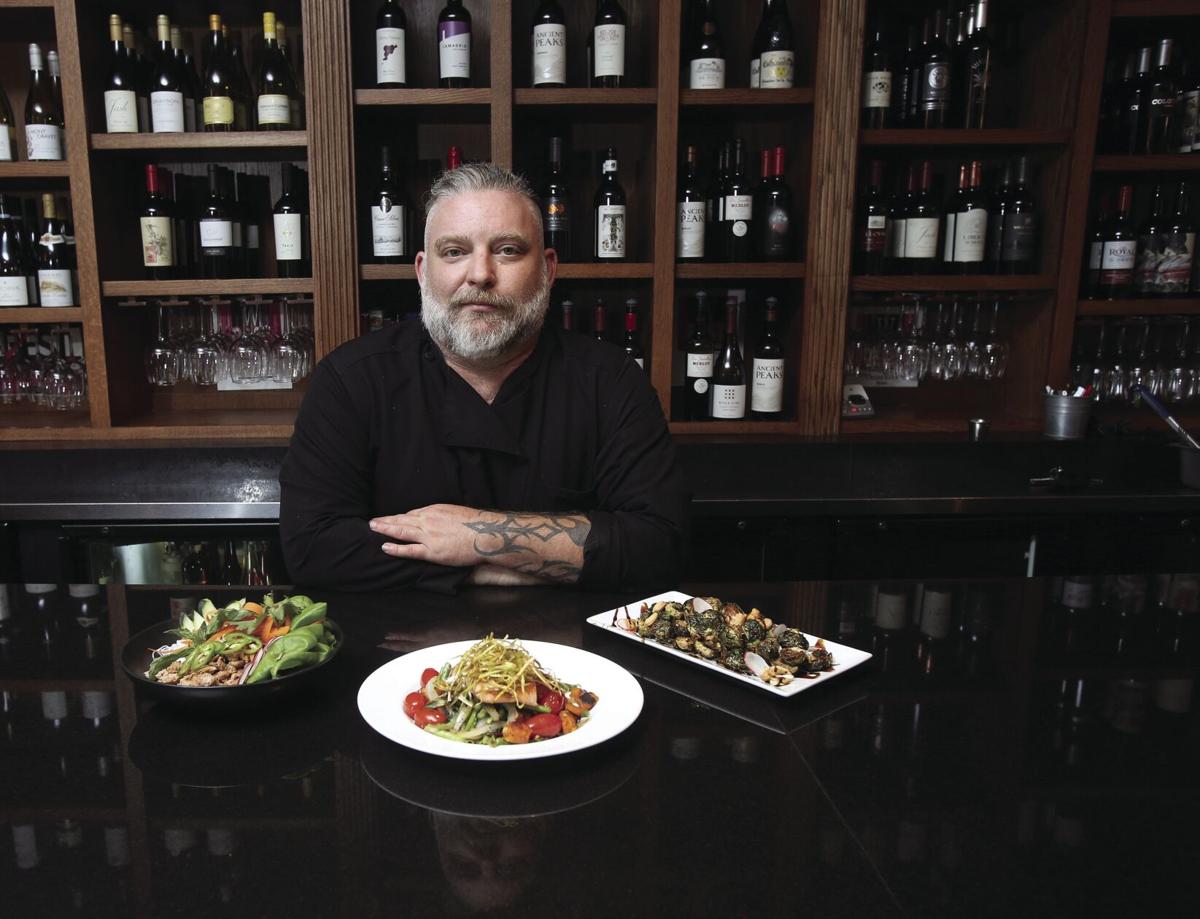 A place "where everyone knows your name" is the kind of place where loyal patrons meld friendship and fellowship with wines from around the world and chef-prepared cuisine.
That loyalty has served The Grape well as the business has adapted to ever-changing requirements to stay open during the challenges of 2020.
The neighborhood wine bar and bistro nestled in Ridgewood Village Shopping Center offers a classy indoor vibe and a lovely patio where guests can enjoy a fireplace on cool evenings.
"We have some very loyal customers and guests and they have all become friends," said Chef Jason Rolf. "I have some who come four or five times a week. My menu changes all the time so they always have something new to choose."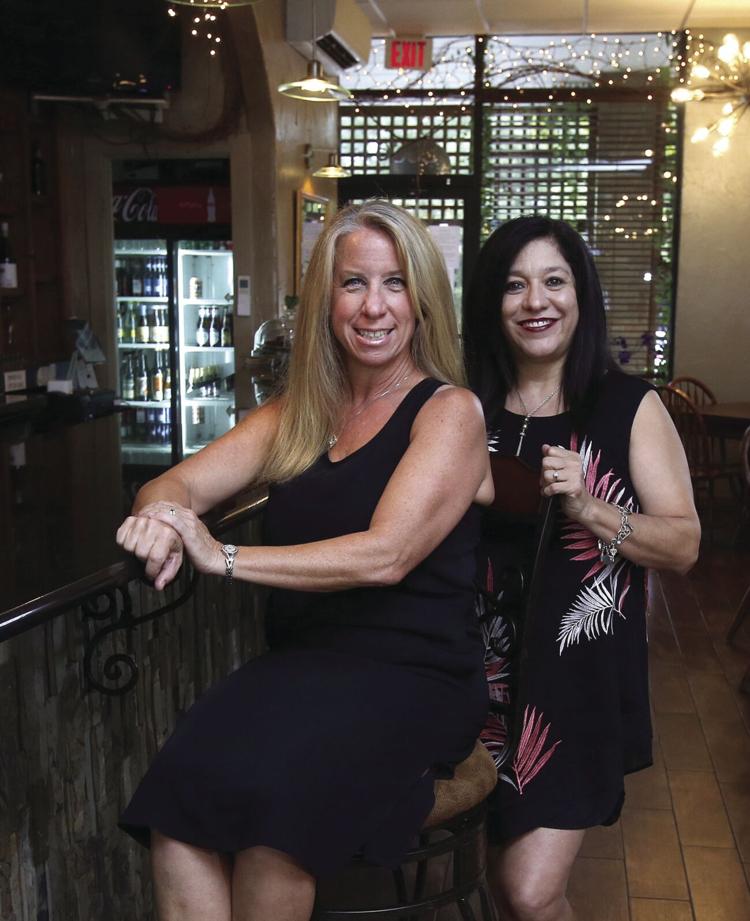 It's no doubt that his customers missed the indoor experience when the business was forced to close due to statewide regulations affecting bars that earn 51% or more of their sales from alcohol.
"We were a 51% bar, so even when we were able to open up we could only do 25% capacity," Rolf said. That was temporary before the rules changed again so Rolf and his team adjusted.
"I evolved from plated food to curbside to family-style, so they finally shut us down until we got our new permit," he said.
The Grape added a full kitchen and now is operating as a restaurant by definition because customers must order food with their wine. His clientele remains steady as his menu is always engaging.
With a varied menu that intrigues diners, Rolf creates every dish from scratch from the freshest ingredients sourced locally as much as possible.
"That's one of the wonderful difficulties of it," he said. "Everything is fresh every day."
His menu reflects his culinary experience while responding to his customers' favorites.
"Asian influences have always enthused me," he said. "I've always loved Asian food. I went to Japan and just couldn't stop. When I was there, I would say 'I want some of that and some of that.'"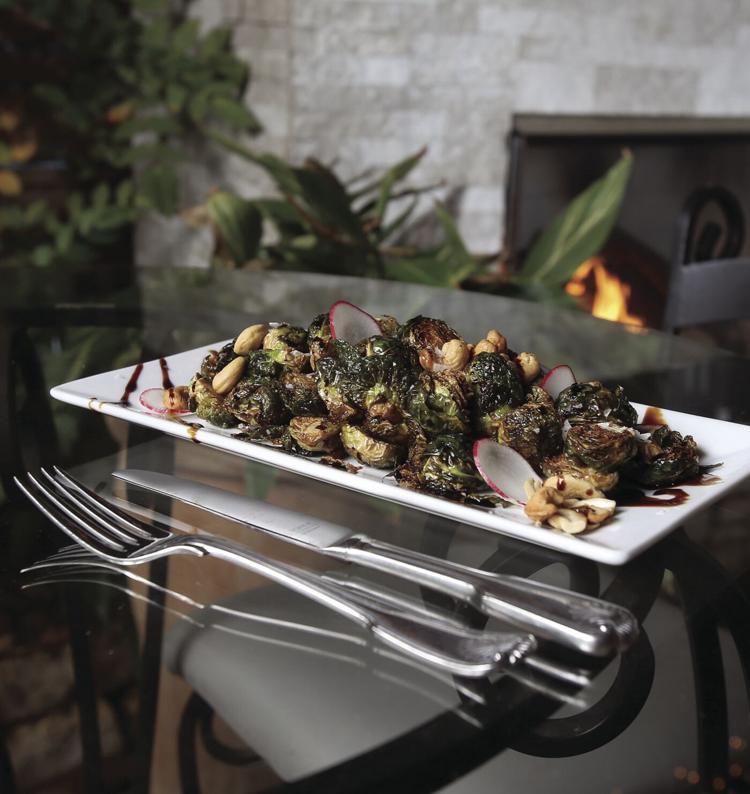 He loves to inspire the same excitement in his customers by "being innovative with food."
"Like the sprouts … I deep-fry them and they come out crispy and tender," he said. Being innovative with food means someone will get a new experience every time they come in," he said. "Sprouts is always popular and has been on the menu for the longest and is probably one of the biggest sellers."
He especially enjoys surprising his customers with his variations on steak since he knows how much Wacoans love their "meat and potatoes."
"They love a good steak. I always change it up with different flavors, different seasoning, different styles," he said.
Presentation
Rolf creates his food as a presentation for the palate and the eyes.
"I learned a long time ago from an old chef that everybody eats with their eyes first," he said. "Presenting food properly when it walks out of the kitchen and past the tables, people say, 'I want that.' There are many ways to create attraction to food with the height, the different textures. It's like when someone goes to a Mexican restaurant and the fajitas come out and they are sizzling people say, 'Oh, I want that.' It's the sounds and the smells."
Tantalizing the senses with food is an art form of its own. Even the most simple dishes are transformed by the chef's creativity.
"A different cut on say a cucumber salad makes it more appealing to the eyes," Rolf said. "They see the food and say, 'Look at that one!' and ask, 'Which one is that on the menu?' Crispy onions on top of a steak stand up tall and everyone looks and wants to see it."
Rolf attributes his love for food presentation to his experience working at Uchi, a famed Japanese sushi restaurant in Austin.
"I learned at Uchi that cutting the rolls a certain way and how you stack them on a plate is appealing and people see that," he said. "I love cooking food and I love serving food and I love people enjoying my food."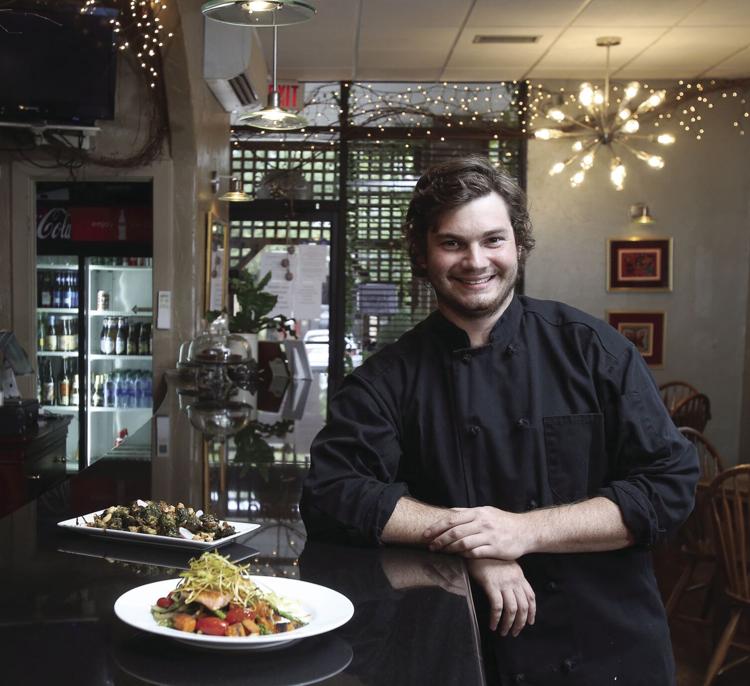 He realized his culinary talents while washing dishes and cooking at a restaurant while in college.
"It was just a job, but I found out I was good at it," he said. "I liked it so I kept doing it. It was time to step up my game a bit and really learn about food. There are some good chefs out there and they taught me and I wanted to learn from them. I've been doing it for 27 years now."
Rolf was professionally training as a chef at Le Cordon Bleu College of Culinary Arts in Austin and then expanded his experience at restaurants across the country. In addition to Uchi, Rolf shared his culinary talents at Big Sky Resort in Montana and the Montauk Yacht Club Resort in New York before returning to Waco as the chef at The Grape.
The natural wine accompaniment, the cheese board, for $22 is an array of specialty cheeses, fresh fruit, charcuterie, crackers and olives. This shareable board is one of the most ordered items on the menu, Rolf said.
While the menu changes regularly, The Grape offers a variation of beef, chicken and pork each day.
The famed Sprouts cost $10, and the Roasted Tomato and Burrata Bruschetta for $14 features "on the vine" sweet cherry tomatoes, local butter lettuce, crusty bread, fresh burrata mozzarella and basil drizzled with a balsamic vinaigrette.
Fried Green Tomatoes cost $8 are served with a Cajun remoulade. The Grilled Chicken Caprese Sandwich is $16 and the Arugula and Salmon Salad is $19.
The Vietnamese Lemongrass Pork Noodle Bowl is $18 and the Baked Spinach and Ricotta Penne with Fontina is $15.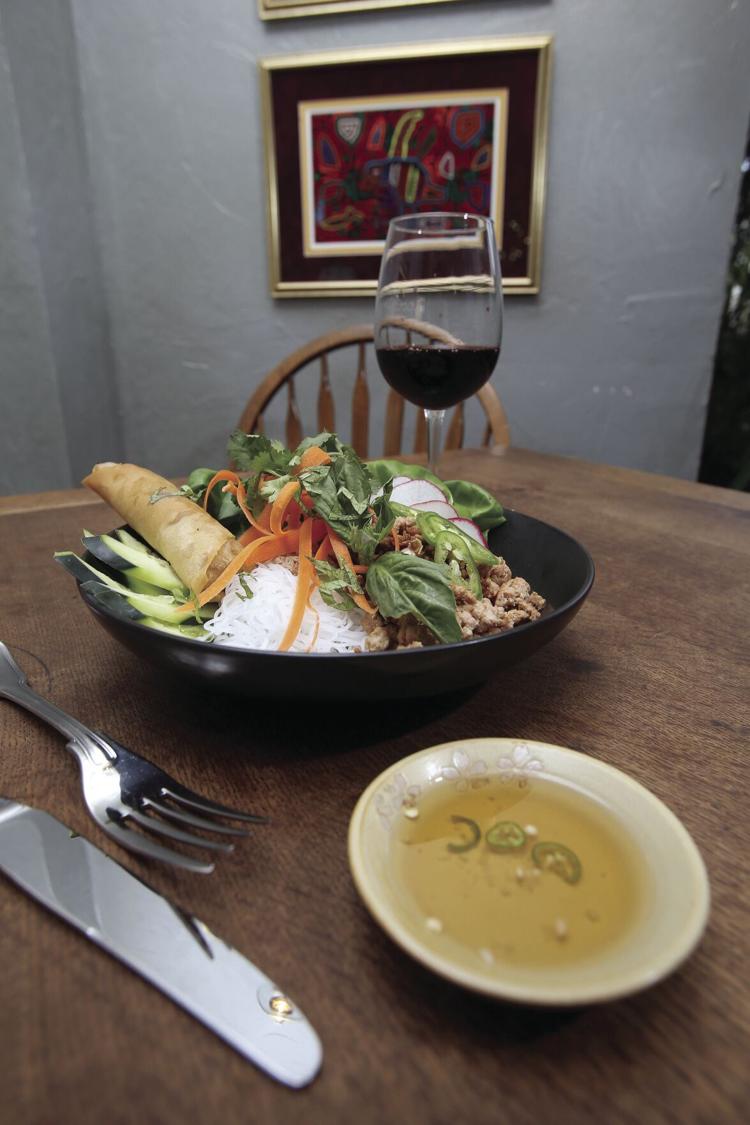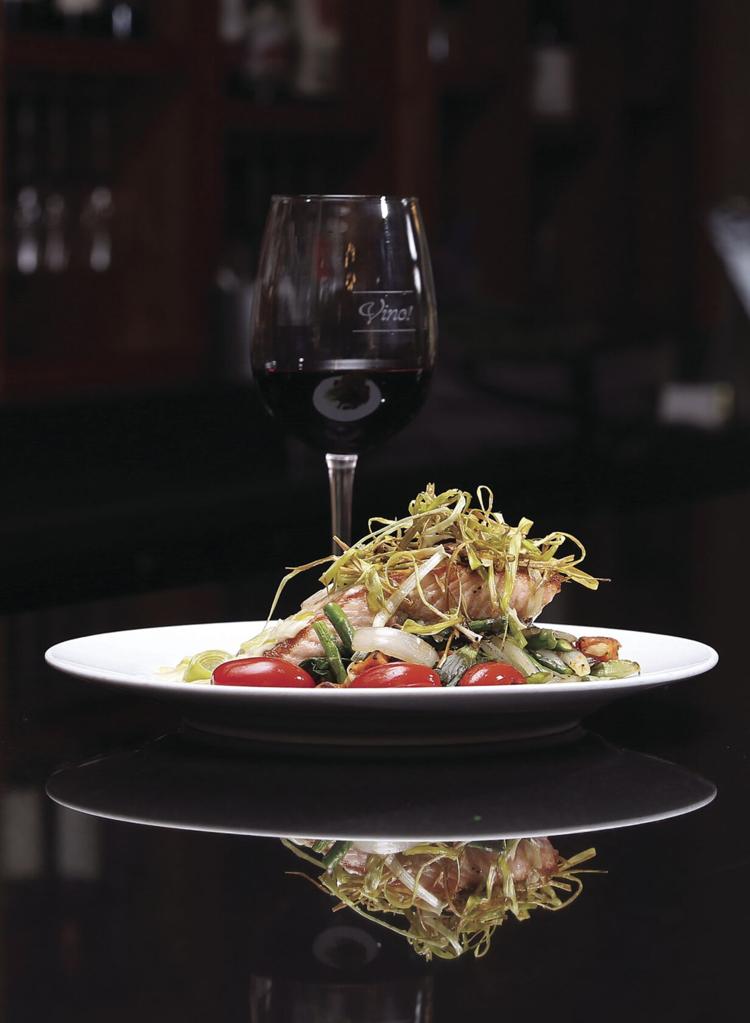 Wines, Desserts
Jason's father, Wynn, is the owner and wine and dessert connoisseur of The Grape.
"He loves wines and has always baked ever since I was a kid," Jason Rolf said. "That's where I get my cheesecakes and they sell out every day."
Wynn purchased the wine bar in 2014 from former owner Lorrie Dicorte after serving as a Central Texas educator for 46 years. The new venture allowed him to share his passion for wine with the community and welcome his friends and neighbors when they come in the door.
Wynn coordinates with bartender Jeremy Maas and general manager Michelle Henkel to specially select the more than 200 wines that are displayed on ceiling-high shelves behind the ornate bar. They host wine tastings with their vendors and stay in tune with the new selections.
"As much as possible, Jeremy, Michelle and myself taste the wine," Wynn Rolf said. "If we don't like the wine that comes in, we don't buy it. We are constantly getting in new wine. In the summertime people like the chill white wines and in the winter they like the warmer red wines."
They source their wines from several vendors to keep their inventory interesting with wines from Australia, New Zealand, California, Oregon, Washington State, France, Italy, Portugal and Spain.
"All the wine-producing regions in the world, we probably have them, but mostly California, France and Italy," he said. The Grape's selection also includes sake from Japan, honey mead made in Temple and occasionally wines from the Texas Hill Country.
"We have a good price range from a moderate house wine for $6 a glass up to $20 a glass, and we also sell by the bottle," Wynn Rolf said. "A bottle of wine is about four glasses and you save about a dollar a glass when you buy by the bottle."
He encourages patrons to taste any wine that is open and to explore new wines often.
"We tell people to come in and taste every one. I want people to enjoy wine and learn which ones taste best with the foods they like," he said.
He said making wine drinking an experience for his customers is part of the appeal of The Grape.
"That's kind of how we keep things going and it really serves us well," he said. "Every Tuesday evening whatever is open from Saturday night is 25% off by the glass until that bottle is gone."
For Sweet Tooths
To satisfy the sweeter palates, Wynn offers from scratch desserts including the popular Chocolate Kahlua Pound Cake and White Chocolate Red Raspberry Cheesecake. While these customer favorites are mainstays, he also rotates in his other specialties.
"The Walnut Fudge Tart, if you like chocolate, goes very well with red wine and has kahlua as well," he said. "The Salted Caramel Tart with homemade caramel, which I make from scratch, is also popular and the Chocolate Pound Cake is from a family recipe."
The holidays call for colorful toppings such as a White Chocolate Cheesecake with Berries and a Linder Tart with Black Currants and Hazelnut Crust.
"I'll do a pavlova, a soft-baked meringue served with a mixture of berries and whipped cream," he said.
Key Lime Tart with a pecan crust, German Chocolate Cake and the Ultimate Carrot Cake are always sellouts when on the evening dessert menu.
Wynn also influences the ambience at The Grape.
"My dad likes working in the yard and he likes plants," Jason Rolf said. "He revamped the outdoor patio here about five years ago."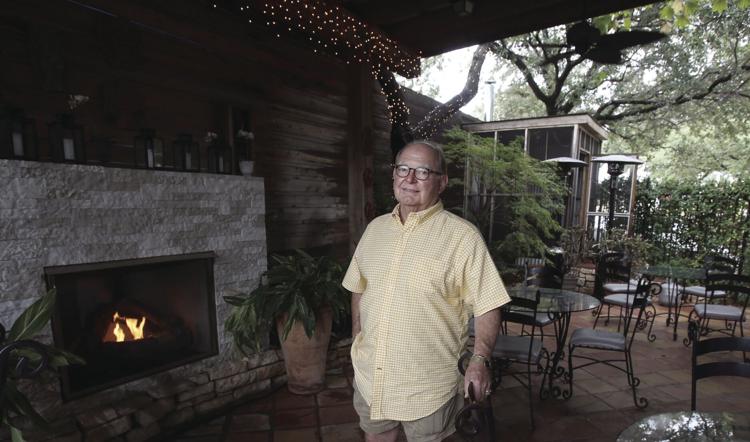 The outdoor setting is ideal most days of the year with patio heaters and a fireplace and provides additional space for diners to enjoy.
"I try to keep it as green as I can out there, and I'm looking forward to adding some mums out there soon," Wynn Rolf said.
One of the new faces at The Grape is Jason's fiancée, Henkel, who manages the meeting and event room that seats up to 25 and special occasions such as weddings, receptions and parties. The Grape can be reserved and a special menu created for these events. It also will prepare a menu for off-site occasions.
The Grape plans to resume its traditional live music on Thursday and Friday nights in the future.
Wynn said it's wonderful to see his customers enjoying The Grape and finding their familiar neighborhood gathering place is still the same.
"We've got a lot of loyal clientele who were clambering for us to open and things are looking up so we are excited about that," he said. "I think people have realized that the small businesses provide a service they can't get anywhere else."
---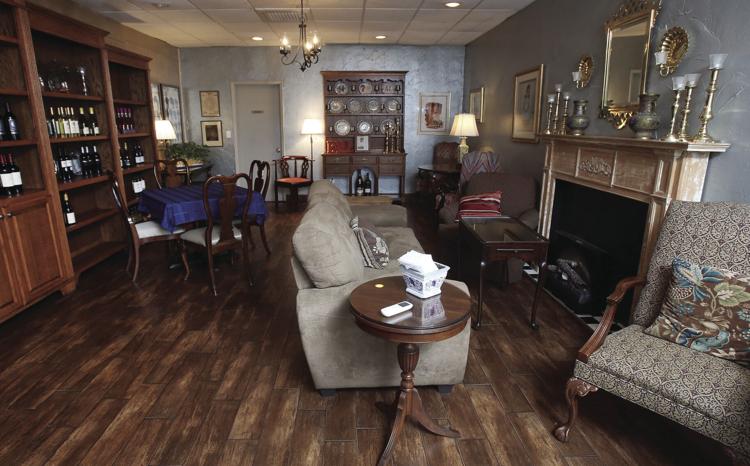 The Grape Wine Bar & Bistro
2006 N. Valley Mills Drive
Kitchen service, 5 to 9 p.m.
Be the first to know
Get local news delivered to your inbox!