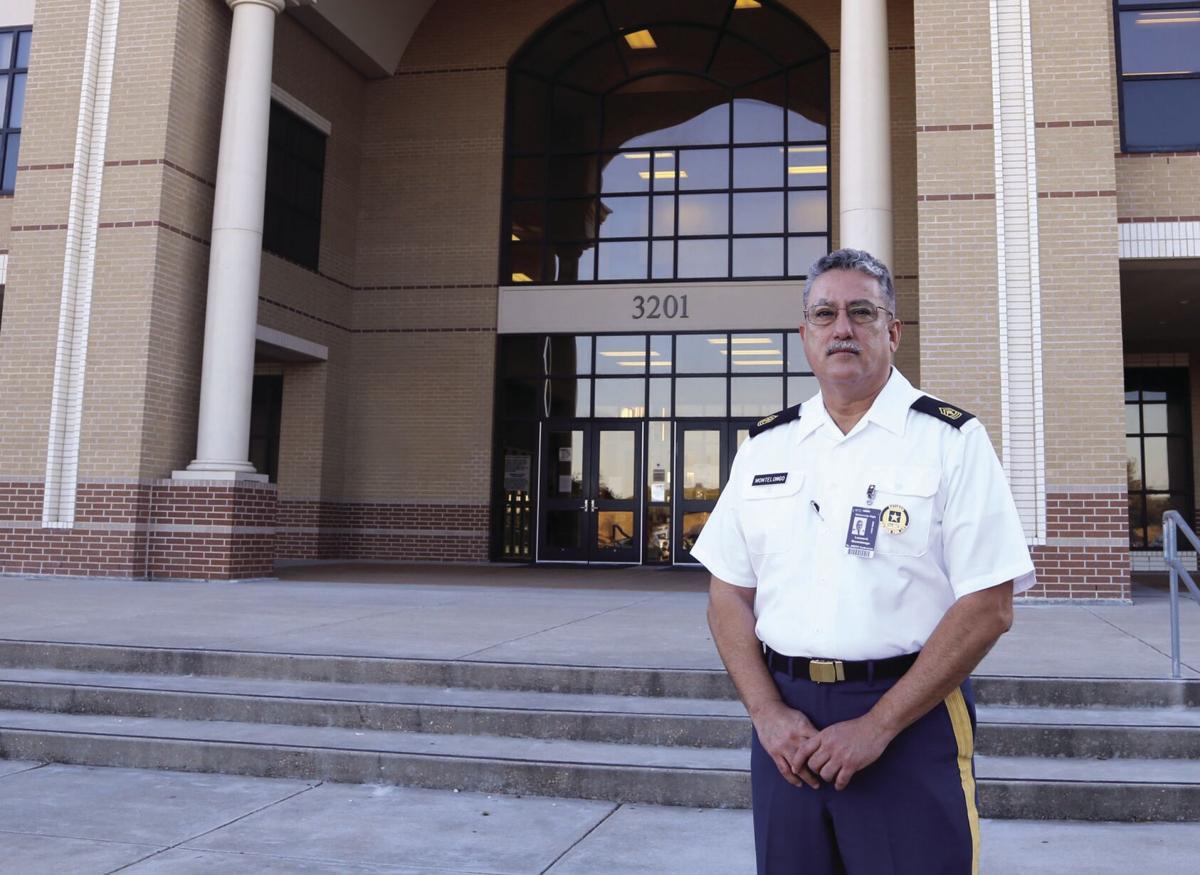 First Sgt. Leonard Montelongo Jr. is in his 19th year heading the Junior Reserve Officers' Training Corps program at University High School. He grew up in Waco and attended Waco schools, graduating from University High in 1980. He served nearly 23 years in the U.S. Army and was part of Operation Desert Storm and Operation Desert Shield.
For nearly two decades 1st Sgt. Leonard Montelongo Jr. has headed the Junior Reserve Officers' Training Corps program at University High School, helping mold young cadets into leaders at school and for the future.
It allows him to utilize his 23 years of military service with the Army in teaching character development and citizenship to the students.
"We focus on preparing the cadets to attend college or go to the military," he said.
"No one talked about college when I was in school," said Montelongo, who was one of five kids growing up in Waco. Joining the military seemed the best option when he graduated, he said, as he wanted to leave Waco at the time.
"I was 18 and I didn't regret it," he said. "I wanted to explore the world. I wanted to be part of something bigger than myself."
He did just that, stationed first at Fort Hood, then Germany, Fort Bragg in North Carolina, Hawaii, and finally at Fort Belvoir in Virginia. "While in Germany I appreciated learning about its history," he said, reflecting on the educational opportunities his time in the service provided.
Upon retiring from active duty, he returned to Waco to head the JROTC program at his alma mater.
His own military service seemed to go by quickly, he said, and it feels like the years have also sped past with the JROTC program, where he is in his 19th year.
"When you love what you do, time flies," he said.
The program averages around 150 cadets each school year, though this year the numbers are down a bit at 108.
During a normal school year, the cadets do several community service projects. But the coronavirus pandemic has curtailed that heavily.
But one project he is especially passionate about — and may be needed more than ever — is the Make A Wish Come True program for five Waco ISD schools.
The Make A Wish Come True program is a joint effort of Montelongo's JROTC program and the school's boys and girls soccer programs. This is its 12th year, but it will be the first without Mike Chapman, the longtime University High soccer coach who died of a heart attack in January.
Chapman was a big advocate of community service and had his players involved in numerous efforts, from Food for Families to coat drives, delivering Thanksgiving meals and visiting children in hospitals.
The two friends decided they wanted to find a project that the cadets and players could do together. From there, Make A Wish Come True was born. When it began students at the then nine schools that fed into University High School were invited to write essays about what they wanted for Christmas. The cadets and players would try to fulfill those requests with the help of sponsors.
The first year 24 gifts were provided; the gift-giving has exploded in the years since.
"It took on a life of its own," he said.
Today, there are five feeder schools involved – Alta Vista, Bell's Hill, Kendrick and South Waco elementaries and Cesar Chavez Middle School – but Montelongo is hoping to help about 400 students this year.
He is joined by Kyle Chapman, Mike's brother, who has taken over the soccer program.
Students still submit an essay requesting to be considered.
"What's amazing is 99 percent of them don't ask for themselves," Montelongo said. "They'll ask for something for their siblings, or for mom or dad, or their grandparents. They are asking for other people."
A dropoff site for gift cards and food cards for Make A Wish Come True is the Bush's Chicken location in Central Texas Marketplace. For more information on how to help, call University High School at 254-756-1843 or email Montelongo at leonard.montelongo@wacoisd.org or Kyle Chapman at kyle.chapman@wacoisd.org. The deadline to sponsor a child is Dec. 4.
Montelongo said the challenge is daunting this year, but he's confident they will still be able to brighten the lives of students.
"Our motto is 'Find a way,'" he said. "We want to honor Coach Chapman the best we can."
"It's been a great success," he said of the program. "We're going to find a way."
This is a monthly feature highlighting someone whose good works may otherwise go relatively unnoticed. To submit someone for consideration, email ken.sury@wacotrib.com.