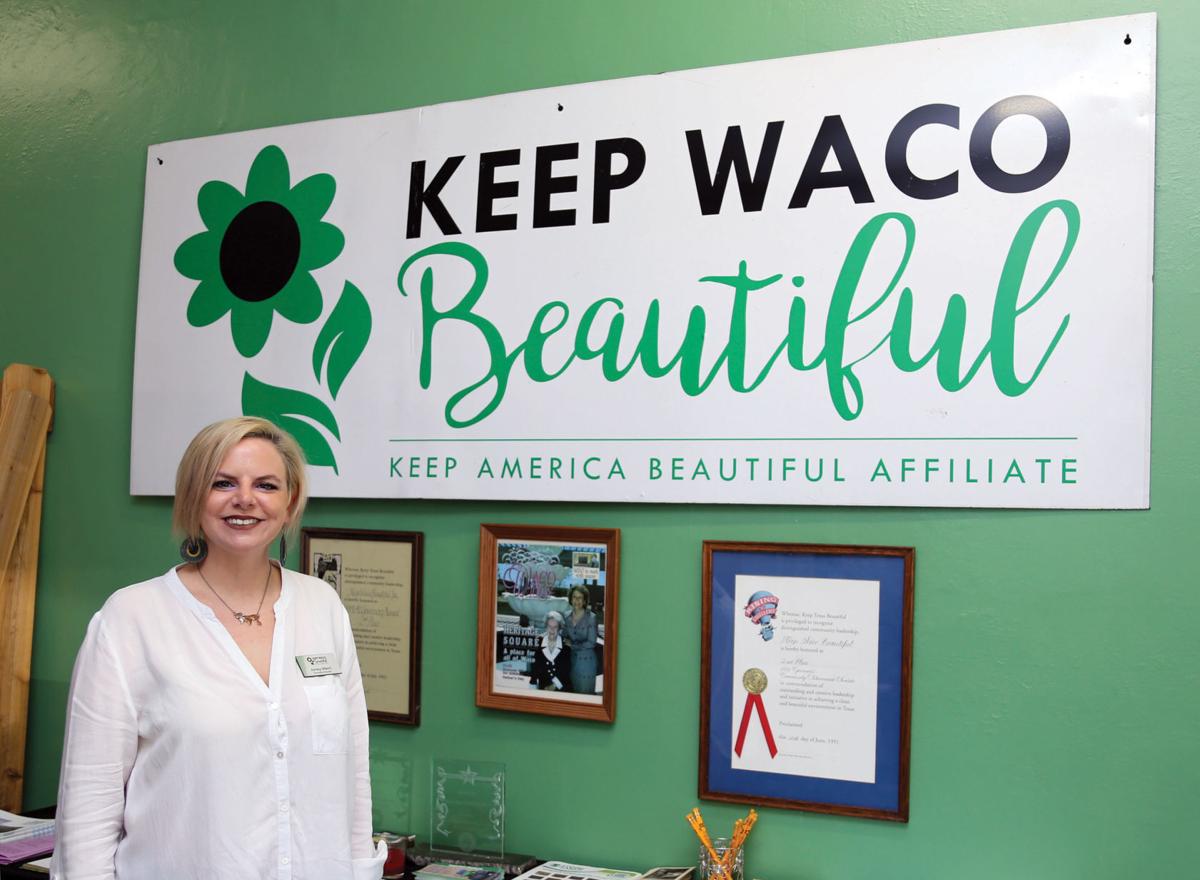 This is a monthly feature highlighting someone whose good works may otherwise go relatively unnoticed. To submit someone for consideration, email ksury@wacotrib.com.
---
Ashley Millerd Crownover, executive director of Keep Waco Beautiful, keeps finding new ways for her nonprofit organization to make Waco a more environmentally responsible citizen.
Those efforts are paying off in the growth of Keep Waco Beautiful since its move from Waco City Hall to 502-B Austin Ave. in 2018.
The organization used to be housed in a small office on the second floor of Waco City Hall, often leading to confusion that it was part of the city. Many KWB projects involve working alongside the city's solid waste or parks and recreation departments.
The location change enabled the executive director to rebrand the organization.
"Since then we've tripled our volunteers, doubled our membership, and sponsorships have gone through the roof," Ashley said. "I tell people we are a 501(c)(3) nonprofit that specializes in environmental conservation, and those three parts are ending litter, waste reduction, and beautification."
Two waste-reduction projects begun last year are showing great success.
In May, KWB launched a pilot program to collect glass from businesses in a one-block area around Seventh Street and Austin Avenue. Places like the Waco Hippodrome, Klassy Glass and Portofino's each week are filling up four containers with glass bottles (weighing 195 pounds when full) and that glass is sent off to be recycled.
Last summer KWB started a Teacher's Closet with classroom items donated as classrooms were cleaned out at the end of the school year. Teachers, especially new instructors in need of stuff to decorate their classrooms, were allowed to pick up what they wanted for free.
Sixty boxes were donated, Ashley said, and 643 teachers visited the KWB office last summer to look for items, with some coming from as far as Brownsville and Lubbock. Act Locally Waco helped promote the project and a post went viral with 33,000 views.
"It's all about ways to avoid those things going to the landfill," Ashley said. "It's just a cool upscale project," adding that other beautification affiliates are planning their own Teacher's Closets.
KWB also relaunched its Adopt-A-Park program. KWB provides the pickers, bags and gloves to outfit the volunteers. Baylor's Steppin' Out in the spring and fall help greatly with cleanup.
The nonprofit has coordinated cleanup efforts at some large events. For example, at the first Ironman Waco two years ago, where lots of plastic bottles and cans are the norm, three-fourths of that waste was recycled instead of headed to the trash heap, she said.
An event at BSR Cable Park and Surf Resort had no waste go to the landfill, "zero-free waste," she said, as items were either recycled or was biodegradable and compostable waste that went to a facility in Austin.
The next KWB quarterly cleanup of the Brazos River is July 11. The cleanups always draw great turnouts, she said. Waco Paddle Company provides kayaks to help volunteers collect the trash.
Districtwide cleanups with the solid waste department have made great inroads for beautification. KWB volunteers assist the disabled and elderly by bringing items to the curb for pickup and help collect items such as tires, Freon and other bulk waste.
Visiting schools to encourage students to be environmentally conscious is another favorite part of Ashley's job. "You want to start them young," she said.
KWB also presents classes such as rainwater harvesting and worm composting.
Having active and involved board members and great affiliations with Keep Texas Beautiful and Keep America Beautiful is a wonderful help to her, she said.
But it's mainly about sharing the message, Ashley said.
"I love being able to connect with the community and present sustainable living out there in a positive way," she said. "I love having a pretty city for people to see and enjoy."
Waco Today highlights people whose good works may otherwise go relatively unnoticed. To submit someone for consideration, email ksury@wacotrib.com.