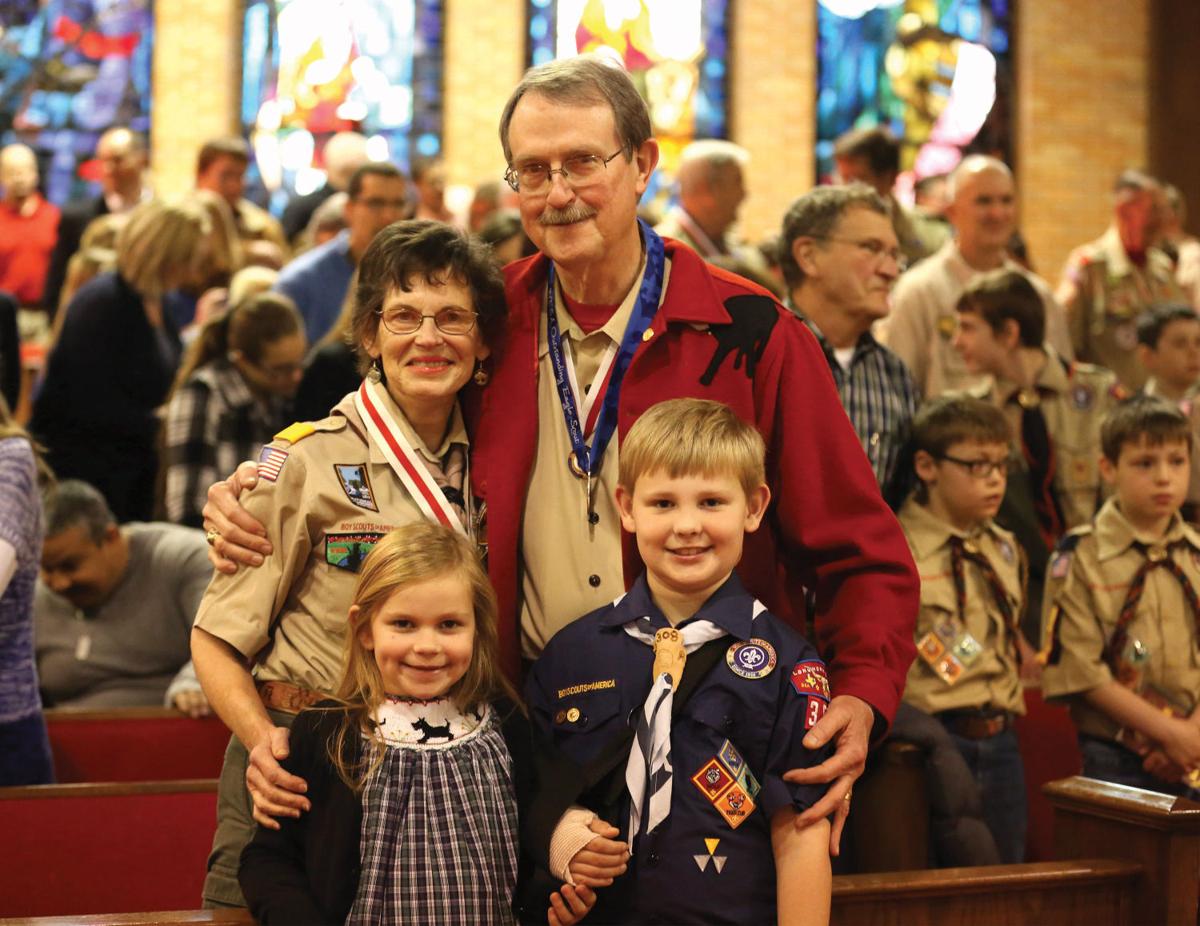 To the families and Boy Scouts of Troop 308, Scoutmaster Dr. Eddie Morrison and his wife, Ellie, are a "dynamic duo" whose leadership has greatly benefited the young men in the group.
Dr. Morrison, with his wife by his side, serves as Scoutmaster of Boy Scout Troop 308, sponsored by Waco's First United Methodist Church. On Tuesday evenings, the couple can be found surrounded by 40 to 85 Boy Scouts, ages 11 to 18, eagerly planning outdoor activities, camping trips and community service projects designed to instill character qualities to prepare the youths for success later in life.
Although Dr. Morrison has directed the troop since 2000, his involvement with scouting dates back to his own boyhood when he earned the rank of Eagle Scout in 1963. Dr. Morrison's love of scouting quickly spread to other members of his family: first to his wife; then to son Evan, who became an Eagle Scout under his father's tutelage; and now Evan's son Eric, who is a Cub Scout.
By his own account, Dr. Morrison has been an active member of the Boy Scout community for more than 45 years.
Earlier this year the National Eagle Scout Association (NESA) presented Dr. Morrison with the Outstanding Eagle Scout Award, an honor granted by the local council's NESA committee to Eagle Scouts who have demonstrated outstanding achievement at the local, state or regional level.
The award is quite prestigious, according to Dr. Jim Patton, president of the Longhorn Council which oversees scouting in 23 counties throughout Central Texas. Award recipients are chosen for their achievements and contributions to their communities. Patton, an Eagle Scout himself, said award candidates are nominated by and voted on by other adult Eagle Scouts.
"This recognition is presented to less than 2 percent of all adult Eagle Scouts," he said. "Eddie is truly a role model. He's not just 'The General' giving orders. Instead, he gets into the program and gets his hands dirty while teaching the boys."
Dr. Morrison has been a Waco pathologist for 40 years. In addition to his extensive involvement with the Boy Scouts, he has served as Rotary Club president; McLennan County Medical Society president and Hillcrest Baptist Medical Center chief of staff twice. He teaches Sunday school as a member of First United Methodist Church.
Dr. Morrison said scouting fulfills a higher purpose for him.
"This is my mission through this church," he said. "God has given me the gift, the ability, and the resources to pass along. I intend to remain active in scouting as long as I am healthy and can do it."
Mrs. Morrison shows no signs of slowing down, either. In 2013 she was presented with the prestigious Silver Buffalo Award, the highest commendation given by the Boy Scouts for noteworthy and extraordinary service to youth on a national level.
The Silver Buffalo Award is made by the National Court of Honor and the recipient need not be a registered member of the BSA. The award was first presented in 1926 and was only awarded to men until 1976. She joins a list of past Silver Buffalo Award recipients that includes Presidents George W. Bush and Lyndon B. Johnson; astronauts Neil Armstrong and John Glenn; and notable Texans Drayton McLane Jr. and H. Ross Perot.
Ellie Morrison's experience in the BSA is wide and varied. She has served on several administrative committees at the national level developing leadership training, starting new units and writing curriculum. On a local level, she brings her own special gifts to Troop 308.
"Ellie supports mothers who want to be involved in the BSA," said Veronica McDonough, Troop 308 committee chair. She said Mrs. Morrison's effort to involve mothers in scouting activities provides an added perspective for the boys.
"She thinks the boys need to respect and learn how to work with women," McDonough said.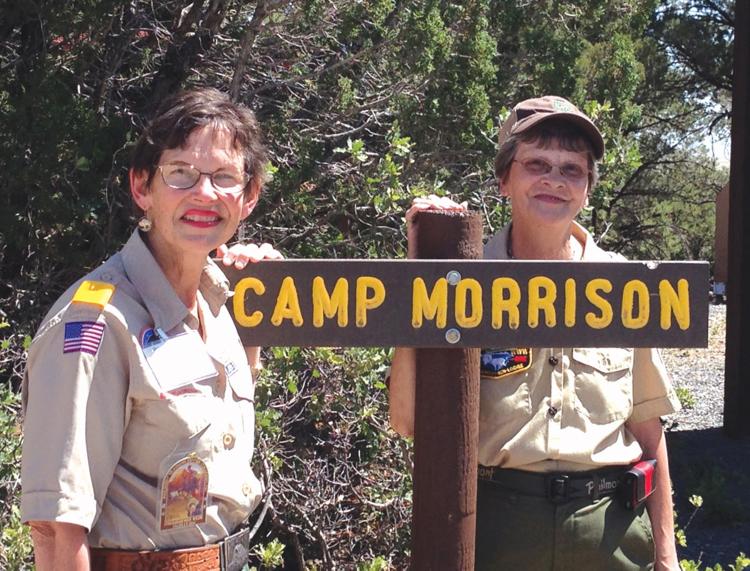 Patton said the success of Troop 308 is due, in large part, to the Morrisons. Established 68 years ago, the group is the oldest continuously serving troop in Waco and includes 85 Boy Scouts and 60 active adults representing high schools such as Waco, MIdway, Reicher, Vanguard, West, China Spring, Moody and Riesel.
While many troops average 4 percent to 6 percent of the boys earning Eagle Scout designation, Troop 308 typically has 10 percent working toward the achievement. Eagle Scout is the highest rank in the Boy Scouts of America. To earn it, Scouts must complete a minimum of 21 merit badges and a community service project.
Many Eagle Scouts from Troop 308 continue to attend the meetings after they graduate from high school to assist with the younger scouts and to visit the Morrisons.
"I drop in and give pep talks!" McLennan Community College student Blake Stock said. "I enjoy the high-adventure opportunities of scouting. I am an only child, so scouting is like a brotherhood."
Stock said the Morrisons have had a tremendous impact on his life.
"They are huge mentors for me," he said. "If you ever need them, they are always there."
The Boy Scouts in Troop 308 go camping several times a year. During one of these trips, Stock called on Dr. Morrison when an unwanted guest wandered into the campsite.
"I woke up at 2 a.m. and there was a snake in my tent!" Stock said. "I told Dr. Morrison, and he took care of it!"
While many of the Scouts' best moments involve camping, hiking and exploring, the adventures are used to develop skills not only to survive in the wilderness, but to contribute to society as well. An Eagle Scout project is not manual labor like moving dirt or raking leaves for community service, Dr. Morrison said. It is a well-developed plan that the scout conceives, designs, plans, budgets, builds and executes from the ground up.
"Eagle Scout projects have many hidden benefits," Dr. Morrison said. "By the time the project is finished, the Scout has learned to communicate with many different people. He has acquired leadership skills and habits you hope will grow and stay forever."
He said universities favor Eagle Scouts on entrance applications and, sometimes push them to the top of the stack. Special scholarships are available for the Scouts, and the military grants them one rank advancement because of the leadership experience Eagle Scouts have attained.
Eagle Scouts under Dr. Morrison's direction have completed a range of diverse projects such as constructing playhouses for lemurs at the Cameron Park Zoo; erecting mini libraries along 18th Street; relocating "green classrooms" among schools; dismantling and rebuilding a new "reading tree" platform for Talitha Koum Institute; and modeling a ramp for the Komodo dragon at Cameron Park Zoo to use for ultrasound exams. The last project, Mrs. Morrison believes, is the only one of its kind in the United States.
The Morrisons devote their time tirelessly to touch the individual lives of the Scouts in Troop 308, according to Patton, and freely use their gifts and talents to help others.
"Eddie and Ellie do a lot of work behind the scenes. They are not people who advertise," Patton said. "You are looking at two avatars (one who represents an idea or quality) in community involvement."
Beth Porter, mother of Life Scout David Porter, agreed.
"Dr. and Mrs. Morrison are excellent servant leaders," she said. "They represent the best of scouting because what they do is done from the heart – that's what sets them apart."
Porter homeschools David and his two brothers, Jason and Ryan. She said it is primarily because of Dr. Morrison's leadership that David is in his troop.
"The more I know about the Morrisons, the more my respect for them builds," she said. "They give so sacrificially to the scouts, both together and individually, because it is a part of who they are. Their most endearing qualities are humility and integrity."
Mrs. Morrison said she felt her husband was called to serve the Boy Scouts, and she originally came along to support him. The couple will celebrate their 45th wedding anniversary in December.
"I never knew what marrying an Eagle Scout would do to change my life," she said. "It's gratifying to see the boys turn into men of good character, and to think we had a hand in it. It's all about the boy in the end."
Dr. Morrison said he also enjoys watching the boys in the troop grow and change.
"Scouting is supposed to be fun, and they learn a lot of life's lessons along the way," he said. "Watching the boys grow up, going to their graduations, attending their weddings, and seeing them come back with sons who are now Cub Scouts ... that's the reward."
Be the first to know
Get local news delivered to your inbox!